Posted by Rhinestones Unlimited on Jan 14th 2013
Is bigger really better? Decide for yourself as we look at a fourth way to help you narrow down the best rhinestones for your project. Chapter One: Attachment Method Chapter Two: Quality Chapter Three: Color Chapter Four: Size Chapter Five: Quantity CHAPTER FOUR: Size Ah, the age old question: does size matter? Well, I'm not sure I can fully answer that in this article, but we do have some general theories to guide you when choosing rhinestone sizes for your project.

You will find three units of measurement amongst our products. The consistent unit is in millimeters (mm). Flat backs, pointed back and sew on shapes, beads and pendants will always be referred to in millimeters. You may also see the abbreviations ss and pp when referring to some round flat back and pointed back cuts.
Stone Size (ss) and Pearl Plate (pp) sizing account for minute millimeter variances. Stone Size (ss) -an obvious moniker- is currently the most common method of measuring flat back and pointed back chatons. Pearl Plate (pp) refers to a traditional method of sizing pearls, when a pearl would be placed on a plate in which various sized holes had been bore; the holes through which the (sometimes irregular) pearl fell through would determine the measurement.
Pearl Plate sizing is used on the smallest rhinestones, as it can differentiate down to a tenth of a millimeter. On some packaging, you will see both pp and ss conversions. In flat back rhinestones -our best selling product- the most popular sizes range from 12ss to 30ss (in our PriceLess line, there is an additional 24ss size!). You will find that the broadest range of colors offered is within these sizes.
Some flexibility when choosing the combination of color and size is recommended. I also recommend using caution when ascertaining stone size from your computer- because monitor display settings vary, the image in front of you may not represent the true size of the rhinestones: a 30ss rhinestone shown on your computer screen should be about the diameter of a standard pencil eraser. Below are some alternate options for more accurate size charts.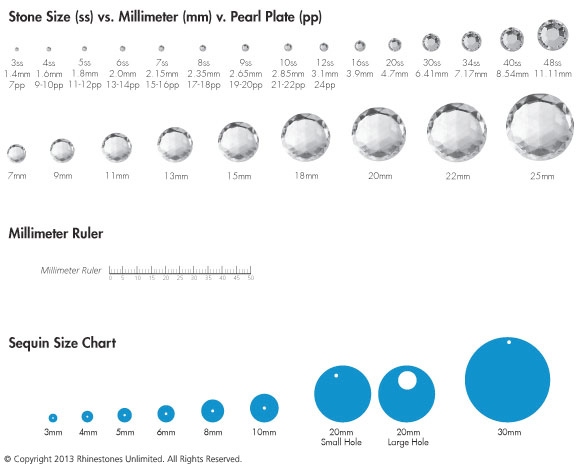 We have a printable size chart (PDF) our web site. Be sure you have set your print scale to 100% or "None." -If you would like to request a paper copy of our wholesale flat back guide (Here: http://www.rhinestonesu.com/wholesale-rhinestones-catalog-request.aspx), a bevy of size charts abound throughout its pages. -Or, if you order a flat back or pointed back color sample card (Here: https://rhinestonesu.com/search.php?search_query=sample%20card§ion=product), they will include a size chart printed on the back. The Swarovski Hotfix color chart has the actual stones arranged on the back. Better yet, purchase our stone sizing card (Here: https://rhinestonesu.com/stone-sizing-tool/), the rhinestoner's equivalent to a Swiss Army knife. Here's a quick reference: 12ss: appx. 9 stones per inch 16ss: appx. 7 stones per inch 20ss: appx. 5 2/3 stones per inch 30ss: appx. 4 ½ stones per inch Choosing sizes is, again, a matter of personal design preference. If you remember our discussion on quality (found in Chapter Two), I shared my opinions on the size of the surface area and its relation to the sparkle output. It is the same in this circumstance: the bigger the stone, the flashier the shine. One can also consider mixing sizes at random, allowing the light to bounce unpredictably among the design; if one wants to get really crazy, that is. Of course, choosing a stone size is also dependent on the amount of work you want to do. I'm smiling to myself now, but no one can see… Give us a call if you have questions about sizes- we have a lot of information tucked up our sleeves, and are happy to reveal it when you ask. Otherwise, stay tuned for ways to reduce that pesky mathematics obligation that comes with planning and budgeting. -xo- Jemm Rhinestones Unlimited blog author Jemm Stone is a multifaceted girl navigating our sparkly world with on-point insights. Visit RhinestonesU.com/blog to follow her thoughts as she highlights design trends, turns the spotlight on industry influencers and breaks down how-to tips like light through a crystal prism.