Posted by Rhinestones Unlimited on Apr 2nd 2013
Our story... In the mid-1990s, while working in the dance industry, Angie Price saw a need that wasn't being filled. The growing interest in embellishments among performers left an opening for a visionary individual to step in with a great idea. Teaming up with her father, Fred, they set up a business in the back room of the family house and called it Rhinestones Unlimited, offering flat back rhinestones as a foundation.
As the movement grew, so did the business. It wasn't long before they called in the rest of the family, each finding a position to complement their own strengths. First, Angie's brother, Matt, took the lead managing operations. Shortly thereafter, Mama Rhinestone (also known as Sandy) and Matt's wife, Nicole, came into the picture with the personalities and skills for exceptional customer service. Today, the reach of Rhinestones Unlimited has grown to include western wear, bridal, couture, accessories and performers of every kind in countries all over the world. Thanks to our innovative staff and loyal customers, we have grown to be among the largest rhinestone and costume trim wholesalers in the United States.
Our staff… When work grew, and there were no more family members to fill the positions, the Price family turned to experienced industry professionals to fill in the gaps. The Rhinestones Unlimited employees represent the markets of professional, competitive and recreation dance, ballroom, western wear and equestrian, theater, costume, craft, fashion, floral, graphic design and marketing, even motorcycle chicks! Our generations and backgrounds are united by the appreciation for beauty in creation, and the desire to help you succeed. We're constantly striving to grow within our industries to provide you with expert information. We're working with the trends, but retaining our foundation for great design. We're travelling to the hot spots, getting first hand looks at how our products are made, and who they serve.
Our products... We are committed to providing a shining solution for every budget. If you can't find what you're looking for, just ask! As a Swarovski Elements distributor, we offer you access to the entire collection of the highest quality crystal embellishments created in Swarovski's world renowned factory in Austria. From flat back rhinestones to pointed backs in every shape and color; from beads, buttons, banding and trim; from crystal zippers and custom transfer designs; and beyond, following Swarovski's new technology.
We are proud to carry Preciosa Genuine Czech Crystal, representing the full Viva 12 line, as well as flat back shapes, hot fix and pointed back rhinestones. Our private label, PriceLess Crystal, provides first-class sparkle on a modest budget, and we've found the best economical option in the Superior Acrylic line. You'll also find sequins, metals and appliques, as well as the tools of the trade to complete your creation with confidence. We've developed a full collection of quality crystal Performance Jewelry for both children and adults, and our trend-setting Crystal Market collection keeps the hottest accessories within your customers' reach.
Our service... We strive to make your experience positive and professional as you make your own vision come alive. In addition to our extensive product knowledge and extended product line, we offer resources to inspire your creative endeavors- at no extra cost. Trend forecasting, product research, tools and tutorials are available online, ready when you need them; one-on-one consultations in our showroom provide a thorough understanding of the relationship between our products and your creation.
Our business services are designed to help your company grow, at any stage, large or small. From small-quantity to bulk sales and custom repackaging; through retail display, store packaging and price lists; to Reduced Rate Shipping and our Price Match Promise, we're committed to helping you reach your goals.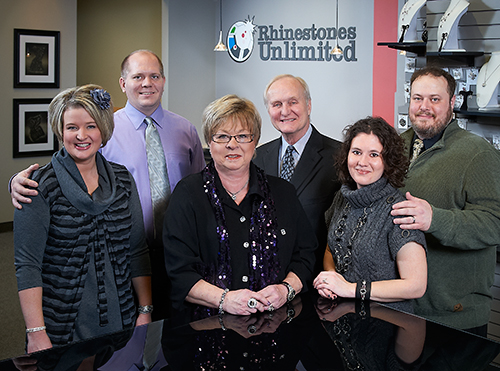 The Price family
From the entire family here at Rhinestones Unlimited, we thank you for giving us the chance to help you -and your business- shine.