Posted by Rhinestones Unlimited on Feb 9th 2017
2017 is exploding with new hues to love! Swarovski® alone has given us more than 20 new crystal shades and effects in our lineup this year (and, it's only February!). In stock and ready to ship: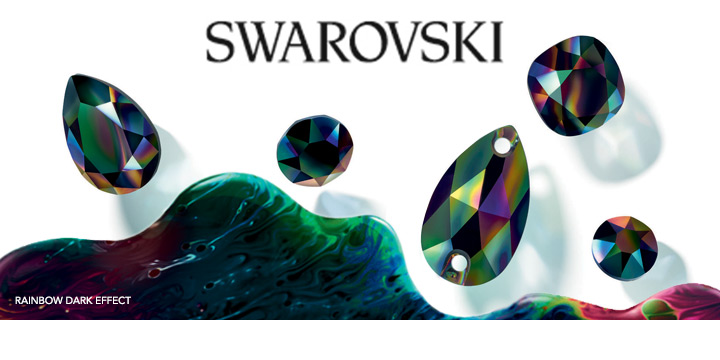 Rainbow Dark "The Art of Darkness." Swarovski® said it right when they introduced this new Crystal Coated effect for your Fall 2017/Winter 2018 collections. This stunner is the color of an oil slick pooling on the summer asphalt. With a deep black base, it has a metallic sheen of iridescence on the surface- mesmerizing, menacing- like Madonna in her Gaultier cone bra days. To be honest, I'm a little intimidated by Rainbow Dark…but, that's what makes it so fascinating. It's intense, overconfident (in that blasé way that can't be faked), in your face without trying to be. In fact, it's actually trying to slink under the radar, not be a part of society at all. But, in rejecting the social standards of crystal, it's actually standing out as the hot new anti-celebrity. Consider this crystal your dragon tattoo. It has a sweet, a delicate, elegant side- but, you have to get past that tough exterior. Get lost in its depths if you dare- Rainbow Dark is a stone you will not soon forget.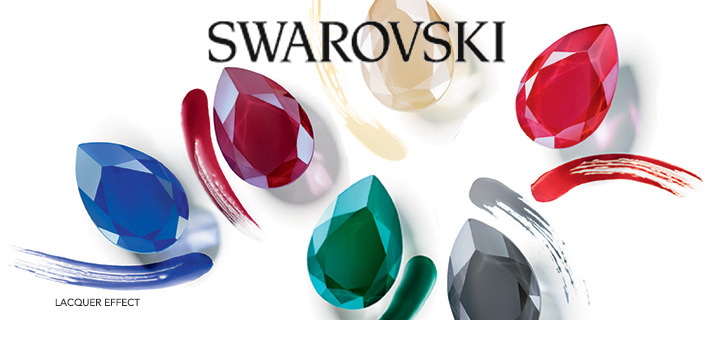 Lacquer These high-gloss Standard Colors play a trick on your eye. Slathered with a glassy opaque color on the underside of a transparent crystal, it's the facets that pull the color up. You're essentially looking through a colorless Crystal lens onto the lacquer color below. Seen from the side, you get an interesting play in the crystal clear negative spaces. The effect is a high-hued double take on the traditional shades. These colors are splashy, edgy, ready to party. Lots of personality in these little guys.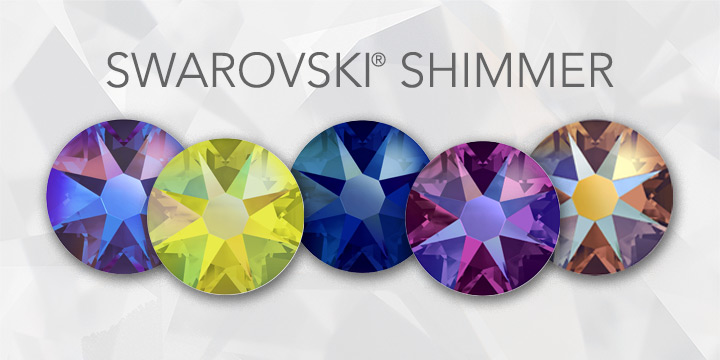 Shimmer Pre-launched last fall, we gave you a glimpse of these the last few months, but the Shimmer colors have now been officially released, and in more sizes (5ss through 40ss)! What is the Shimmer effect, you may ask? To dumb it down, this could be called Aurora Borealis Lite. A sexy, sheer application of iridescence illuminates your favorite crystal shades. Like a luminescent shimmer creme, the true color of the crystal is allowed to shine through- just with a little extra oomph. It's kind of like getting subtle highlights in the salon chair. Or, that lively flush you get after you exercise. (Or, when want people to think you've been exercising and instead of actually flushing lively, you pinch your cheeks and press your lip together.) It's that fresh youthful look after you whiten your teeth, get your brows waxed or have a particularly luxurious facial. Basically, Swarovski® Shimmer is Standard Color shades after a spa weekend.
PLUS, Just Announced: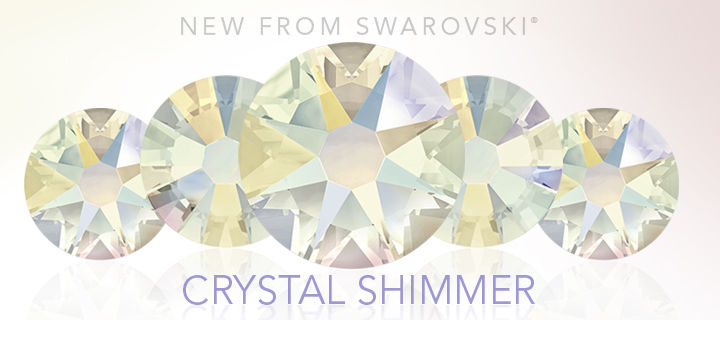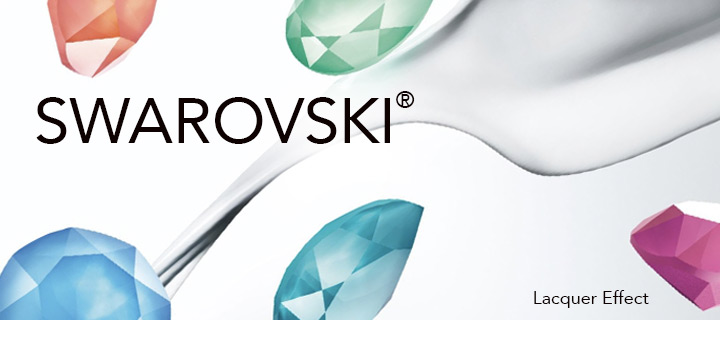 Swarovski® New Colors for Spring/Summer 2018 Twice a year, Swarovski® launches a collection of new cuts and colors to align with predicted trends 18 months in advance. In this way, you have time to design and create your collections so they're ready and relevant for the demands of the season.
The Spring/Summer 2018 collection of embellishments from Swarovski® continued to focus on the ethereal effects of Shimmer and the hyper-real boldness of Lacquer, introducing even more of these crystal effects to the existing line. Contact us to request a sample stone, or see all of the colors and effects available at RU with our Swarovski® Color Sample Card, and let your 2017 come alive in color. -xo- Jemm
Rhinestones Unlimited blog author Jemm Stone is a multifaceted girl navigating our sparkly world with on-point insights. Visit our blog to follow her thoughts as she highlights design trends, turns the spotlight on industry influencers and breaks down how-to tips like light through a crystal prism.