Posted by Rhinestones Unlimited on Mar 11th 2013
There's a lot of neat stuff waiting for you on our shelves. If all you've been searching for is rhinestones, you've just scratched the surface- our product selection extends far beyond our flat back lines. We carry all the in-betweens, from concept to consumer. The tools of the trade require such a minimal investment, but will pay dividends in your time, your money and yes, your sanity. So, read on, dear reader, read on.
Rhinestones Unlimited Stone Sizing Tool Yo, dude. Talk about a Cool Tool. We've compressed the most-referenced rhinestone information to a purse-sized tool that you won't want to be without. Our Stone Sizing Tool is the low-tech way to have all of the necessary information at your fingertips. And it's thinner than an Apple mobile device! The title track, if you will, is the rhinestone sizing feature. Anytime you need to figure the exact size of a rhinestone, just pull out the tool, compare the stone to the numbered holes, and voila! Each hole size is labeled with the corresponding Stone Size, commonly seen as the abbreviation "ss." When you need to convert it to millimeters (mm), or even Pearl Plate sizing (pp), just check out the comparative size chart printed right next to it.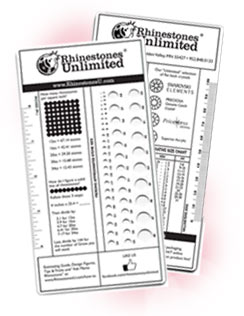 You'll also find an abridged estimating guide, a ruler for inches and millimeters, our "Unlimited" selection of flat back crystals, and of course, all of our contact information right on the tool. Personally, I suggest getting more than one. Carry one in your purse, use one as a bookmark, keep one in your sewing and craft area. You may also want to give one as a gift, for beware: when your fellow rhinestone-lovers see you use it, they WILL keep borrowing it. (Please trust me. I have to fight to get mine back on a weekly basis. I'm literally stalking people until they're done using it, eyeing them suspiciously and withholding favors. It's ugly. Better just spend the few extra bucks to save your friendships.)
-xo-
Jemm
Rhinestones Unlimited blog author Jemm Stone is a multifaceted girl navigating our sparkly world with on-point insights. Visit RhinestonesU.com/blog to follow her thoughts as she highlights design trends, turns the spotlight on industry influencers and breaks down how-to tips like light through a crystal prism. Check out the Cool Tool of the Day, the Rhinestones Unlimited Stone Sizing Tool, here: http://www.rhinestonesu.com/rhinestone-sizing-tool.aspx