Posted by Rhinestones Unlimited on Jan 12th 2016
Some of the volunteers and RU employees who helped embellish the U of MN costumes with Swarovski crystal product.
Swarovski® is constantly on the search to work with the most skilled artists worldwide, artists who share their passion for innovation. Based in Minneapolis, Minnesota, Rhinestones Unlimited is a trend-setter in the dance costumes, inspiring studios and performers worldwide since their beginnings nearly 20 years ago.
The University of Minnesota Dance Team was identified by the leaders of Rhinestones Unlimited for their own impressive artistic achievements, and the decision to support their national competitive jazz performance with a Swarovski®-embellished costume was an easy one. Over the years, many of the dancers who have contributed to the University of Minnesota's team championship titles began their training with members of the staff at Rhinestones Unlimited. But it was more than just hometown pride or simple bias that prompted the support of the Minnesota Dance Team; the suggestion of the Golden Gophers was based on the team's history and merit.
Dancers, instructors and studios around the Minneapolis/St. Paul metro area have built a nationwide reputation for technical training in competitive dance. A majority of the U of M performers grew up studying dance in these studios. They've trained under nationally-acclaimed instructors, earning countless solo and team trophies in the nation's most prominent showcases, all of which has prepared them for college level competitions. These ladies love to dance and it shows. In the past 13 years, the U of M Dance Team has won 15 national championships. Humble as it may be, the Midwest- especially Minnesota- is a mecca of untapped dance talent.
With such fierce and competitive training in the state, it's no wonder the entire Minnesota Spirit Squad- made up of 3 cheer squads, the dance team and mascot Goldy Gopher- has set and broken precedents of excellence since the very invention of school spirit leaders at the school in 1898, when a University student formed a group of "yell-leaders" at a football game against Northwestern University, urging the Gophers out of their losing streak. With such a demand for premiere dance performance, it naturally follows that there are some tremendous resources for dance costuming around the Twin Cities.
Rhinestones Unlimited has helped set worldwide costume trends that began right here in the employees' home studios. And so, with the product training and design inspiration from Swarovski®, Rhinestones Unlimited is proud to sponsor the University of Minnesota Dance Team with a sparkling costume for their jazz performance.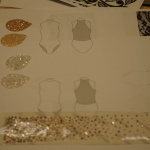 Playing with different materials during the design process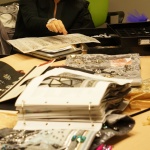 Playing with different materials during the design process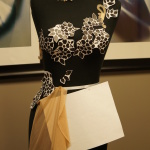 Playing with different materials during the design process
To those outside of the dance world, bling may seem an extravagance. But, the addition of sparkle to a costume is a beautiful tool to help highlight the movement of a dancer, enliven the performance, and create a larger presence in a cavernous arena or stage that may otherwise swallow the performer. The team is thrilled to have the support of a Swarovski® Authorized Reseller.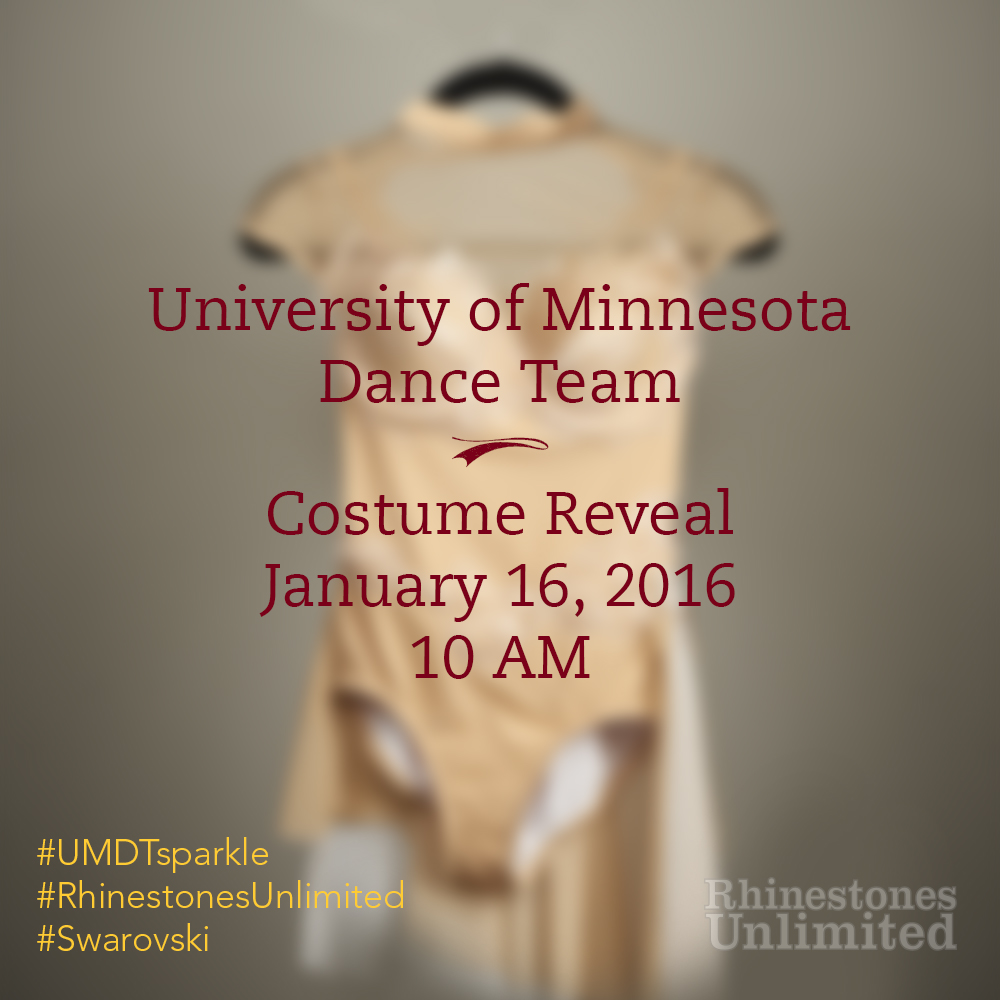 Images of the completed costume will be revealed on the Rhinestones Unlimited Facebook page
"This year we really wanted something that showcased nice lines with their legs and arms. With the perfect pop of sparkle, it creates an added dimension to turns and jumps, and creates really stunning pictures as they move together as a team." -Amanda Gaines, University of Minnesota Dance Team coach
We're looking forward to seeing the brilliance and intensity of the University of Minnesota Dance Team as they represent their school and home state! *Stay tuned all this week as we give you the inside scoop on the team, the Swarovski®-adorned costume and their jazz performance at the national event, which will be streaming live at 2:30 Eastern Time on Saturday, January 16th at www.UDA.Varsity.com.
-xo-
Jemm
Rhinestones Unlimited blog author Jemm Stone is a multifaceted girl navigating our sparkly world with on-point insights. Visit RhinestonesU.com/blog to follow her thoughts as she highlights design trends, turns the spotlight on industry influencers and breaks down how-to tips like light through a crystal prism.