Posted by Rhinestones Unlimited on May 12th 2017

Metallic elements continue to rise to the top of fashion trends, and it's no real wonder. Acting as shy neutrals and scene stealers, elegant accents and in-your-face mind-blowing alternatives, it's no wonder metallic's multiple personalities keep holding our attention.
Coverage of 2017 Spring/Summer runways by Vogue Paris shows that shine still reigns supreme (along with the Seventies and shaped shoulders):
"Metallic finish- A deep blue wave broke over the runways…with iridescent textures and futurist accents." "Saturday night fever- Sequins and shimmer set the runways on fire this Fashion Week. Minis are out and long sparkling sheaths are in…" "Lamé drama- All things shiny made for a resolutely contemporary energy with a new kind of high-octane elegance reflected in head-to-toe gold and silver."
Beauty trends recognized by Harper's Bazaar found new ways to coat nails in cool metals. "Modern Metallics- When worn over a neutral lacquer, a rose-gold French, simple silver line, or textured 14-karat tip is a refined way to pull off a precious metal manicure."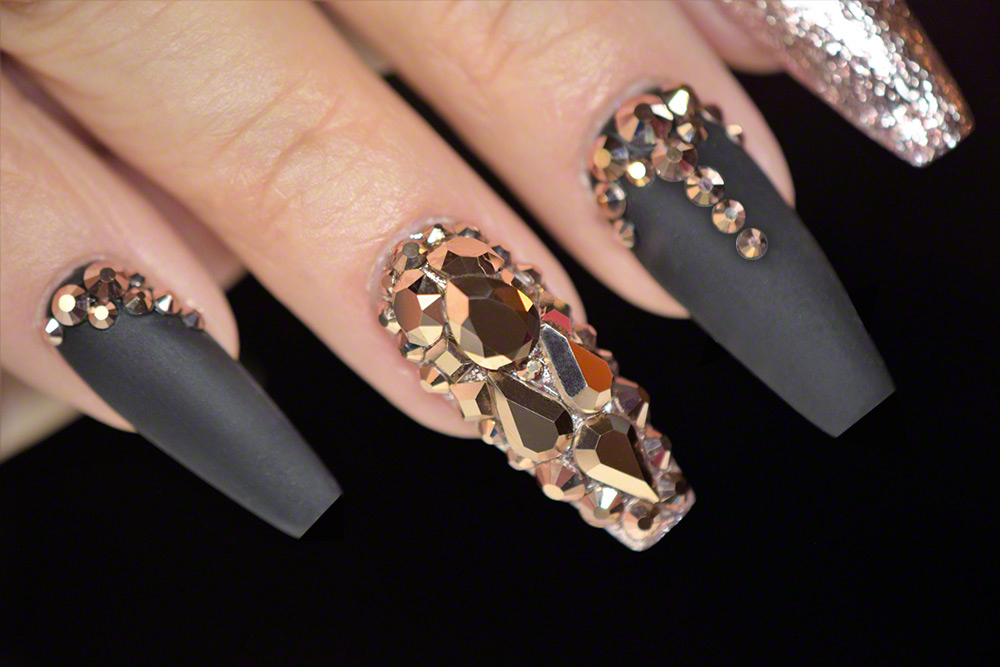 "Embellished cuticles. Gilded outer edges described as "nail jewelry" created a frenzy when first spotted backstage and Rodarte." Keeping you on top of the nail tip trends, CrystalsForNails.com has introduced some new limited edition metallic shapes in Rose Gold, Aurum (Gold) and Lt. Chrome.
Find these products at Crystals for Nails to fit your nail art style! -xo- Jemm
Rhinestones Unlimited blog author Jemm Stone is a multifaceted girl navigating our sparkly world with on-point insights.