Posted by Rhinestones Unlimited on Apr 20th 2017
We've had the chance to help you with many amazing, truly humbling projects over nearly 20 years, and each one has a story to tell. This past year, one hit pretty close to home. Based in Minneapolis suburb Golden Valley, our office is only 20 miles from Paisley Park, the home of Minneapolis music legend and community supporter Prince, who died one year ago today on April 21, 2016. His life and career made a lasting impression all over the world.
Here in the Twin Cities, the fence defining his property has been decorated with mementos and messages from fans who have come to say goodbye. Paisley Park has long been a landmark and point of pride for Minnesotans. It was his "home, recording studio and sanctuary,"
Perhaps for these reasons, Prince's sister, Tyka, and her son, President, teamed up with Rhinestones Unlimited client Foreverence to create a one of a kind urn to house his ashes. Foreverence 3D printed urns are custom creations giving a completely personalized tribute. The urn created for Prince is a 19" x 18" x 14" abstract replica in ceramic and glass of the Paisley Park building, complete with white doves, a purple piano and Prince's signature symbol inlaid with Swarovski® crystals. Foreverence worked with Andrea at Rhinestones Unlimited over the course of several weeks. Ideas included the size and shapes of crystals originally envisioned by Prince's family, but the final design features 27mm Round Crystal AB stones with six 14mm Solaris Crystal AB stones around the edges. "Tyka Nelson hand‐selected seven iridescent crystals – representing the artist's favorite number – to be part of the urn design and placed the final jewel in the piece herself."
Because Prince's ashes are actually housed inside this urn, the piece holds deep significance for many fans who are now able to tour the Paisley Park estate. Prince Rogers Nelson had a way of rooting out talent, putting faith in people's abilities and challenging them to find their own strengths. Because he honored his own talents and shared them unapologetically, on his own terms, he was able to positively impact millions of people.
-xo- Jemm
Rhinestones Unlimited blog author Jemm Stone is a multifaceted girl navigating our sparkly world with on-point insights.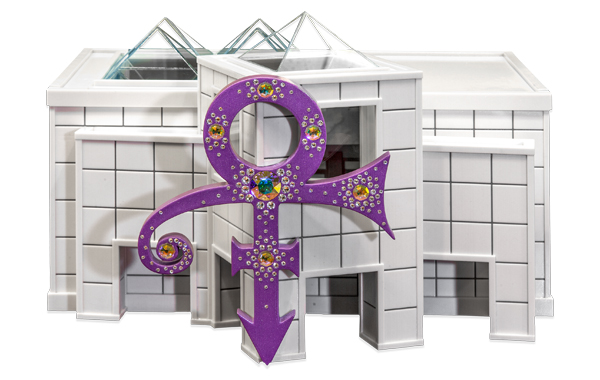 * Quotes excerpted from a press release referenced in this article from The Current, Minnesota Public Radio.