Posted by Rhinestones Unlimited on Jan 25th 2013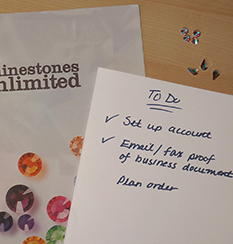 And you're off! Design nailed down, product specs calculated, you're ready for action. Here are some things to note in the process from the time you place your order to the time you have your product in hand. -First things first: Set up your wholesale account with Rhinestones Unlimited. We are a family owned and operated wholesale distributor- you must be registered as a business in order to purchase wholesale.
If you do not yet have an account with us, you may register your information on our website (https://rhinestonesu.com/login.php). Once that step is completed, send in a copy of your proof of business document to our office, via fax or email. If a U.S. customer, we will accept any one of these documents: State or Federal Tax ID, EIN Certificate, Tax Exempt form, DBA Certificate, Seller's Permit, Business License, Tax Exempt or Resale License. Remember that we are required to have a copy of the full document on file, not simply the document number. Once your proof of business is received, we will activate your account. You will then be able to view our wholesale prices and order online. Upon activation, we will contact you with login information.
-Orders can be placed by phone, fax, email, or on our website.
If you have a wholesale account, but have not requested online access, drop us a line with your business account name and the preferred email address for setup. If you fax or email your order, please remember to include your business account name and contact information in case we have any questions. When faxing or emailing, never include your credit card information. Though the Rhinestones Unlimited website is secure, fax and email lines are not.

-There is no order minimum. Since last year, we do not require a minimum dollar amount on orders.
-Remember that we now offer our Price Match Promise- if you think you have found a lower price on a product we carry, but you're reluctant to sacrifice our customer service, let us know. We can match the competitor's price! See our website for criteria (https://rhinestonesu.com/blog/equal-price-but-unmatched-service/).
-Order early. Though we do our best to anticipate our customers' needs, the demand for rhinestones is growing rapidly, and we may be temporarily sold out of your desired product. As the busy season is right on top of us, we must make a special note in regards to the Chinese New Year, in which some companies are closed from the end of January to the end of February, which can halt production and distribution of many products, most notably, our rhinestone jewelry. If you cannot be flexible with a product, please, ORDER EARLY. We also recommend budgeting a few extra jewelry pieces into your order, to have on hand for immediate replacement.

-Be flexible and know your options. In the case an item is out of stock and needs to be backordered, how would you like us to handle the order? Hold it until all items are in and ship complete? Send what we have now and send a second shipment with the backordered items? Call you to discuss substitutions? In any plan, it's best to be open to a backup option. On a side note, we cannot accept add-ons to orders. Any additional products you request after an order has been placed will be treated as a separate order.
-Orders placed before noon Central Time (Monday through Friday) can ship the same day. We ship through UPS, both within the US and internationally, and they offer a variety of expedited shipping options. The UPS website has a timetable for ground shipping within the US (http://www.ups.com/maps/results?zip=89431). Shipping prices are set by UPS, and are calculated according to package value, weight and destination address. We do not offer free shipping, as doing so would raise our product prices. Once your order is sent, you will receive a confirmation email which will include the tracking number.
-Remember that we now offer Reduced Rate Shipping- if your order is under $100 and is being sent within the United States, you qualify for a reduced shipping rate! At your request, we will ship your order through USPS for one low rate, and your product will arrive within five to eight business days.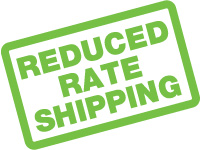 And now you wait, the hardest part. When your package arrives, open it at your earliest convenience, when you have a moment to look through the order. We recommend checking the contents of the package against the included invoice, and keeping the product together and in its original packaging. If errors in shipping or defective merchandise are found, they must be reported within 15 days, shortages within 5 days.
Please remember if you would like to return product, it must be in its original, unopened packaging, and in saleable condition. Though special or large quantity orders are final sale, we will accept returns on stock merchandise when you call within 60 days for a Return Authorization number. All returns will be assessed a 20% restocking fee. When you find that all is well with your order, dig in, and enjoy your sparkly treasure!
For more details on any of the above thoughts, check out our Terms and Conditions page (https://rhinestonesu.com/terms-and-conditions/), or give us a call. We look forward to working with you on your project, and wish you happy stoning! -xo- Jemm Rhinestones Unlimited blog author Jemm Stone is a multifaceted girl navigating our sparkly world with on-point insights. Visit RhinestonesU.com/blog to follow her thoughts as she highlights design trends, turns the spotlight on industry influencers and breaks down how-to tips like light through a crystal prism.