Posted by Rhinestones Unlimited on Jan 5th 2016
These 33 women, now Crystal Culture Stylists, are part of the elite team of nail art educators, able to go forth and spread some sparkle, training other nail artists in the latest and greatest ways to apply Swarovski crystals to nails.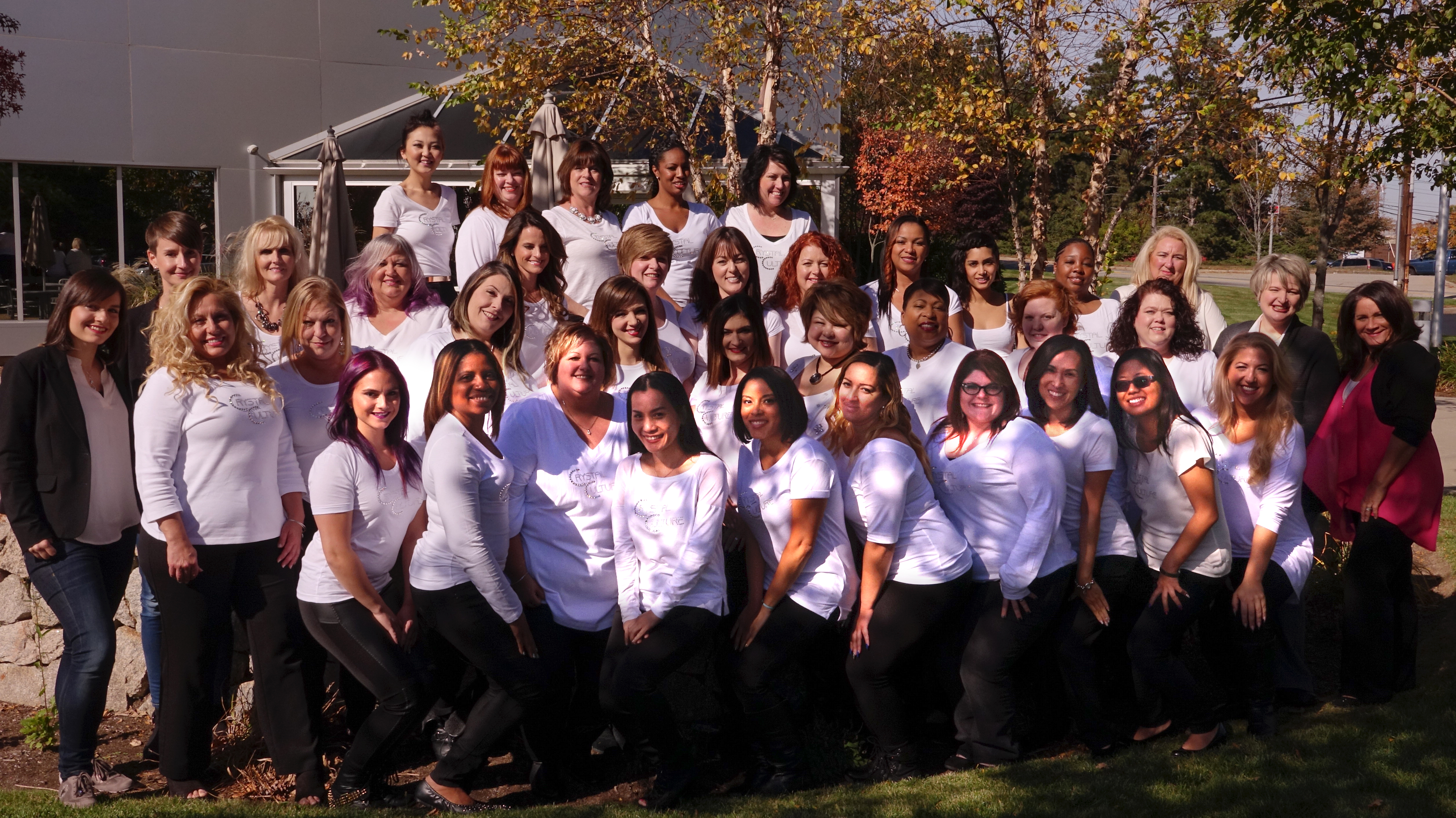 Swarovski is considered the highest quality crystal in the world. Its unmatched brilliance adds instant luxury to every day, which is why it's fast becoming the reigning trend in nail art. Those who work with dull plastic acrylic stones are used to applying topcoat over the rhinestone to add more shine. When you cover a Swarovski crystal, however, you've just diminished the purity of brilliance- not enhanced it! Those in-the-know know that a precision product requires precision care.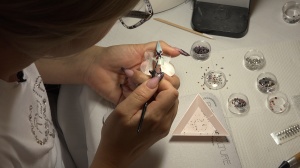 For this reason, Swarovski Authorized Instructor Gina Silvestro, co-founder of Crystal Culture, holds training for leaders in nail art, introducing the industry's newest and most effective practices for using (and reusing) Swarovski in your nail designs. The training is non-product specific- you can keep using your favorite nail products to apply Swarovski crystals.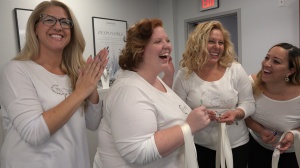 In October, the women- experienced nail technicians, artists and salon owners- spent two days completing an intensive training led by Gina. For the first time, the program was hosted at the Swarovski North America Headquarters in Cranston, Rhode Island. The partnership of Crystal Culture, Swarovski and CrystalsForNails.com sponsoring the training meant that the attendees- now nail art leaders- got top education, unmatched brilliance and a reliable source for Swarovski crystals.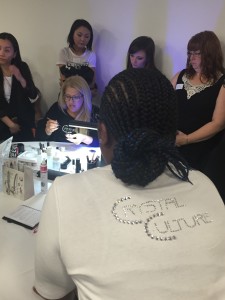 In the exclusive educator training program, there can only be a certain number of certified Crystal Culture Stylists per state. RU's very own employee, Sarah, attended the event and shared her experiences with me.
"My favorite part of the experience was meeting all these creative, capable business women who were getting completely geeky about crystal! And, Gina is really intelligent- a real entrepreneur. [The stylists] sign a contract, have to adhere to a code of conduct, as [they're] now representatives of Crystal Culture. A lot of her presentation was learning not just to make pretty nail designs, but how to build your own brand, your own company, differentiate yourself from the competition. It was serious stuff, but really supportive."
;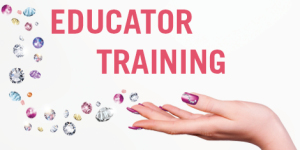 Sarah saw:
A sneak peek of Swarovski Crystal Pixie, just released
A presentation about Swarovski, its rich history and a look at the many divisions that make up Swarovski AG (including optics and road signs!)
Stellar crystal art suspended in the skylights of the Swarovski North American Headquarters; the rhinestoned face of founder Daniel Swarovski; crystallized bathroom signs; and, endless skill and creativity among the attending nail artists
Nick Regime, the Professor of Crystal
Sarah did:
A lot of inter

active training, using different nail products and mediums on the market to set various Swarovski product

A nail design contest inspired by Swarovski Crystal Pixie
Helped host a craft glue basics class with a DIY bracelet project
Sarah got:
$400 design kit with tools and Swarovski crystals
A Crystal Culture logo in sparkling Swarovski for her group shirt
A professional head shot (which she wouldn't let me show)
A discount to the Swarovski store
A Crystal Katana pick-up tool
A Swarovski Color Sample Card and

Swarovski Shapes Sample Card

from RhinestonesU.com
Be sure you're getting genuine Swarovski- purchase the crystals in full/bulk manufacturer packages, or smaller packages with Swarovski (no longer "Swarovski Elements") branding from an Authorized Swarovski Reseller. Rhinestones Unlimited has created a website especially for the beauty industry! CrystalsForNails.com simplifies B2B shopping for beauty distributors, showing the Swarovski products that are relevant to their industry. It's also a great resource for nail artists, salons and technicians, giving how-to instructions and showing inspiring designs featuring Swarovski crystal.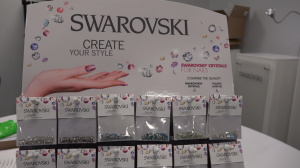 -xo-
Jemm
Rhinestones Unlimited blog author Jemm Stone is a multifaceted girl navigating our sparkly world with on-point insights. Visit RhinestonesU.com/blog to follow her thoughts as she highlights design trends, turns the spotlight on industry influencers and breaks down how-to tips like light through a crystal prism.
For inspiration, education and Swarovski product, visit www.CrystalsForNails.com presented by Rhinestones Unlimited. For more on Gina Silvestro, Crystal Culture and the nail educator training, visit www.CrystalCulture.com.
Additional 2015 Certified Crystal Culture Stylists: Barbara Abeyta; Undarmaa Baasandorj; Emily Barnes*; British Burnett; Shirley Cheng; Rossana Chousal-Fune; Keren Clark; Lisa Cotnoir; Brittany Custer; Michelle Davignon; Hillary Fry; Cheryl Gellise; Pamela Gentry; Alana Gibbs; Melissa Guyer; Yuriko A Hoshina*; Jessicka Martinez-Soto; Michele McLendon; Tammi Merritt; Elizabeth Morris; Bekee Mozzillo; Hong Nguyen; Darcy Olin; Courtney Patrick; Linda J. Reyes; Shannon Rooney; Jessica Rosado; Kathleen Shahan; Michelle Torisk; Kymber Veautour; Rosie Wallace; Sherdana Watkins *Yuriko and Emily were CrystalsForNails.com featured nail artists in 2015!