Posted by Rhinestones Unlimited on Aug 6th 2013
Rhinestones Unlimited Presents . . .
The Bersten Ballroom Boys of SYTYCD Season 10!
Dear readers, I am graciously (but, momentarily) giving up the spotlight, stepping down from my platform to welcome a guest writer, our very own ballroom expert and Crystal Market Jewelry Collection curator, Andrea. She has the scoop on Minnesota's own Bersten trio, Alan, Gene and Elena, who have each won the hearts of America as aspiring movers on Fox Network's show,
So You Think You Can Dance: Season 10

-xo-
Jemm
Rhinestones Unlimited blog author Jemm Stone is a multifaceted girl navigating our sparkly world with on-point insights. Visit www.rhinestonesu.com/blog/ to follow her thoughts as she highlights design trends, turns the spotlight on industry influencers and breaks down how-to tips like light through a crystal prism.
The Bersten Ballroom Boys of SYTYCD Season 10!
(Part 1)
by Andrea M.
Spotlight on . . . Dance With Us, America! This Minneapolis ballroom dance studio, a long-time customer of Rhinestones Unlimited, is owned by Gene & Elena Bersten who, along with younger brother Alan, were Season 10 participants of the wildly popular show So You Think You Can Dance. Not only did they make it through to Vegas, Gene & Alan were competing against one another for the final slot in the Top 20! If you watch the show you know how that turned out -- read on as we peek behind the curtain into the life and times of the Bersten Ballroom Boys of SYTYCD . . .
BALLROOM IS BACK, BABY!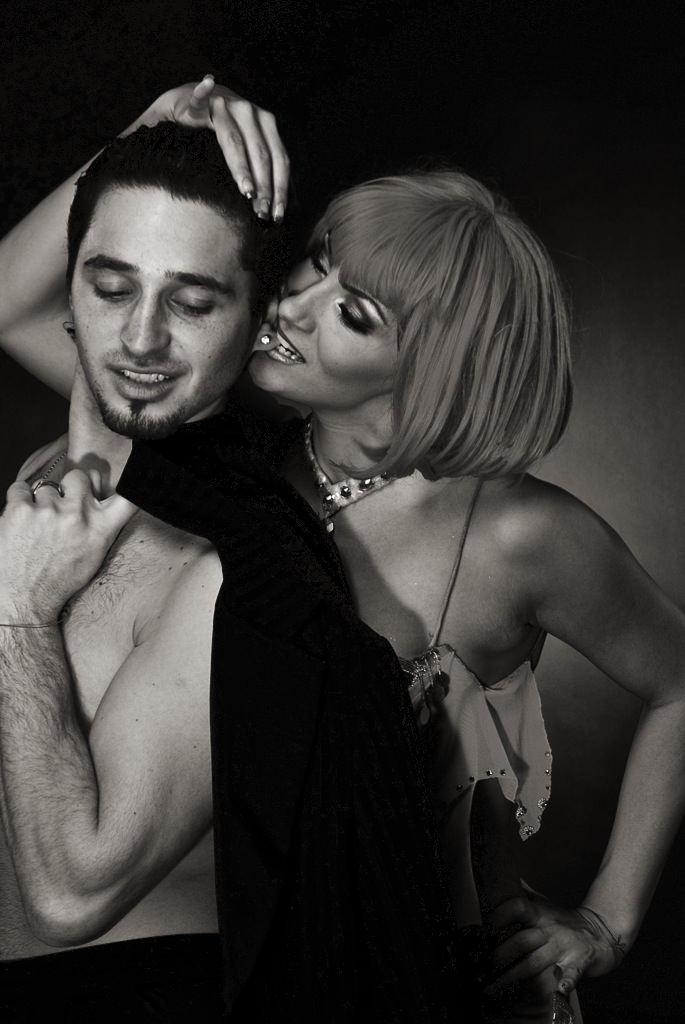 Gene and Elena Bersten, partners on and off the dance floor
Ballroom is back, baby, and Rhinestones Unlimited's clients the Bersten Boys bring it, with style and sensuality! If you've followed the American Idol-style show So You Think You Can Dance from the beginning, you may have noticed a gradual increase in the number of ballroom competitors. In the beginning, ballroom dancers were just glad to see their style taken seriously in the wider dance world, which previously had often dismissed the ballroom style as a feathers and fringe frivolity. The show's format of pairing a male and female dancer in every style, however, has created a new respect for the unique challenges of partner dancing. As SYTYCD All-Star performer, judge and choreographer tWitch told contestant Jade when choosing the Top 20 for Season 10, "90% of this show is about partnering."
The Berstens agree that ballroom dancers come to the show with a distinct advantage. Gene says that to make it on the show, "You have to be able to pick up choreography fast, you have to be ready to connect with a partner right away. That's why ballroom dancers have a good chance of getting passed through a lot of the choreography, because of the connections you learn through this style of dancing. You're able to take any [partner] and right away you have that chemistry, that connection. That's what we're taught [in ballroom from the beginning]. " And no matter how powerful a dancer is, how much individual balance and control they have on their own, the dynamics of two bodies working off of each other and moving around a common center is a very different mindset. That unique give and take is where connection comes from and that can transform an impressive performance into a tear-jerking standing ovation.
AUDITIONS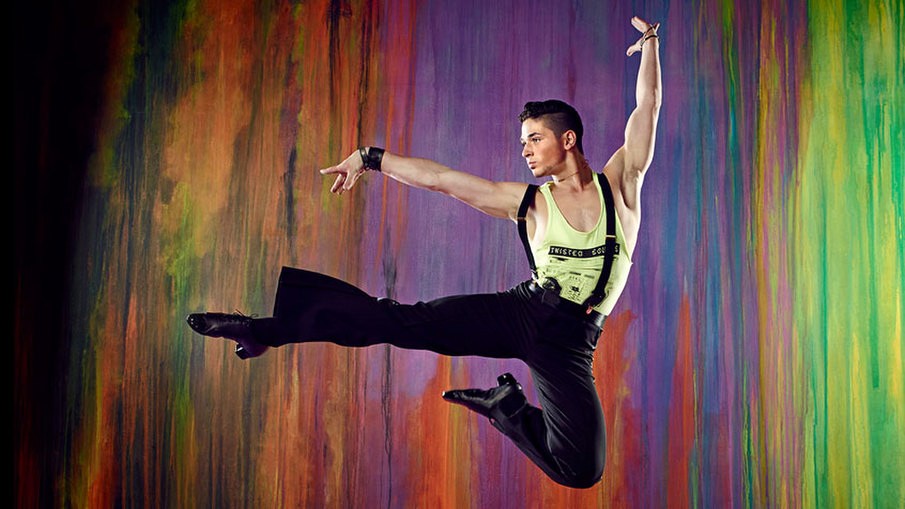 Alan Bersten, propelling himself into the spotlight?
Gene first tried out for SYTYCD in Season 6 and made it to Vegas, surviving Vegas Week to make it into the final, and took that loooong, nerve-wracking walk from backstage to the judges' panel (what the dancers call the "Green Mile") only to find out he had just missed the Top 20. After taking a few seasons off to get married and have a baby, he decided to try again with his wife Elena in Season 10 and since they were going, Alan figured he might as well go along too. Nothing better to do that week, Alan? What the heck, I think I'll try out for a national dance competition show? Actually, he says he tried out because "I wanted my role model to be impressed with me. My role model, of course, being my brother. I've never been so proud of someone in my life and I will always want to live up to his expectations."
Accomplished dancers all, the three made it through to Vegas, although Elena was cut during Vegas Week. You wouldn't guess from watching her dance that she just had a baby 10 months ago, but it may be just as well she didn't make it any further—the demands of the show, of running a dance studio and of a 10-month-old would be a little much for anyone to juggle! So it was up to the men to represent. At the end of that challenging week in Vegas came the strain of waiting to hear one's fate: will I be one of the chosen or is this the end for me?
The 33 finalists realize the show needs to strike a balance of styles among the cast, so all the candidates keep a running mental tally. In those tense, nail-biting minutes as dancers leave the backstage waiting room in ones and twos to walk the Green Mile and return to announce their fate to the rest, each of those still to be called is calculating how many slots in their style might remain. As it came down to the final few slots for the Top 20 and both Berstens were still waiting to be called, yet another ballroom boy walked in and announced with excitement that he had made it into the Top 20. There had been several ballroom dancers chosen already so the two thought it was pretty much over for them, but they still held out hope.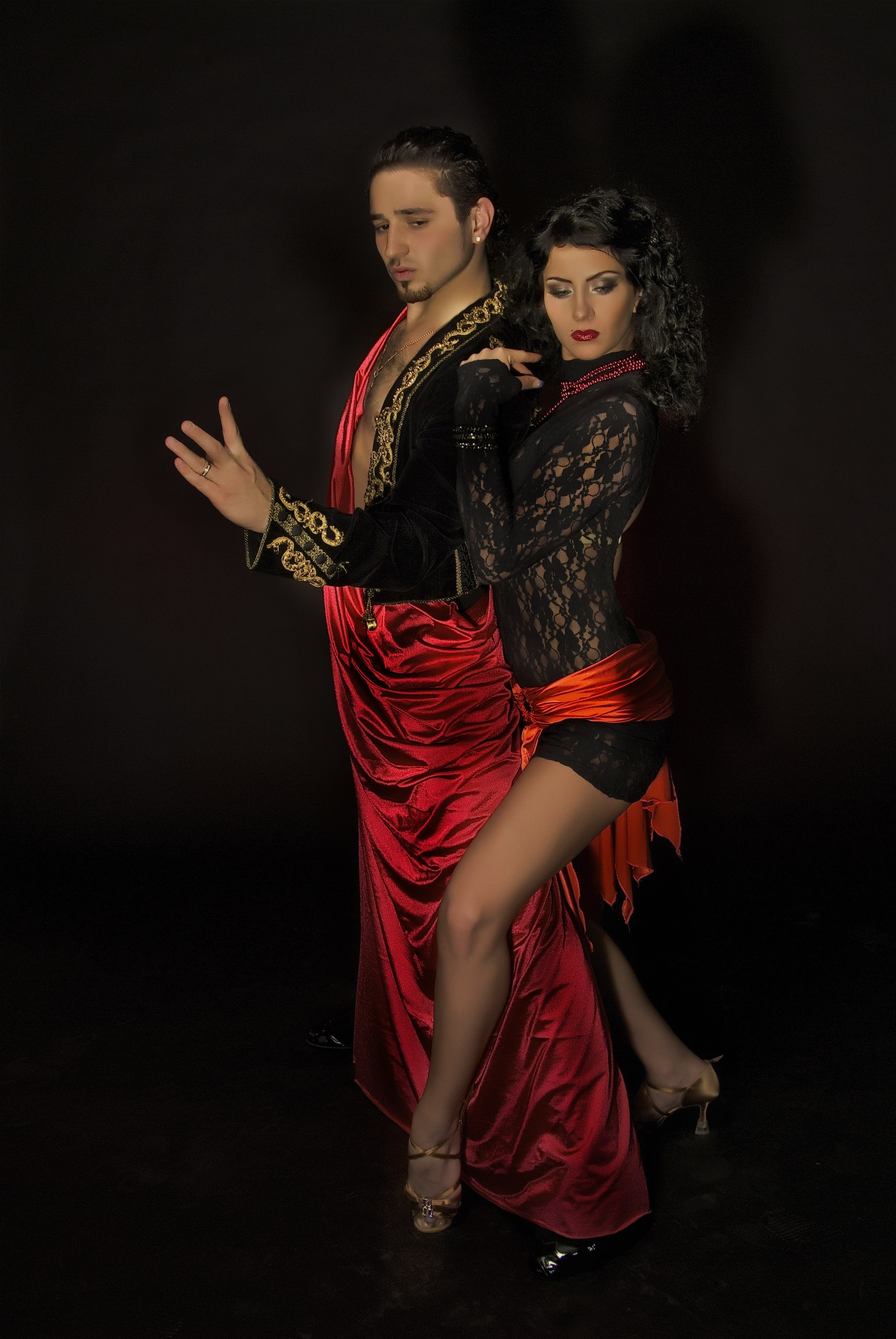 Elena & Gene
Finally there was only one slot left and the room was empty . . . except for brothers Gene & Alan. This was good news—or was it? It meant that one of them had made it onto the show but that one was going home. They knew that either way it would be great for the whole family and for the studio. Gene says, "It would've been great to be on the show together but we figured from the beginning they probably wouldn't pick both of us. The show has never chosen siblings to be in the same season before and we're too similar—we would've split the votes." But it would have made a great story line!
As the two walked the Green Mile side by side, they didn't know what to expect. The judges and choreographers had made clear they liked both brothers. As the eldest, Gene was the more experienced, perhaps stronger dancer. But Alan better represented the up-and-coming, aspiring young dancers that are the future of the show. And a big part of the show's appeal is the "trial by fire" aspect--following the cast members as the challenges of the show cause them to grow personally and in their dancing.
When it came down to it, youth won out and Alan was in! Alan said at first he was sad his brother hadn't made it ("For maybe 10 seconds—it didn't take much convincing!" says Gene) and then realized it was a good thing for the studio and that he would dance for both of them.
GETTING THERE
So how does a dancer get to the point of performing on national television? What can our readers do to prepare? Brothers don't often agree in general but both Berstens emphatically said, "Cross train!" Gene went on to say, "Back in the day when the show first started you could just be a one-trick pony. But now dancers are cross training. If you want to make it on the show you have to be exceptional in your style but you have to be decent in all the styles." He said for a lot of the dancers from other styles, partnering is their only downfall. "Everybody is able to learn choreography. Everyone is able to dance with character. But when you're partnered with someone, it's very hard to focus on dancing well yourself and still connect with a partner. Once you learn how to connect with another person, it brings your dancing to another level. You're not just a dancer yourself, you're dancing someone else."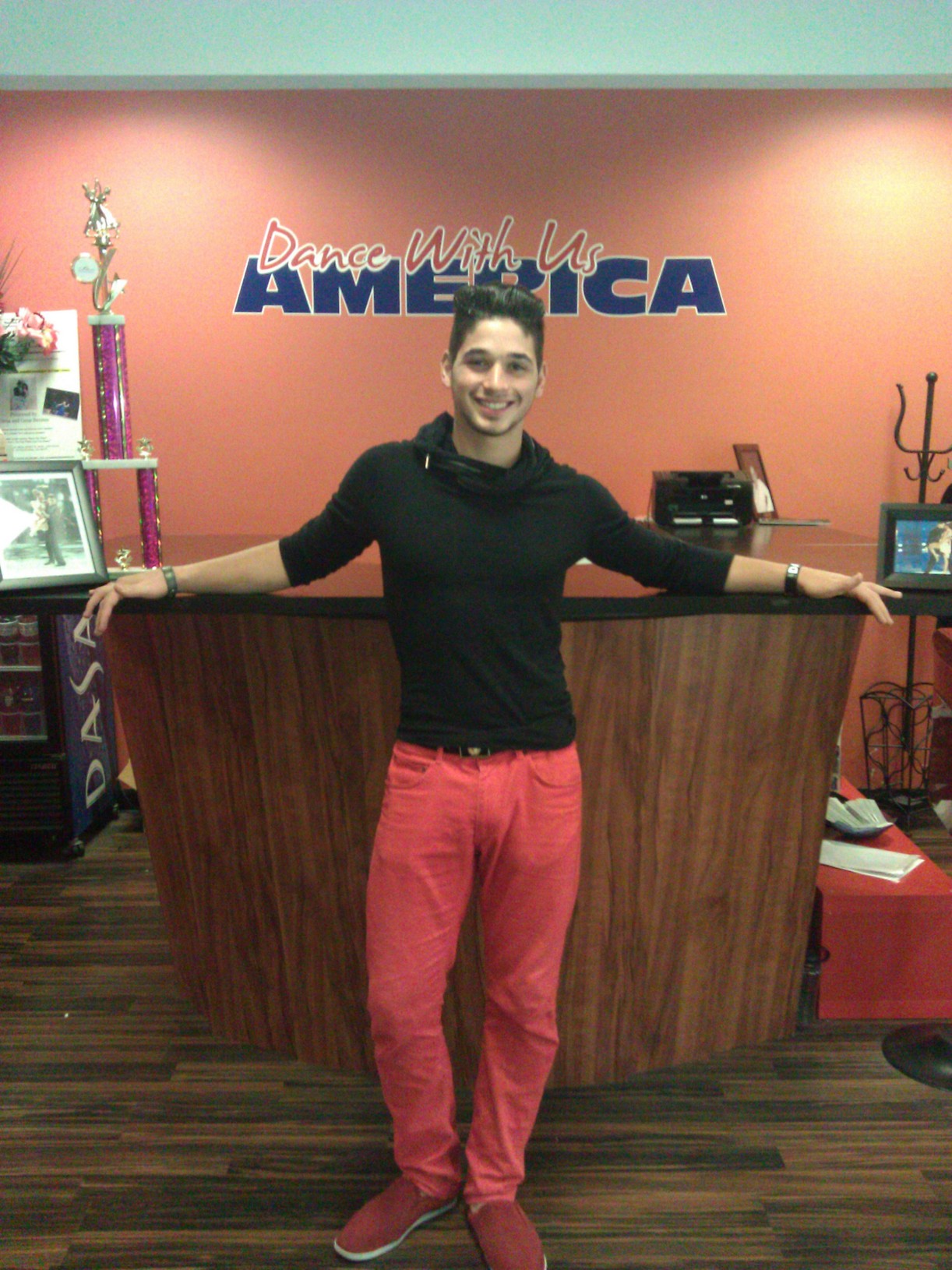 Alan at his family's ballroom studio
Alan says, "Spending my whole life in a dance studio was really encouraging. It helped me focus . . . and kept me out of trouble." As a proud big brother Gene said he doesn't think the show gives enough credit for past accomplishments so he pointed out that Alan had already achieved some impressive dance goals even before he was chosen for SYTYCD--he was the US Amateur Latin Champion in the Youth Gold and Pre-Championship and Adult Pre-Championship divisions. But even with all that, they have brought in some top trainers in other styles to their studio to broaden their skills. Alan said, "You can never prepare too much for the show. Keep improving in your own style but learn all the other styles too." In addition to a lifetime of ballroom dance, he's taken contemporary, jazz and hip hop.
TO BE CONTINUED...
Andrea is the ballroom and jewelry rep for Rhinestones Unlimited. She has been a full-time ballroom coach, choreographer, MC and judge for over 20 years. She currently owns a Fred Astaire Dance Studio and teaches and coaches at Carleton College and St. Mary's University in Minnesota. She is available for workshops and personal coaching in all styles of ballroom and Latin dance, as well as the unique dynamics of connection and partnering skills in any style.