Posted by Rhinestones Unlimited on Aug 8th 2013
Rhinestones Unlimited Presents . . .
The Bersten Ballroom Boys of SYTYCD Season 10!
We continue our peek into the lives of the talented Bersten family, as told to our guest writer, Andrea. Through her own career in ballroom, she insightfully interviews the Minneapolis-based dancers, all three of whom made their mark this season on the hit Fox Network show,
So You Think You Can Dance: Season 10

-xo-
Jemm
Rhinestones Unlimited blog author Jemm Stone is a multifaceted girl navigating our sparkly world with on-point insights. Visit www.rhinestonesu.com/blog/ to follow her thoughts as she highlights design trends, turns the spotlight on industry influencers and breaks down how-to tips like light through a crystal prism.
The Bersten Ballroom Boys of SYTYCD Season 10!
(Part 2)
by Andrea M.
BEING THERE
So what's it like being on a national dance competition show? "The experience of the show is amazing! I encourage all dancers to try it, just to see what it's like . . . and [you might make it into] the Top 20. It's a once-in-a-lifetime experience!" Alan says.
He makes it sound easy but it means lots of hard work! He explained, "Every day we get up very early, sometimes at 6 AM, to work with the choreographers." The prep clips played on the show before each performance may give the impression the dancers are with them all day, every day, but not so says Alan. "We dance with our choreographers for a few hours one day and we're expected to learn the whole dance and learn it to the music very quickly. Then we practice on our own with our partner, figuring out together what's not working. When we're there, each day feels like the longest day of our lives. We don't get too much time for shopping or anything, it's all about dancing." ("Not a lot of free time," coaches big brother Gene. Part of the experience for young dancers is learning how to give interviews. "When we do get free time, we go shopping," Alan replies. "People are going to think all he does in his free time is shop!" Gene laughs. Hey girls, can anyone say, "Perfect boyfriend!")
Alan Bersten pauses a moment so we can catch our breath.
When asked about the most unexpected part of the experience of being on the show Alan replied, "What's unexpected is that the actual show day is not as scary as the days leading up to it. You're so nervous leading up to the day that on the day you'd expect to be more nervous but when you get on stage, it's such a relief that you get to dance and show everyone what you've been working toward." Comparing the experience to all his years of ballroom performing and competing Alan says, "It's entirely different.
In [ballroom] competitions everyone is doing the same [dance] and there are so many other dancers [on the floor at the same time]. On the show it's just 20 of us and it's live, on national television. This is millions of viewers so it's entirely different. And we only get one chance." (In ballroom competitions dancers will often dance their routines in multiple heats throughout the day, so they have the opportunity to correct those inevitable little glitches inherent in any performance.) And although ballroom dancers are known for being impeccably groomed, the amount of hair and makeup prep required for the show was eye-opening too. "Especially the makeup," says Alan. "I've never put on makeup before this!"
What are his thoughts about all the different styles he'll be required to tackle? "Every style has its own unique challenges," Alan says. "Ballroom or contemporary or hip hop or jazz, to get the routine down and dance it the way I need to dance it and to make America love it, they're all equally challenging. Every dance style I get I work just as hard." Aside from ballroom he feels like contemporary will feel most familiar "because they show a lot of emotion in contemporary dance, and ballroom dancing is a lot of emotion and connection with a partner. So connecting with a partner in contemporary is much easier for me than I think it would have been if I hadn't done ballroom dancing." And the most difficult to master? "I think it will be hip hop because it's more about letting loose and in ballroom we're always upright and [thinking] about the proper positioning of our bodies. In hip hop you have to get down and loosen up." He already knows the style he'll take on next week, but couldn't tell me. His answer was, "Watch the show!" He's getting this show business thing down pretty quickly!
HOW THEY GOT HERE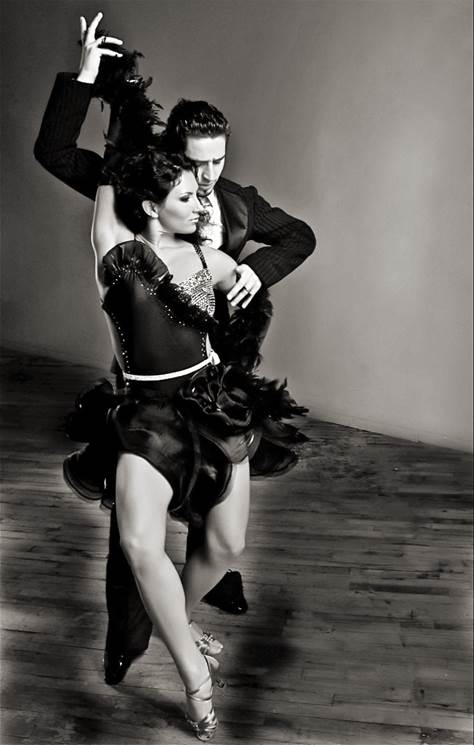 Elena & Gene, making everyone wish they were taking ballroom under their tutelage.
The eldest Bersten boy, Gene, was born in Belarus in the former Soviet Union. When he was quite young his parents moved to NYC, then Minneapolis, where younger brother Alan was born 19 years ago at Fairview Medical Center in Edina, right around the corner from their Dance With Us, America studio in Southdale Mall. Gene met his wife Elena, who came over from Russia several years ago, while touring with the Broadway ballroom show Burn the Floor. Unlike most married ballroom couples, they dated first, then married, then started dancing together instead of the other way around. Gene says, "I think it's better that way because then you know the feelings are real from the beginning!" They have a 10-month-old daughter who's in the studio every day, dancing in her playpen in the center of the floor while her parents practice and teach around her. Gene says, "It makes it harder to practice [and pursue our dancing with a baby] but it's definitely more rewarding because you have a reason to get better." Tune in to SYTYCD Season 30 to see the next generation of Berstens!
Their studio was originally called Magic Ballroom and they only taught amateur competitive dancing to kids. (European dance studios for kids are structured similarly to ones here but they focus on ballroom dance rather than the ballet, tap, jazz, hip hop and contemporary styles that Americans learn.) So, Gene started teaching at 16 and taught Alan, who basically grew up in the studio, partnering girls since the age of 7 in Gene's classes. And as he got older, dancing with lots of cute girls was a definite plus!
As the studio's reputation grew, adults wanted to learn, too, and it became a full-service studio. Now they teach all ages in social and competitive styles, wedding couples, etc. The current name, Dance With Us, America, was the name of a daily morning TV show Gene and Elena were developing when they lived in Atlanta, based on a show Elena had in Russia called "Dance With Us". The couple moved back to Minnesota before the US version came about but Gene really liked the name, and having become US citizens and with Alan having been born here, using the name for their new studio "just fit," he says. Gene says that teaching kids for so many years has taught them a lot of patience! "Adults choose to take lessons and come in having some idea of what they want but kids don't so they require more guidance. To keep them involved you have to make sure they have fun so they want to continue dancing."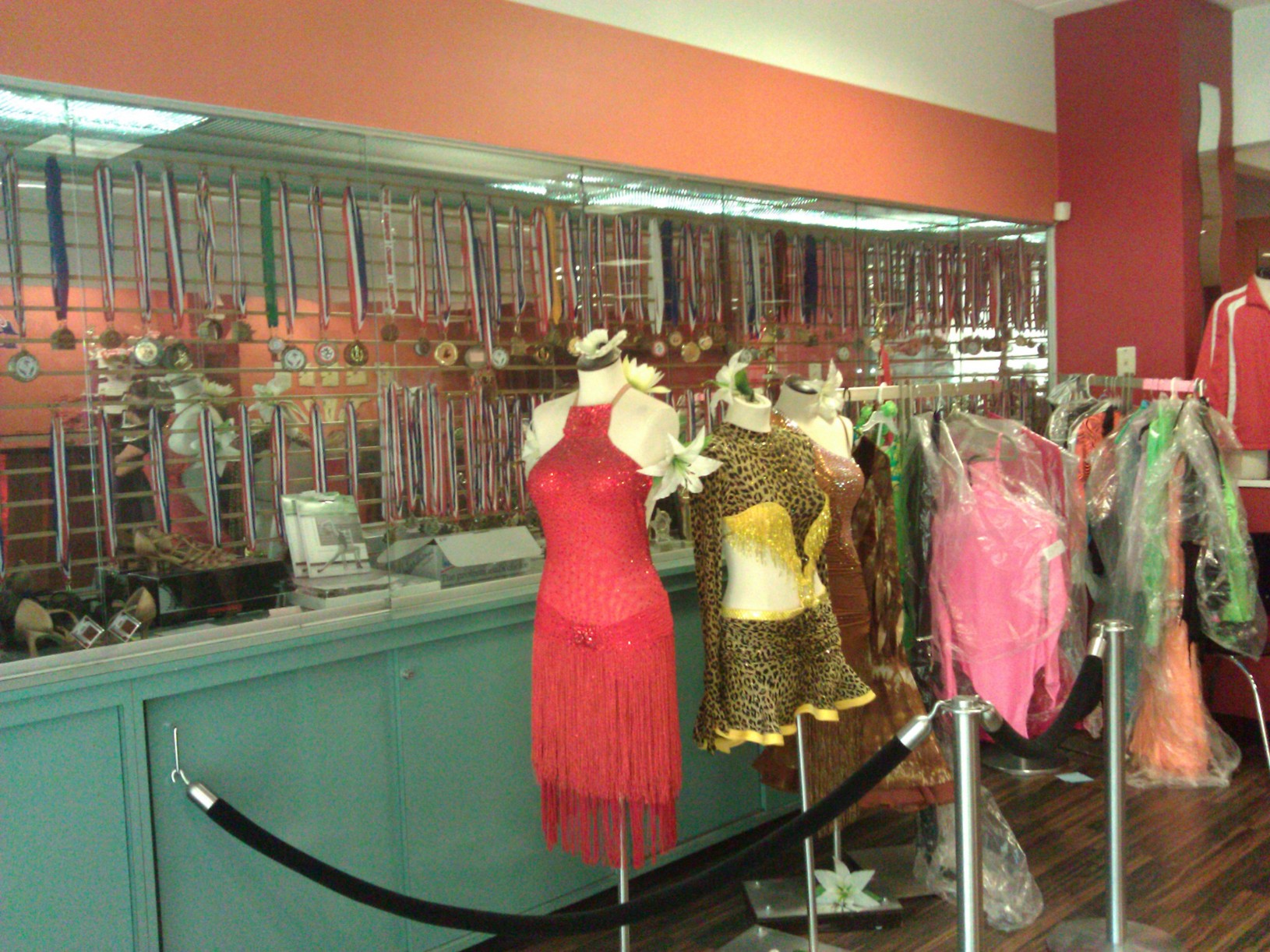 The velvet rope protects students from running into gorgeous costumes when they're blinded by all the medals hanging on the studio walls.
That patience has paid off. Dance With Us, America currently counts several US National Champions in different age divisions among their students and their trophy wall holds over 300 ribbons, trophies and medals. Gene and Elena have an impressive dance resume themselves. Elena was a Russian gymnastics champion as a child, and in high school followed in her mother's footsteps as a former Russian Latin champion. She attended university to study ballroom/Latin dance, has performed with many celebrities and toured all over Russia, Europe and the US. Gene's dance career began after moving to the US and he has won numerous Finalist and Champion titles in competitions across the country, in addition to touring with renowned dance shows.
AND FINALLY . . . PERSONAL FAVORITES & A PERSONAL REQUEST
Just for fun I asked the Berstens a few random rhinestone questions:
Favorite rhinestone color? They both said black, but did you know there are many different shades of black? When pressed, it turns out that Alan is a Jet Hematite guy and Gene is a Black Diamond man. And that seems pretty indicative of their personalities, too. Shimmery and shiny vs. smoky and subtle—pick your fav flav, ladies!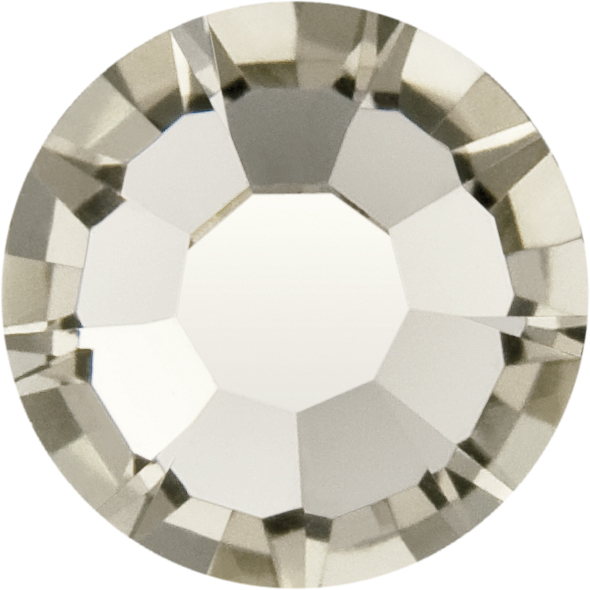 Favorite rhinestone brand—Swarovski or Preciosa? They've always used Swarovski but said that even though they've never tried it, more ballroom dancers are using Preciosa too, so they're keeping an open mind!
Favorite dance movie (that rhinestones are in it is a given!)? At first Alan said Dirty Dancing but when Gene asked if he'd ever actually seen the film, it turns it was just the first one that came to his mind because it's such a classic. "I don't really have time to watch movies anymore, not since I was a kid," he laughed. But then he remembered, "Oh yeah, Shall We Dance—that was a good one." And one he's actually watched!
So there you have it, (Rhine)Stoners! The Berstens "live to dance and dance to live! Every single day, it's dance," Gene says. (It's true. Here we are in the studio on a Sunday after having spent the previous three days at a ballroom competition!) "You really get to know yourself well if you're dancing every day. When dance is your life you have to really love what you're doing. Otherwise it becomes like work and for me and Alan, this is not work. We feel like we're cheating—to get paid to do what you love. You know you're in the right business when it doesn't feel like work."
Regardless of how the show turns out, Alan plans to make a career in dancing. "I'm going to pursue my dance career no matter what. Hopefully I'll make it farther on the show and it will lead to other opportunities, but dancing will be in my future forever." But for now, he's enjoying the experience. "One thing I've learned from [the experience of being on] the show is not to think too far ahead. Take what you have and make the most of it now. Live in the moment." Gene agrees. "Everything that happens, happens for a reason. If you think your life is taking an interesting twist, it's always for the better."
Any final words? "Vote for Alan!" "Follow me on Twitter!" Here's how:
Twitter: @dance10alan; @Genebersten; @berstenelena
Facebook: Alan - www.facebook.com/bersten5
Gene - www.facebook.com/Gene.Bersten
Elena - www.facebook.com/Elena.Bersten
Studio: www.dancewithusamerica.com
Instagram: @alanbersten; @genebersten; @elena_bersten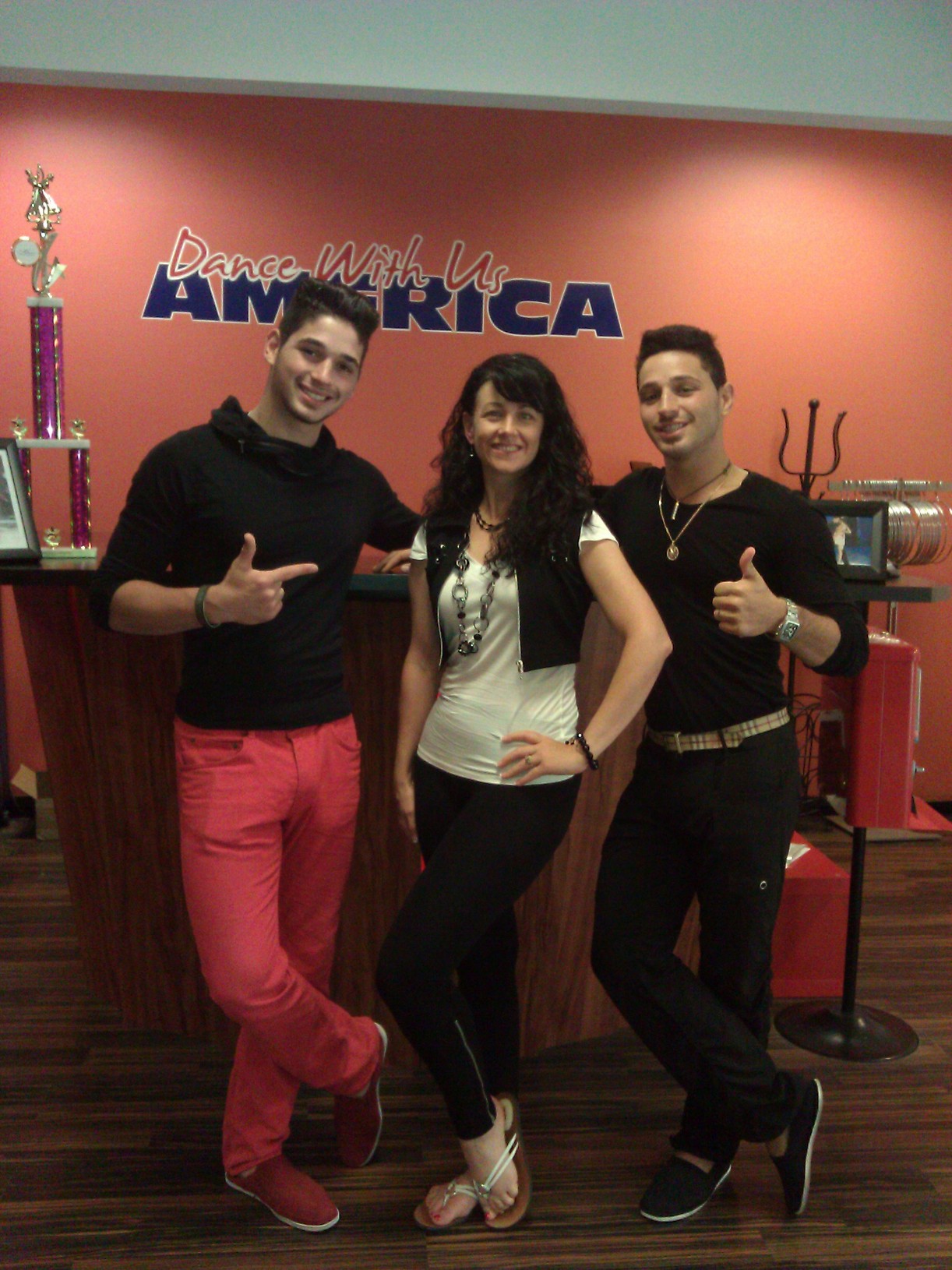 Andrea and the B-boys in the Bersten's Edina, Minnesota ballroom studio.
Andrea is the ballroom and jewelry rep for Rhinestones Unlimited. She has been a full-time ballroom coach, choreographer, MC and judge for over 20 years. She currently owns a Fred Astaire Dance Studio and teaches and coaches at Carleton College and St. Mary's University in Minnesota. She is available for workshops and personal coaching in all styles of ballroom and Latin dance, as well as the unique dynamics of connection and partnering skills in any style.