Posted by Rhinestones Unlimited on Mar 27th 2013
In my sleuthing journalism, I've uncovered some sweet, some smarmy truths about the folks behind your glittering Rhinestone Unlimited packages. Who are these people on the other side of your order, really? I've dug deep with scrutinizing questions, and quote the workers in their own words [with some spelling and grammatical corrections. Also, I have interjected my own comments in brackets]. Read on, dear readers- the sublime exposés will shock and intimidate!
Hey you in the booth- turn that spotlight on... ...Andrea! (long Aahhh)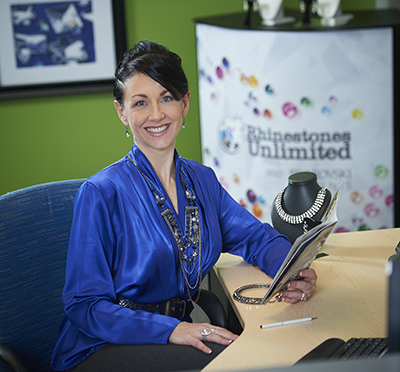 Nicknames: Andy (in high school, until my dad would tell friends who called that no Andy lived there. He hated that his only daughter was using a boy's name.)
Number of years at Rhinestones Unlimited: 1.5
Favorite movie about stones: Romancing the Stone
Movie you think could use more sparkle: Any and all.
Your position at Rhinestones Unlimited: Customer Service and Crystal Market Coordinator
Your area of expertise in the rhinestone universe: Ballroom and Equestrian/Western Wear [she also owns and teaches at a ballroom studio with her husband, Pat, our very own order-filler extraordinaire!]
The great debate: Hot fix or Flat back
Favorite rhinestone-related adjective: Bling-y
Pet Peeve: People who don't understand that the left lane of the highway is for passing. You know those signs that say, "Slower Traffic Keep Right?" This means you-move over!
Best words of rhinestone wisdom: You can never have too much sparkle! [Word.]
Don't be afraid to try: Adding more rhinestones
Current color of your toenails, matched to a stone color: Indian Siam
The hot forecast- the next big rhinestone market: Construction- rhinestoned hard hats will be all the rage in 2014 ;)
Favorite thing about being based in MN: Spring and Fall Current drink of choice: (red wine) Casillero del Diablo Carmenére
In-house product you think is underrated: Crystal Market jewelry
The current song playing in your head: "Just Dance"- Lady Gaga
Three things still on your bucket list: Skydiving, hot air balloon ride, horseback camping trip
Three things you've already crossed off: Visiting Sicily, riding a racehorse, sailing at night and navigating by the stars
Favorite thing about Rhinestones Unlimited: The sparkling personalities!
Ryan Gosling, hot or not? I'll give him a 7. Ok, maybe an 8. :)
Consider this report breaking news with more to come; I hate to admit it, but somehow I feel like I've not dug deep enough with Andrea- somewhere inside her, she has plenty more exciting tales to tell that I've not even scratched the surface of...I vow to return to Andrea with a vengeance, and get you the stories you never knew you always wanted to hear! For now, just know that your web orders are lovingly attended to with the skilled hands and crystal-jewelry-starred eyes of our very own toe-twirling equestrian. More heavy-hitting journalism to come, stay tuned...
-xo-
Jemm
Rhinestones Unlimited blog author Jemm Stone is a multifaceted girl navigating our sparkly world with on-point insights. Visit RhinestonesU.com/blog to follow her thoughts as she highlights design trends, turns the spotlight on industry influencers and breaks down how-to tips like light through a crystal prism.
Tune in again for more hot reporting on your Rhinestone Unlimited favorite staff members. Submit the questions you want answered to Reception@RhinestonesUnlimited.com, with the subject line: "Spotlight On..."