Posted by Rhinestones Unlimited on Mar 25th 2013
In my sleuthing journalism, I've uncovered some sweet, some smarmy truths about the folks behind your glittering Rhinestone Unlimited packages. Who are these people on the other side of your order, really? I've dug deep with scrutinizing questions, and quote the workers in their own words [with some spelling and grammatical corrections. Also, I have interjected my own comments in brackets]. Read on, dear readers- the sublime exposés will shock and intimidate!
Hey you in the booth- turn that spotlight on... ...Carol!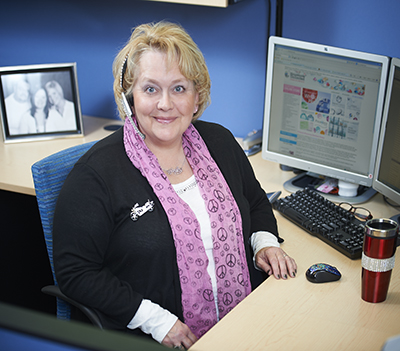 Number of years at Rhinestones Unlimited: 4
Favorite movie about stones: Rhinestone Cowboy, of course!!
Movie you think could use more sparkle: All Disney Princess movies
Your position at Rhinestones Unlimited: Supervisor, Customer Service and Sales
Your area of expertise in the rhinestone universe: Former "Dance Mom!" and costume creator/seamstress
The great debate: Swarovski or Preciosa
Favorite rhinestone-related adjective: Sparkle
Pet Peeve: When the person you are speaking to has a pause and says "tschoo tschoo tschoo tschoo"
Best words of rhinestone wisdom: Always try a small area first, before completing your project. [Indeed. These are very wise words.]
How to calm a rhinestone emergency: With a calm voice
Don't be afraid to try: Hotfix
Current color of your toenails, matched to a stone color: Padparadscha [Swarovski]
Activity you would like to try in the rhinestone world: Rhinestone my Harley (work in progress!) [And, so far, it looks fantastic!]
The hot forecast- the next big rhinestone market: Floral industry
Favorite thing about being based in MN: Minnesota Nice. Works on the Atlantic side and the Pacific side.
Current drink of choice: Michelob Golden Light
In-house product you think is underrated: Pick-N-Stick wax pick up tool – everyone should use them!
The current song playing in your head: "Leather and Lace" Stevie Nicks
Three things still on your bucket list: Travel more, eat less and be free
Three things you've already crossed off: Found new love, bought a Harley and downsized my living and life
Favorite thing about Rhinestones Unlimited: The Price family (especially the little ones that come to visit)
Ryan Gosling, hot or not?: Hot? Sexy.
And, there's Carol in the smallest nutshell, if the nutshell formed the helmet for The Mouse and the Motorcycle (rhinestoned, of course). A people-loving, open-road-seeking, sparkle-loving lass, and my personal encyclopedia for all things rhinestone. You're talking to a sassy and deliciously seasoned veteran when you're on the line with her, my friends. More heavy-hitting journalism to come, stay tuned...
-xo-
Jemm
Rhinestones Unlimited blog author Jemm Stone is a multifaceted girl navigating our sparkly world with on-point insights. Visit RhinestonesU.com/blog to follow her thoughts as she highlights design trends, turns the spotlight on industry influencers and breaks down how-to tips like light through a crystal prism.
Tune in again for more hot reporting on your Rhinestone Unlimited favorite staff members. Submit the questions you want answered to Reception@RhinestonesUnlimited.com, with the subject line: "Spotlight On..."