Posted by Rhinestones Unlimited on Mar 28th 2013
In my sluething journalism, I've uncovered some sweet, some smarmy truths about the folks behind your glittering Rhinestone Unlimited packages. Who are these people on the other side of your order, really? I've dug deep with scrutinizing questions, and quote the workers in their own words [with some spelling and grammatical corrections. Also, I have interjected my own comments in brackets]. Read on, dear readers- the sublime exposés will shock and intimidate!
Hey you in the booth- turn that spotlight on... ...Geoff!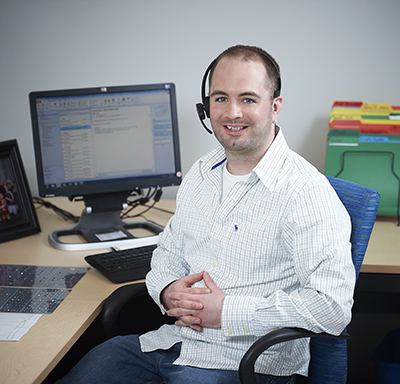 Number of years at Rhinestones Unlimited: 1
Favorite movie about stones: Indiana Jones and the Temple of Doom
Movie you think could use more sparkle: Casablanca or the beginning/end of The Wizard of Oz
Your position at Rhinestones Unlimited: Fulfillment Supervisor
Your area of expertise in the rhinestone universe: Tap and Jazz Teacher/Choreographer
The great debate: Regular Colors vs. AB Colors
Favorite rhinestone-related adjective: Iced out
Pet Peeve: No effort costuming (you are performing, show me some effort)
Best words of rhinestone wisdom: Taking the time to rhinestone gives you a complete professional look.
How to calm a rhinestone emergency: Go to our website and look at all of your options.
Don't be afraid to try: Travelling more
Current color of your toenails, matched to a stone color: White Opal
Activity you would like to try in the rhinestone world: Hot fix
The hot forecast- the next big rhinestone market: Rose Pins [Swarovski] and shoe bling [I think he's nailed this one, ladies and gentlemen- Rose Pins are on the rise and footwear in all styles are getting all dolled up]
Favorite thing about being based in MN: This is my home, and also has an active dance community
Current drink of choice: Diet Mountain Dew
In-house product you think is underrated: Gem-Tac [Beacon adhesive- our favorite white glue]
The current song playing in your head: Everything that I am choreographing to right now [this sounds like a cacophony of non-stop action]
Three things still on your bucket list: Camden Yards, Wrigley Field, Fenway Park
Three things you've already crossed off: Target Field, Yankee Stadium, Shae Stadium [baseball fan, are you, Geoff? Never would have guessed…]
Favorite thing about Rhinestones Unlimited: Friendly, family atmosphere
Ryan Gosling, hot or not? I prefer Kate Upton!
Geoff, our tip-tapping triple-checker, shuffles through the warehouse with his positive attitude, making sure that what you want, you got! He's Quality Control with an eye for inventory and, a bit surprisingly, fashion trends. Although I will admit, he is a dapper dresser...maybe it's because he's Irish...
More heavy-hitting journalism to come, stay tuned...
-xo-
Jemm
Rhinestones Unlimited blog author Jemm Stone is a multifaceted girl navigating our sparkly world with on-point insights. Visit RhinestonesU.com/blog to follow her thoughts as she highlights design trends, turns the spotlight on industry influencers and breaks down how-to tips like light through a crystal prism. Tune in again for more hot reporting on your Rhinestone Unlimited favorite staff members. Submit the questions you want answered to Reception@RhinestonesUnlimited.com, with the subject line: "Spotlight On..."