Posted by Rhinestones Unlimited on Mar 28th 2013
In my sleuthing journalism, I've uncovered some sweet, some smarmy truths about the folks behind your glittering Rhinestone Unlimited packages. Who are these people on the other side of your order, really? I've dug deep with scrutinizing questions, and quote the workers in their own words [with some spelling and grammatical corrections. Also, I have interjected my own comments in brackets].
Read on, dear readers- the sublime exposés will shock and intimidate!
Hey you in the booth- turn that spotlight on... ...Jill!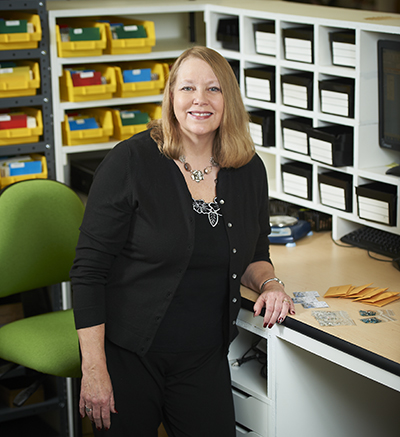 Nicknames: Jilly Bean
Number of years at Rhinestones Unlimited: 3
Your position at Rhinestones Unlimited: Repackager [all that counting of stones that you don't have time to do? Guess who divides your packages for you. All those appointments made in a hurry? Guess who has displayed hundreds of single-gross quantities, so you can run in, run out, and finish your project.]
Your area of expertise in the rhinestone universe: Rhinestoning anything and everything [and believe me, she has. As a ballet teacher, Jill has helped many a dancer shine like the dickens under those spotlights, in more ways than one.]
The great debate: Rhinestone [and there you have it. There's no debate. Just rhinestone.]
Pet Peeve: Filling out questionnaires [oops...]
How to calm a rhinestone emergency: Just breathe
Current color of your toenails, matched to a stone color: Silk
Favorite thing about being based in MN: Summer camping
Current drink of choice: Root beer
Three things still on your bucket list: Finishing this questionnaire, cleaning my house, painting my bedroom [very achievable goals! You've almost got one under your belt...]
Favorite thing about Rhinestones Unlimited: Love our people
Ryan Gosling, hot or not? Who?
No nonsense here- Jill has a handle on your repackaged orders, with precision. She knows just how many rhinestones you need for your project, and can imagine and execute very advanced embellishment designs. Most of the pieces showcased around our showroom have her signature hand on them. It's no wonder she hasn't had time to discover Ryan Gosling.
More heavy-hitting journalism to come, stay tuned...
-xo-
Jemm
Rhinestones Unlimited blog author Jemm Stone is a multifaceted girl navigating our sparkly world with on-point insights. Visit RhinestonesU.com/blog to follow her thoughts as she highlights design trends, turns the spotlight on industry influencers and breaks down how-to tips like light through a crystal prism. Tune in again for more hot reporting on your Rhinestone Unlimited favorite staff members. Submit the questions you want answered to Reception@RhinestonesUnlimited.com, with the subject line: "Spotlight On..."