Posted by Rhinestones Unlimited on Mar 28th 2013
In my sleuthing journalism, I've uncovered some sweet, some smarmy truths about the folks behind your glittering Rhinestone Unlimited packages. Who are these people on the other side of your order, really? I've dug deep with scrutinizing questions, and quote the workers in their own words [with some spelling and grammatical corrections. Also, I have interjected my own comments in brackets]. Read on, dear readers- the sublime exposés will shock and intimidate!
Hey you in the booth- turn that spotlight on... ...Matt!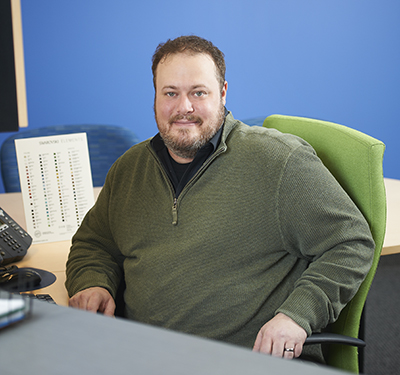 Nicknames: Matty Boy
Number of years at Rhinestones Unlimited: Coming up on 12
Favorite movie about stones: Cliffhanger
Movie you think could use more sparkle: Little Miss Sunshine
Your position at Rhinestones Unlimited: Shipping and Receiving Director
Your area of expertise in the rhinestone universe: Purchasing them for others to use
The great debate: What music to listen to today...
Favorite rhinestone-related adjective: Life
Pet Peeve: Wash your hands!!!
Best words of rhinestone wisdom: Standard colors are just as brilliant, just a different color
How to calm a rhinestone emergency: Take a deep breath
Don't be afraid to try: Eating or cooking something new
Current color of your toenails, matched to a stone color: That is a private question
Activity you would like to try in the rhinestone world: Curling?
The hot forecast- the next big rhinestone market: Quilting
Favorite thing about being based in MN: Four seasons, and yes I like winter (for the most part) [aha, for the most part]
Current drink of choice: Homebrewed beer
In-house product you think is underrated: PriceLess Crystals
The current song playing in your head: "Smooth Criminal" [I assume the MJ version, not the Alien Ant Farm cover]
Three things still on your bucket list: Deep Sea Fishing, Irish Countryside, Alaska Cruise
Three things you've already crossed off: Brew a beer, Travel overseas, Fish in Canada
Favorite thing about Rhinestones Unlimited: Working with my immediate family, and the closeness of everyone that works here
Ryan Gosling, hot or not? OK, I'll bite…Oh, the guy from the Notebook. I liked that movie, but have never seen anything else
Aptly stated, Matt Price. Germs hater, beard wearer, whip cracker, finder of rare and shiny objects. The Indiana Jones of the modern rhinestone world. Though you may never see him, he's had his hand in every prismatic package you reveal from Rhinestones Unlimited. Metaphorically. He's not caressing all of your rhinestones before he sends them off. I promise. Now, I'm just making it weird...
More heavy-hitting journalism to come, stay tuned...
-xo-
Jemm
Rhinestones Unlimited blog author Jemm Stone is a multifaceted girl navigating our sparkly world with on-point insights. Visit RhinestonesU.com/blog to follow her thoughts as she highlights design trends, turns the spotlight on industry influencers and breaks down how-to tips like light through a crystal prism. Tune in again for more hot reporting on your Rhinestone Unlimited favorite staff members. Submit the questions you want answered to Reception@RhinestonesUnlimited.com, with the subject line: "Spotlight On..."