Posted by Rhinestones Unlimited on Mar 29th 2013
In my sleuthing journalism, I've uncovered some sweet, some smarmy truths about the folks behind your glittering Rhinestone Unlimited packages. Who are these people on the other side of your order, really? I've dug deep with scrutinizing questions, and quote the workers in their own words [with some spelling and grammatical corrections. Also, I have interjected my own comments in brackets]. Read on, dear readers- the sublime exposés will shock and intimidate!
Hey you in the booth- turn that spotlight on... ...Stacy
!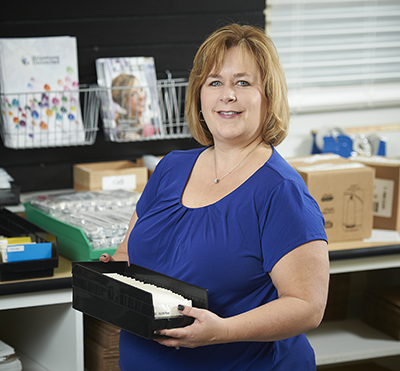 Nicknames: Stacy [her real name is Annastacia, but we wouldn't know to whom you were referring if you called and asked for her]
Number of years at Rhinestones Unlimited: 8 years
Favorite movie about stones: All I can think about is "Romancing the Stone"
Your position at Rhinestones Unlimited: Shipping Supervisor
Your area of expertise in the rhinestone universe: Have tried a lot of things, expert at none [good at a lot still counts]
The great debate- Coke vs. Pepsi is all that comes to mind
Pet Peeve: Being talked over
Best words of rhinestone wisdom: Sometimes Less is More
How to calm a rhinestone emergency: Find an alternate color or size [we can help with that. She can help with that.]
Don't be afraid to try: Anything new
Current color of your toenails, matched to a stone color: Silver Night [Swarovski]
Activity you would like to try in the rhinestone world: Designing
Favorite thing about being based in MN: All the lakes and rivers; I'm from Colorado- not as many there.
Current drink of choice: Unsweetened Ice Tea – I'm hooked.
In-house product you think is underrated: Syringes [sounds shady, right? They're used for precision glue placement. We employees swear by them when using E-6000.]
The current song playing in your head: "Pumped Up Kicks"
Three things still on your bucket list: Sports car (any kind), trip to Australia, a finished remodeled house
Three things you've already crossed off: Ghost Hunting, Yellowstone [only two]
Favorite thing about Rhinestones Unlimited: My co-workers!
Ryan Gosling, hot or not? Of course he is HOT!!
Ahhh, Stacy: the open-minded soft-drink drinker, swooner of stoic men; the woman who chases our UPS driver to the next county in order to get your package shipped today. You don't know how thankful you are for her, ladies and gentleman. More heavy-hitting journalism to come, stay tuned...
-xo-
Jemm
Rhinestones Unlimited blog author Jemm Stone is a multifaceted girl navigating our sparkly world with on-point insights. Visit RhinestonesU.com/blog to follow her thoughts as she highlights design trends, turns the spotlight on industry influencers and breaks down how-to tips like light through a crystal prism. Tune in again for more hot reporting on your Rhinestone Unlimited favorite staff members.
Submit the questions you want answered to Reception@RhinestonesUnlimited.com, with the subject line: "Spotlight On..."