Posted by Rhinestones Unlimited on Sep 10th 2018
As your local Minnesota source for rhinestones and costume trimmings and a Swarovski Authorized Reseller, we like to bring you the latest inspiration and innovation straight from Austria! Make sure that as an MADT member and high school dance team coach you are set up to purchase your team's sparkle at our low wholesale pricing. This pricing is reserved for businesses and non-profits and can save your team some limited costuming dollars. We don't sell only Swarovski crystal – we are UNLIMITED with 4 amazing crystal brands at different price points. We also have appliques and other costume trimmings online and an even more extensive line in our Golden Valley showroom. Let us help you pick rhinestones, estimate quantity and budget, adorn with appliques and teach your parents how to apply! Our showroom staff has extensive years of experience costuming dance studios and dance teams – let us help! Now, the Swarovski Fall/Winter Launch to help INSPIRE! This season's innovations express the desire for uniqueness. Under the motto "Be Yourself," we have translated this desire into crystal innovations reflecting four aspects of self-discovery: "Check Yourself," "Find Yourself," "Excess Yourself," and "Dress Yourself". We now invite you to explore them with us.

Check Yourself:
Vintage crystal and pearl designs are created in modern settings for a younger consumer. Classics are pushed further by playing with the scale of patterns of checks and tweeds.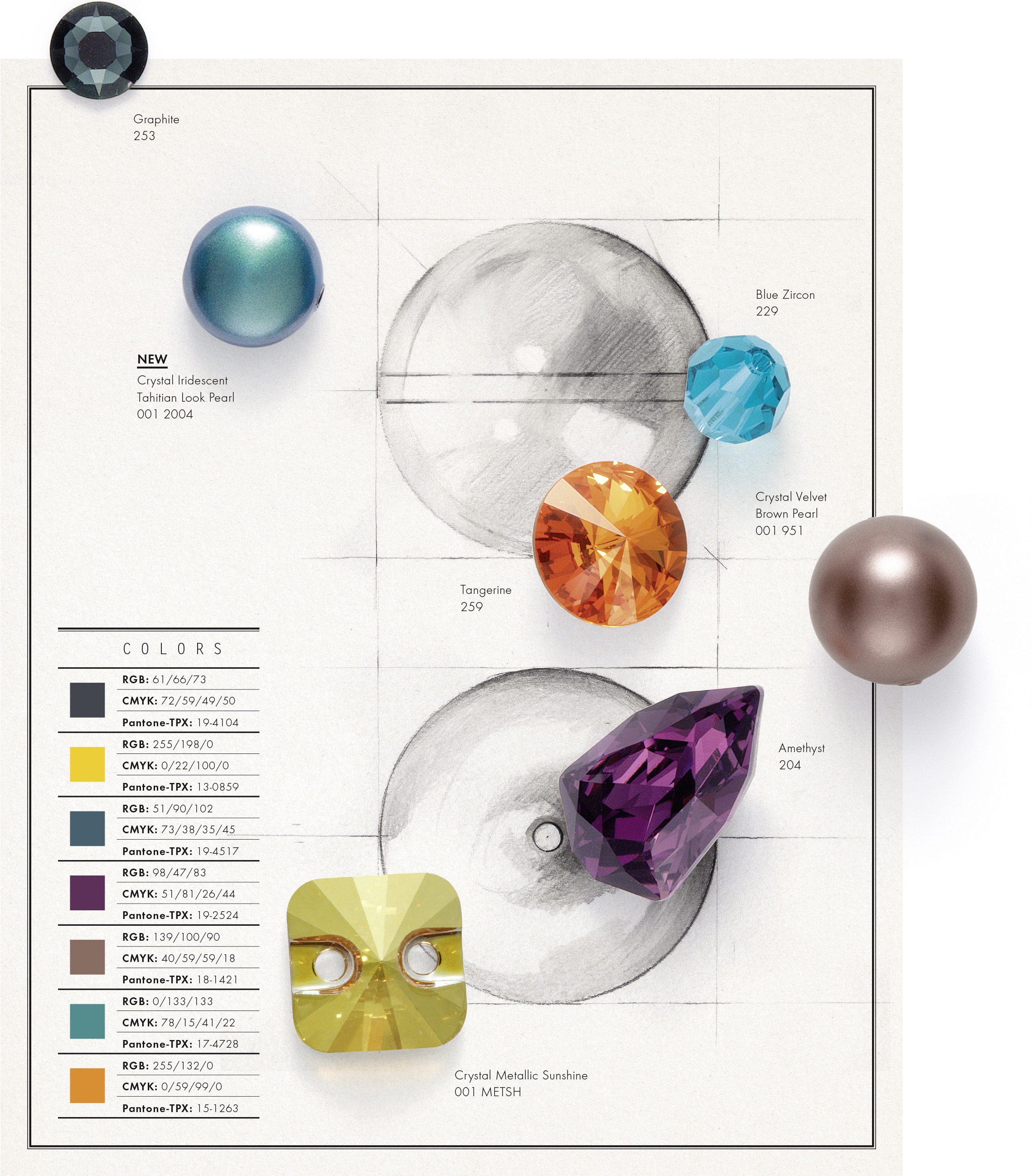 Dress Yourself:
Extravagant designs in handcrafted metals embellished with crystals and pearls emerge as a key direction, highlighting the appreciation of a more sophisticated craft feel.
Excess Yourself:
An extreme exaggeration of forms and layering with a focus on the oversized for standout individual style statements.
Find Yourself:
With mass-produced goods being created at the expense of the environment, a slowdown ethic will result in a focus on heritage and authentic elements.
Introducing NEW Crystal LacquerPRO DeLite! Crystal LacquerPRO DeLite's five new colors are a beautiful reminder to slow the pace, enjoy Mother Earth's bounty, and live sustainably. Combine them with color-matching Shimmer or Shiny LacquerPRO effects in designs for jewelry, watches, CRYSTAL LACQUERPRO DELITE FAMILY Shapes apparel and accessories – the subtly highlighted facets will give luxurious depth and opaque sparkle. The 5 New Colors include: Ochre DeLite, Grey DeLite, Cappuccino DeLite, Burgundy DeLite, and Army Green DeLite. See the new colors and learn more about the Swarovski Launch at http://www.rhinestonesu.com/swarovski-fallwinter-launch-2019.aspx. Contact Us TODAY to make sure you have your wholesale account for www.RhinestonesU.com set up and book your costume consultation! GOOD LUCK DANCE TEAMS – Have a sparkly season full of inspiration and innovation!