Posted by Rhinestones Unlimited on Sep 28th 2015
Swarovski has announced new flat back crystal colors! Light Chrome is in already on our shelves and we are taking pre-orders now for Scarabaeus Green. We are expecting the first shipment of these flat backs, exclusively in the new Xirius cut, by the end of September. Created to align with the trends forecasted for the Spring/Summer 2016 season, these colors are being manufactured now, giving you time to plan and produce your designs. Swarovski introduces new crystal colors twice a year, corresponding with spring and fall collections. Check back in the upcoming weeks for my thoughts on the new shades and color pairing suggestions- because you know I love to talk shop when it comes to color! For now, get acquainted with these new colors through Swarovski's words, below.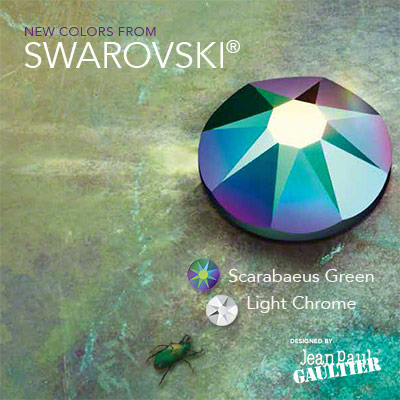 Scarabaeus Green (Crystal Coated Color) *An interesting point about Scarabaeus Green, from Jemm: This effect- pronounced scare-a-BEE-us – was designed in collaboration with fashion icon Jean Paul Gaultier- pronounced GO-tee-yay – rounding out his conceptual crystal designs for Swarovski. It is named after the iridescent scarab beetle species. Design Story: "Expressing his desire for an exclusive effect that would match his Kaputt Collection, haute couture icon Jean Paul Gaultier developed Crystal Scarabaeus Green together with a team of experts from Swarovski. The story goes that as a young man, he would frequently pass the Paris opera house and was fascinated by the green coloring of the tarnished copper roof. For his effect, he wanted this precise scintillating shade of green, combined with the mythological shimmer of the Egyptian scarab." Description: "Aptly named, Crystal Scarabaeus Green evokes the magic glow of the scarab, shimmering in green, blue, and purple with a metallic luster that combines bright and shadowy facets to create a stunningly graphic surface." Other snippets of Scarabaeus Green descriptive phrases from Swarovski: "nature-inspired...bold...rebellious...eco-warrior...otherworldly...futuristic...avant-garde...metallic...sporty...sci-fi...technology...transports us into other dimensions."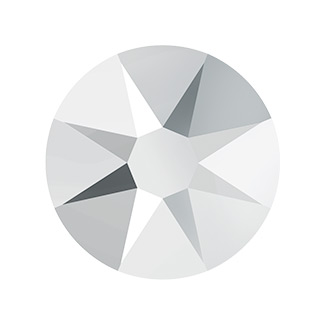 Light Chrome (Crystal Coated Color) * An interesting point about Light Chrome, from Jemm: Light Chrome was introduced last season only in Xirius Rose and Xilion Rose cuts as a preview to full production. View Swarovski's earlier statements about this effect, as well as my color pairing suggestions, in earlier blog articles.
Design Story: "This cool and modern metallic effect caters to the growing importance of non-gender specific products. A modern mind-set, particularly with millennials, has led to design elements and colors that cross boundaries and genders. The cold silver of Crystal Light Chrome is perfectly placed to appeal to both men and women alike."
Description: "Crystal Light Chrome is a highly sophisticated interpretation of the color silver. It is slightly darker than the famous [Comet Argent Light] and does not have a mirror effect. Instead, it embodies fluidity, emotion, and mystery for a soothing and purifying impact. As of this season, this cool shade will be available for the jewelry segment too." Other snippets of descriptive phrases from Swarovski: "cold silver shimmer…opulence…modern mindset…energy, prosperity and modernity…timeless…unisex…particularly encapsulates robotic/sci-fi design." Thank you, Swarovski. Remember to watch for my next post, featuring color pairing suggestions and my own unbiased opinions. I keeps it real, yo!
-xo-
Jemm
Rhinestones Unlimited blog author Jemm Stone is a multifaceted girl navigating our sparkly world with on-point insights. Visit RhinestonesU.com/blog to follow her thoughts as she highlights design trends, turns the spotlight on industry influencers and breaks down how-to tips like light through a crystal prism.
P.S. Stay up to date and check out recent color releases here: https://rhinestonesu.com/search.php?search_query=newest%20colors§ion=product See earlier blog articles about Light Chrome here: http://blog.rhinestonesu.com/swarovski-new-colors-...