Posted by Rhinestones Unlimited on Sep 3rd 2014
Swarovski has just announced their new colors! We are taking pre-orders now for Smoky Mauve- a Standard Color- and Paradise Shine- a Coated Color. We are expecting the first shipment of these flat backs, in the new Xirius cut, by mid to late September.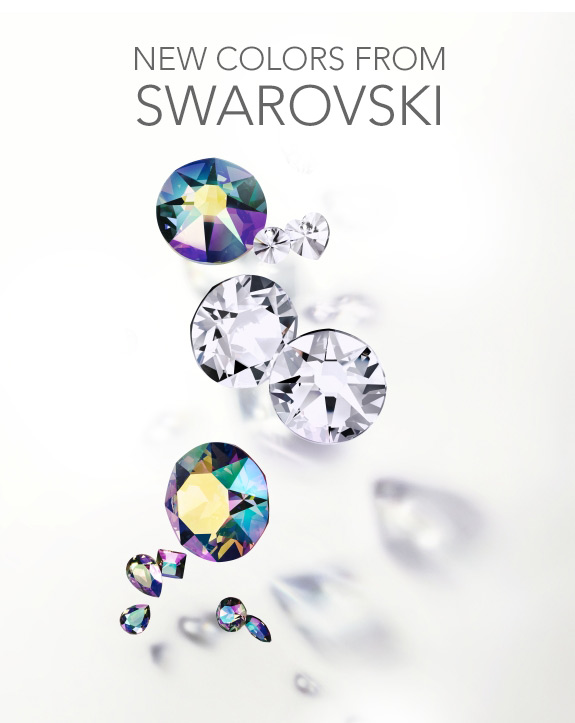 Created to align with the trends forecasted for the Fall 2015/Winter 2016 season, these colors are being manufactured now, giving you time to plan and produce your designs. Swarovski introduces a pair of new crystal colors twice a year, corresponding with spring and fall collections. Get acquainted with Smoky Mauve and Paradise Shine through Swarovski's words, below. Check back in the next few weeks- once we receive the first shipment, I'll tell you what I really think- with sensory phrases and color pairing suggestions! Smoky Mauve (Standard Color)
"A marriage between sophisticated gray and tender lilac shades, Smoky Mauve is set to become a new design favorite."
Crystal Paradise Shine (Crystal Coated Color)
"Bold shades such as purple, blue and green are combined to create an explosion of color that is as vibrant and energetic as it is artistic. Crystal Paradise Shine lends exquisite depth and distinction to any design.
Shop by color for the new #2088 Xirius Rose flat back at www.RhinestonesU.com.
-xo-
Jemm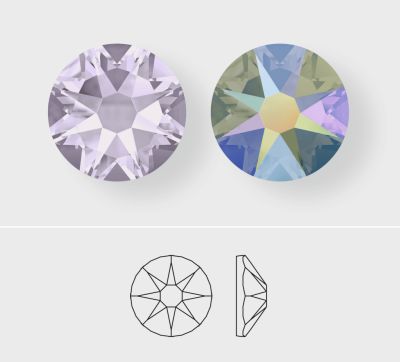 Swarovski Smoky Mauve and Crystal Paradise Shine shown in #2088 Xirius Rose cut
UPDATED WITH PART 2! February 20, 2015: Whoops! I overslept. My apologies, dear reader, for the untimely delay. Okay, folks. I have samples!! It's hard to tell from someone else's photos, as you know. So, I'm excited to see in person Swarovski's two new colors, Smoky Mauve and Crystal Paradise Shine. Here's my thoughts on the two colors as they sit in front of my own eyes. Smoky Mauve (Standard Color): For a frame of reference, as the term "mauve" can be vague, Smoky Mauve compares closest as a paler shade of Provence Lavender on the Swarovski color chart. It's on the same airy color scale as Moonlight- just a step or two above Crystal. It is crisp, dreamy, diaphanous. Delving into Smoky Mauve, the visuals that float across my mind as I look at this stone are meditative, and draped in luxury and stillness- the pleasure of having your own time and space to enjoy in the moment. Imagine the feeling of rising to a quiet house on a day without obligations or reading in front of a wintery window in a chair tucked next to the radiator. Feeling it? That's Smoky Mauve to me. Now, to refresh on color pairing themes:
Monochromatic: Uses one color throughout, or the same base color throughout.
Complementary: Uses colors that are directly across from each other on the color wheel. When placed side by side, the high contrast makes each color more vibrant.
Analogous: Uses three colors that sit next to each other on the color wheel. These colors naturally get along with each other well.
Neutral: The safe colors: gray, beige, brown, black, ivory. These don't appear on most color wheels, but make a clean backdrop for other colors to shine. I include metallics in my definition of neutral.
Paradise Shine (Crystal Coated Color): The best way I can describe Paradise Shine is a marriage between Vitrail Light and Vitrail Medium. I see a jungle green, a chartreuse, a medium violet, a flash of teal and Capri Blue, all layered in transparent washes. My sensory journey for this color feels like a getaway on the islands. It feels like the first day of vacation, when your surroundings still hold surprises, when you're not thinking about what you can afford, not worrying about what conflicts you left behind in reality. It's youthful and lively. It's curious and open-minded. It's mischievous and sensual in a "girls gone wild" twist. Paradise Shine is midnight in bare feet with cool sand and warm water; a cashmere breeze that rustles glossy leaves and lifts tempting smells of food from the fire; making friends with strangers as you move to music under strung lights and melt into the haze of the moments. Ooo, it's so hot. Because Paradise Shine is rooted strongly in both purple and teal, I couldn't pair Dr. Jekyl with a partner but ignore Mr. Hyde, as it will. So you get two color themes for most.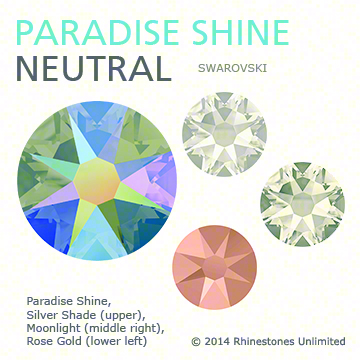 Whew! If you want to get crazy and use these new stone colors together (does that amount to a quiet moment alone on the dock with the tropical island party a little ways down the beach?) I have a suggestion for that, too.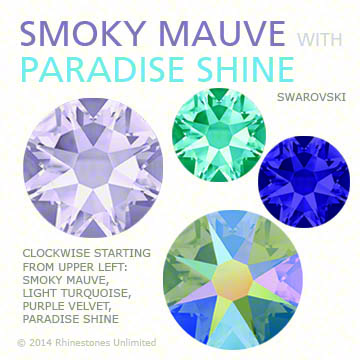 Smoky Mauve and Paradise Shine are now on our shelves- request a sample stone to add to your color chart, or order an updated 2015 color chart to spark your imagination. In design, color changes everything; believe me when I say it is worth the investment to see the shades with your own eyes. Until next time…
-xo-
Jemm
Rhinestones Unlimited blog author Jemm Stone is a multifaceted girl navigating our sparkly world with on-point insights. Visit RhinestonesU.com/blog to follow her thoughts as she highlights design trends, turns the spotlight on industry influencers and breaks down how-to tips like light through a crystal prism.
P.S. This link is your shortcut to shop the latest Swarovski colors: http://www.rhinestonesu.com/swarovski-newest-color...