Posted by Rhinestones Unlimited on Feb 18th 2016
Swarovski has just announced new flat back crystal colors! We are taking pre-orders now by phone for Graphite and Yellow Opal. The first shipments of these flat backs have started to arrive. Created to align with the trends forecasted for the Spring/Summer 2017 season, these colors are being manufactured now, giving you time to plan and produce your designs. Swarovski introduces new crystal colors twice a year, corresponding with spring and fall collections. Check back in the next few weeks for my thoughts on the new shades and color pairing suggestions! For now, get acquainted with these two new colors through Swarovski's words, below. Graphite: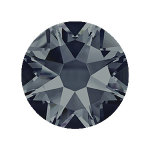 Swarovski Xirius #2088 in Graphite
"As a reaction to today's high-tech, over stimulated world, people are increasingly drawn towards dark, neutral hues that evoke a sense of tranquility. Graphite, with its deep, shadowy character, speaks to this desire by being both mysteriously glamorous yet calmly classic. It brings a dark and strong, bluish gray-black tone to the palette, elegant and understated with a strong unisex and universal color message." "Elegant and mysterious, Graphite lends itself perfectly to strong and powerful design. Its sophisticated bluish gray-black tone features an entirely homogeneous surface, rendering it ideal for creating graduated transitions between Crystal Silver Night and Jet. Graphite is an all-purpose color and is destined to be a new design favorite."
Yellow Opal:

Swarovski Xirius #2088 in Yellow Opal

"As the digital age continues, modern social media culture has created a new bold aesthetic in which bright colors are stepping to the forefront. The inspiration behind Yellow Opal lies in the natural gemstone Citrin, creating a bright, happy yellow shade with an opalescent finish. Made with Advanced Crystal, Yellow Opal is a new first in the Swarovski color assortment. It is both fiery and elegantly matte, combining the power of color with genuine gemstone appeal." "A vibrant yellow shade with an opalescent finish inspired by natural gemstones, Yellow Opal speaks to our desire for refined shine. It brings brightness to every design, provides the perfect complement to bright Spring/Summer collections, and also pairs well with classic shades. Long anticipated, Yellow Opal will open up countless new design possibilities."
We're also introducing the two new crystal cuts! #2034 Concise is a reimagining of the classic Rose cut, its lower table and equal faceting allowing sparks to fly with more reflected light. The delicate pear-shaped silhouette of #2205 Flame accommodates small, intricate designs in Crystal, and is striking in the fiery shade of Fireopal, echoing a real candle flame.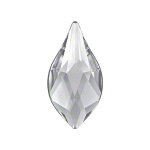 Swarovski #2205 Flame in Crystal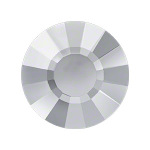 Swarovski #2034 Concise in Crystal
Please call us directly to place a pre-order for these items. Items will be appearing on the website for online ordering as more stock arrives this month. Watch for all of these new Spring/Summer 2017 Innovations from Swarovski, as well as my color paring article. For the latest product news, sign up for our newsletter and become a fan of the Rhinestones Unlimited Facebook page. -xo- Jemm Rhinestones Unlimited blog author Jemm Stone is a multifaceted girl navigating our sparkly world with on-point insights. Visit Blog.RhinestonesU.com to follow her thoughts as she highlights design trends, turns the spotlight on industry influencers and breaks down how-to tips like light through a crystal prism.