Posted by Rhinestones Unlimited on May 24th 2012
On January 31, 2012, Swarovski announced new flat back colors for Spring and Summer, plus an update to the flat back Hot Fix XILION Rose. The new hot fix stone will still work with existing hot fix tools! Watch our Web site for announcements when these new items are available!
NEW Color: Rose Peach
Perfectly expresses the upcoming trend of toned-down luxury. It promises to become a new design favorite since all shades of red are among the best-selling colors on the market.
NEW Color: Luminous Green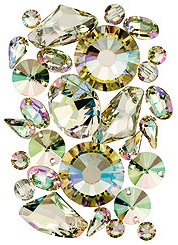 The double-edged effect of Luminous Green increases the vibrancy of a design and adds a second dimension to its appearance. It is destined to be a new classic: a basic tone, but with a unique twist.
NEW 2038 Flat Back Hot Fix

SWAROVSKI ELEMENTS introduces an upgrade of article 2028 XILION Flat Back Hotfix. The existing article 2028 Hotfix will be completely replaced by the new article 2038 XILION Rose Flat Back Hotfix. The new silver mirror is unique in the Hotfix market and creates a warmer and brighter look with intensified and livelier colors (diamond-like). Due to its improved table size, the XILION Rose Hotfix is even more brilliant than article 2028, but will still work with your existing hotfix tools.