Posted by Rhinestones Unlimited on Mar 5th 2014
Swarovski has announced their two new colors, Tangerine and Iridescent Green! These beautiful shades are available now, ready in time for you to plan your Spring/Summer 2015 collections.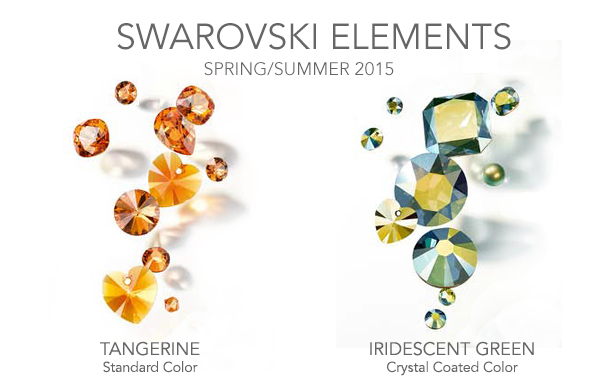 Tangerine (Standard Color) "A strong warm orange tone, Tangerine provides a vibrant addition to the color range." Chosen as the worldwide color of the year in 2012 and still holding its own, this vibrant, saturated orange is alive with energy and optimism. Any Harry Potter fans out there? Attribute citrusy tangerine to the likes of Felix Felicis- liquid luck. It makes you feel good, like you're on top of the world, like everything will align to help you succeed. It inspires adventure, movement, new beginnings. It's a spring cleaning in a swatch of color. And infused in Swarovski crystal, the end result looks good enough to eat.
I realize it's hip to be down with raw foods and dark green diets, and I'm behind the healthy food-healthy body-healthy mind train, but sometimes I just want some junk food. Lest I lose some cool points for admitting it, I love Jell-O. Tangerine-steeped crystal reminds me of eating Jigglers, cutting shapes out of a shallow pan of colorful gelatin. Resonate with anyone else? No? Oh.
Well, let's hear what the Swarovski folks have to say, then. From their official publications: "Tangerine is as romantic as the sunset and as joyful as the sunrise. As a very cheerful color it lifts the spirit of classic tones and pastels and adds bright flashes to contemporary looks." "Inspired by the sun, this color will lead the way to brighter moods and happiness. Its sunrise/sunset tones awaken primal feelings and nourish the soul." Wow. There it all is. Hooray for color! (That last part was me, Jemm. Non-official.)
"Combine Tangerine with warm, saturated colors such as browns and golds for a modern, elegant look. Create expressive styles with the contrast of soft greens and blues, or marry Tangerine with darker hues for edgy effects." Ready for a dramatic reading? "Like the joy of a summer sunrise, richly aromatic ripe fruit, or the shimmering plumage of an exotic bird, new Tangerine recalls the inspiration that gave birth to it: the mandarin garnet. Balancing a fresh, vibrant energy with a sophisticated and seductive allure, it's the color of happiness, a Tangerine dream."
Iridescent Green (Crystal Coated Color) "This mysterious dual-tone effect shines in a combination of blue and green, crowned with a metallic touch." Oooo, magical. The need for green is still prevalent in 21st century designs. Iridescent Green expands on the recent addition of Dark Moss Green (Standard Color, released this past September for Fall/Winter 2015) and comes on the heels of Pantone's color of the year for 2013, Emerald. But this green is earthy, shrouded under a dreamy, mystic veil. It's opulent, enigmatic, phantasmagorical… (eh? Impressed?) …it's strange, reminiscent of murky lagoons and Art Nouveau Absinthe posters.
The official statements from Swarovski: "Thanks to its timeless quality and metallic glow, Crystal Iridescent Green is an asset to any design. Its shifting, shimmering effects create a mysterious aura and awaken curiosity and attraction." "Reminiscent of Arabian nights, the irresistible color play of Crystal Iridescent Green gives a spirited and sensual edge to heritage-inspired and heavy glam styles. The look is mysterious, deep and enchanting." "For a mysterious shine add it to dark and metallic hues. Create sophisticated looks by combining it with opals or tone-on-tone colors. Crystal Iridescent Green is a perfect companion for beige and nude tones, expressing refinement and class."
Clearly "mysterious" is the adjective of the day. And here's a collection of more words found in Swarovski's product publications: luminescence, lustrous, magnetic, blue-green sheen, sparkling dragonflies, fathomless depths below shimmering waves, powerful, irresistible. Ooooo. (That last one is mine. Quote Jemm on, "Ooooo.")
See how both new shades pair with some of your favorites, below. Watch how your mood changes with each color story. Then give us a call- you can request a sample stone of the new colors to add to your color chart. Don't have a color chart? It will be one of the best design investments you will make, as color needs to be experienced through your own eyes in order to make the biggest impact. These new colors are available now, so take a look and let your imagination run wild...
-xo-
Jemm
Rhinestones Unlimited blog author Jemm Stone is a multifaceted girl navigating our sparkly world with on-point insights. Visit RhinestonesU.com/blog to follow her thoughts as she highlights design trends, turns the spotlight on industry influencers and breaks down how-to tips like light through a crystal prism.
Wondering how to pair these colors? You can expand on a theme in whatever mood suits you, but here are some base suggestions, thanks to the color wheel.
Monochromatic themes use shades within the same color family.
Analogous themes use colors that are next to each other on the color wheel.
Complementary themes use colors that are directly opposite each other on the color wheel.
Neutrals- think business suits. Blacks, grays, creams, beiges, browns. Neutral themes play it safe, but have an appeal all their own.
P.S. I didn't really mean that about the junk food. I was just kidding, you know? It was a joke. I mean, who still eats junk food? What's cool is carrots. Pumpkins. Persimmons. Yams. Squeezed through a really expensive juicer with some whole oranges, and drinking it for lunch. Right guys? High five…