Posted by Rhinestones Unlimited on Jan 29th 2016
"In all my four years on this team, I have never felt so calm and confident heading into nationals. Our coaches have been beyond supportive… Our choreographers put both themselves and our team to the test giving us the most dynamic and difficult routines I have ever had throughout my course with this program. Needless to say, we are ready. This journey and our goals are so much bigger than just us, and I cannot wait to get out there and share the floor one last time with the most amazing and talented people I know." Michaela Voss, University of Minnesota Dance Team co-captain

Did you miss the UCA & UDA College Cheerleading & Dance Team National Championship earlier this month? The University of Minnesota Dance Team earned their sweet 16th title of national champions in Division 1A within the last 13 years with their Pom routine- the only school to win the Pom category in their division since it was added in 2010- and took second place in their Jazz routine, wearing a costume sponsored by Rhinestones Unlimited, embellished with Swarovski® crystal adornments. Following their fantastic performances, the team shares their thoughts on school spirit, Swarovski® crystal and stunning stage presence.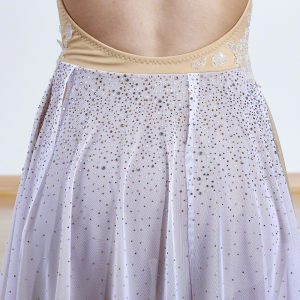 On the unique dynamic of spirit squads
"The University of Minnesota has one of the largest spirit squads in the nation. At a university of over 50,000 students, it's been a great opportunity to be a part of a group as large and as supportive as the spirit squad." Leah Kongsvik, University of Minnesota Dance Team co-captain "You forget how many people make up our program because you are able to develop such close relationships with every member. Our spirit squad program consists of the dance team, a competitive co-ed cheer team, a small co-ed team, an all-girl cheer team, the hockey cheer team, and everyone's favorite Goldy Gopher, our school mascot."
Michaela Voss, University of Minnesota Dance Team co-captain


On costume confidence
"When you are performing, all you have to work with is yourself and the other dancers on your team. There is no safety equipment ...used to help you dance or make you any less vulnerable; just your mind, your heart, and your body. What a dancer is wearing and how they feel when they are wearing their costume creates the finished product and sets the tone of how confident they are going to be during their performance."
Michaela Voss, University of Minnesota Dance Team co-captain
On the U of M/Rhinestones Unlimited jazz costume
"Rhinestones Unlimited did a fantastic job with the embellishments of the University of Minnesota's jazz costume! It fit my vision perfectly in that it was both stunning and elegant, without being overstated. I couldn't have been more pleased!" Karl Mundt, University of Minnesota Dance Team choreographer "My favorite part of this year's jazz costume is...everything! They are to die for! It's so different than anything I've ever seen yet so elegant and absolutely gorgeous. The use of the Crystal Rock and the design pattern in which it was laid is stunning and really compliments our figures. The …rhinestones placed on the skirt makes us shine from miles away." Michaela Voss, University of Minnesota Dance Team co-captain "I was completely blown away. They are stunning. They complement the artistry of the movement and the song perfectly. I can't wait to see what they look like under the lights of the competition floor."
Leah Kongsvik, University of Minnesota Dance Team co-captain
The design was inspired in part by Jennifer Lopez's sparkle-on-sheer theme at the 2015 American Music Awards. A woman who knows how to own a stage, seven of the 10 looks she wore to host the event were skin-skimming swaths of gossamer fabrics which brought focus to the glittering crystal elements and the nuances of her body movements. The Minnesota team had already been thinking about a muted color theme of nude with shimmering white accents. The song they perform to- "Glory," by John Legend and Common- has depth, drama and softness; a song underscoring the stories of civil rights, subtlety was preferred to big-top bling. All of these ideas were woven together, along with input from the seamstresses, who built a solid foundation underneath the aesthetics of the costume, to create the final look for the jazz routine. Thanks to Swarovski® for always inspiring innovation through the creation of your beautiful crystal products! The UMDT jazz costume used:
Swarovski® Crystal Rock Applique "Floral Motif" in Golden Shadow and Crystal AB
Swarovski® Crystal Fabric Applique "Floral Motif" in Golden Shadow and Crystal AB
Swarovski® Custom Hotfix Transfer incorporating the following hotfix stones in sizes 6ss-20ss:

Rose Gold
Vintage Rose
White Opal
Golden Shadow
Crystal
Crystal AB
All of these products can be ordered through Rhinestones Unlimited!
-xo-
Jemm
Rhinestones Unlimited blog author Jemm Stone is a multifaceted girl navigating our sparkly world with on-point insights. Visit RhinestonesU.com/blog to follow her thoughts as she highlights design trends, turns the spotlight on industry influencers and breaks down how-to tips like light through a crystal prism.