Posted by Rhinestones Unlimited on Sep 28th 2015
Remember last December when Marsala was selected by Pantone as the 2015 Color of the Year? Ohh…yeah, that's right. Have you noticed that you've been living amongst it these past months? Handbags, trousers, runway collections in your magazines; greeting cards, throw pillows, hip day planners…weddings? Know anyone who has planned blush and burgundy themed nuptials?
The theory behind color trends is that people's tastes around the world are moving towards the same shades, and, like any trend, they are constantly changing. Pantone, a company that- among other things- researches and identifies these trends, has stated that in 2015, the warm earthy wine of Marsala reflects the world's desire for grounding, a return to cozy and simple after the neons and flash of a technology-filled existence. "Nourishing," is the word that kept coming up in Pantone's description of Marsala. So, nourish yourself with these color pairing suggestions, featuring Swarovski Burgundy in the role of Marsala, meant to kick off your own exploration of the color of the year. Make more discoveries when you invest in a color sample card, featuring a size 20ss stone atop a clear sheet.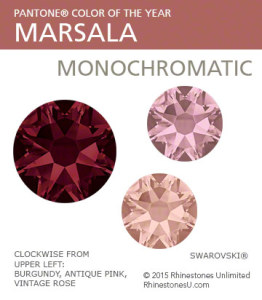 Monochromatic: Using the same color throughout, or variances of the same color.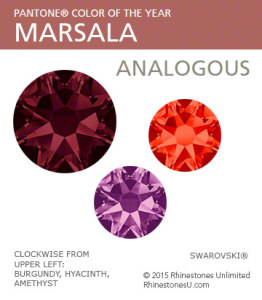 Analogous: Using colors that are directly next to each other on the color wheel.
Complementary: Using colors that are opposite each other on the color wheel.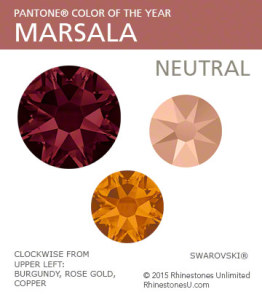 Neutral: Using shades of black, brown, nude, white or metals. You know- going the safe route. I've given you a warm and a cool version.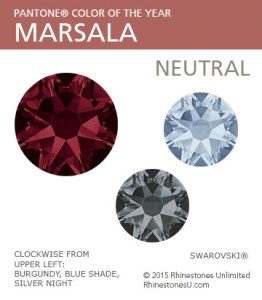 So, go get your color on! I tout an easy way to get used to a new shade, and that's nail polish: a cheap investment that puts the color right in front of your eyes. Brilliant! Now, pair your manicure with a glass of red wine, bringing Marsala to two senses, and I think you're off to a great start.
-xo-
Jemm
Rhinestones Unlimited blog author Jemm Stone is a multifaceted girl navigating our sparkly world with on-point insights. Visit RhinestonesU.com/blog to follow her thoughts as she highlights design trends, turns the spotlight on industry influencers and breaks down how-to tips like light through a crystal prism. P.S. For more on Pantone, the process behind choosing the Color of the Year, Marsala itself and designer's spring collections featuring Pantone's spring palette, visit my earlier article, "Color of the Year 2015."