Posted by Rhinestonesu on Mar 29th 2013
In my sleuthing journalism, I've uncovered some sweet, some smarmy truths about the folks behind your glittering Rhinestone Unlimited packages. Who are these people on the other side of your order, really? I've dug deep with scrutinizing questions, and quote the workers in their own words [with some spelling and grammatical corrections.
Also, I have interjected my own comments in brackets]. Read on, dear readers- the sublime exposés will shock and intimidate! Hey you in the booth- turn that spotlight on... ...Judy!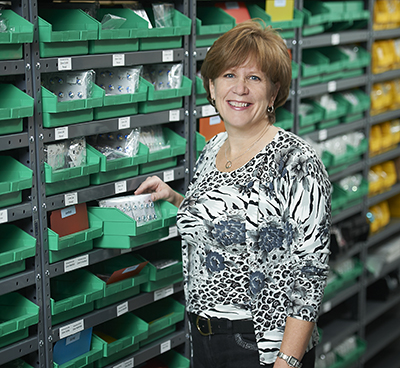 Nicknames: Jude, Mom
Number of years at Rhinestones Unlimited: 2.5
Your position at Rhinestones Unlimited: Filling, Repackaging, Cashout [one of your Everything kinds of employees]
The great debate: What is for lunch each day here
Favorite rhinestone-related adjective: Sparkly
Pet Peeve: Toilet paper that rolls out from under, not over the roll
Best words of rhinestone wisdom: "They are just rhinestones."
How to calm a rhinestone emergency: Take a deep breath and remember the above words of wisdom
Current color of your toenails, matched to a stone color: Light Rose
The hot forecast- the next big rhinestone market: Archives people: cards, scrapbooking...
Favorite thing about being based in MN: No hurricanes or earthquakes
Current drink of choice: 2-pull at Granite City- yummy
The current song playing in your head: "Hey, Soul Sister"
Three things still on your bucket list: Trip to France, art classes for painting [two. Wonderful items, but only two.]
Three things you've already crossed off: Marriage, kids [two]
Favorite thing about Rhinestones Unlimited: The people
Ryan Gosling, hot or not? Not.
As the Beatles' "Hey Jude" rings out in the background, Judy is bustling around the warehouse, aiding every step of the way to get your package out the door and into your arms. Our local customers love to hear her voice in their ear, as she brings good tidings of great joy: "Your order is ready!" More heavy-hitting journalism to come, stay tuned...
-xo-
Jemm
Rhinestones Unlimited blog author Jemm Stone is a multifaceted girl navigating our sparkly world with on-point insights. Visit RhinestonesU.com/blog to follow her thoughts as she highlights design trends, turns the spotlight on industry influencers and breaks down how-to tips like light through a crystal prism. Tune in again for more hot reporting on your Rhinestone Unlimited favorite staff members. Submit the questions you want answered to Reception@RhinestonesUnlimited.com, with the subject line: "Spotlight On..."