Posted by Rhinestones Unlimited on May 27th 2016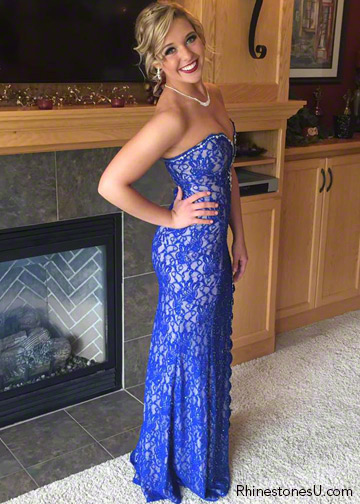 Ahh, prom. A time to take the leap and tell your dream date- OMG- you're, like, totally into them. A time to feel pampered, primped and pretty. A time to DANCE. (Showing off all those moves you've been perfecting in front of your bathroom mirror.) In my experience, the best way to feel pretty on prom night is to let yourself be yourself. By this, I mean let your quirks be free in order to be comfortable. If that means you make a steampunk dress instead of buying the trendiest designer confection, so be it. If it means you need to wear Converse instead of stilettos, great. You shine brightest when you are comfortable in your appearance, and there are so many ways to customize your look to prevent "formal" from becoming "stuffy." DIY, my friends! Here are 13 ideas: The Dress.
Rethink strapless…
Add edge. Loop a belt with spikes and pyramids around the waist of a too-sweet dress.
More sparkle! Add a crystallized sash, rhinestone appliques or your own crystal design to a too-plain dress. Check out our Inspirations gallery board, "Christine Murphy Designs," for ideas.
Not into gowns? Try a sleek jumpsuit, a short and sassy number or a form-fitting tux.
Tiny budget? This is the easiest motivator for creativity. Piece together thrift store finds: a sequin tank, a printed circle skirt and a vintage petticoat, worn with an updo, your favorite heels and pretty accessories. I promise you, the others will be envious of your great style.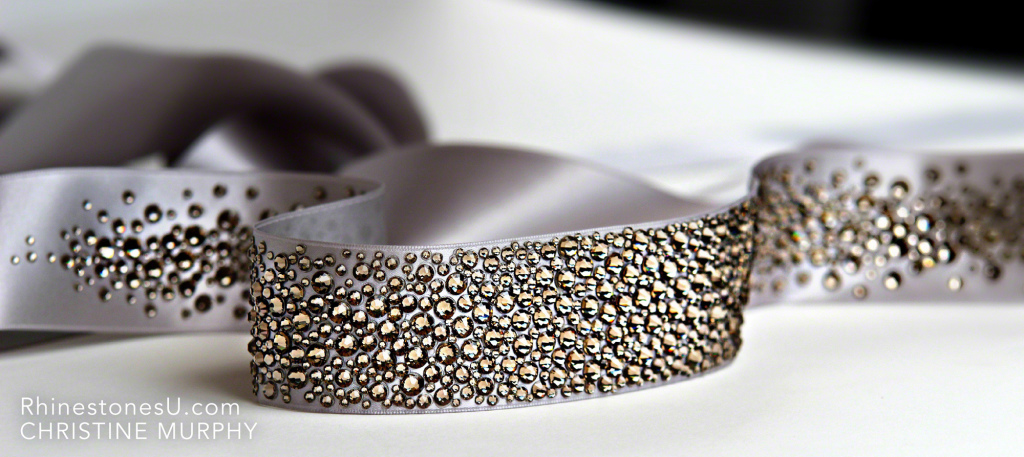 The Shoes.
Forget stilettos- make a pair of sandals or ballet flats pretty with crystal for the ultimate comfort. (This is especially helpful if you're taller than your date.) Check out our Pinterest page, "Facets On Feet," for ideas.
Wear your chosen shoes- whatever they are- around your house for a week. Wear them for at least 4 straight hours. And even when you're sure they're broken in enough for the big day, consider investing in those fold-up travel flats that are small enough to slip in your purse, just in case.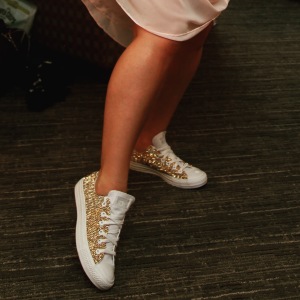 The Hair & Makeup.
Crystallize your tattoo! For longevity, we at RU preferred spirit gum (a theater adhesive, used to apply mustaches, special effect makeup and more), but found that a good-quality eyelash glue also works to apply crystals to clean skin.
Wear a little more makeup than usual. If you're a regular experimenter, go all out. If all you can say of your makeup routine is that you sometimes wear face lotion, ask someone to curl your eyelashes, then throw on some waterproof mascara and a tap a neutral cream blush over your cheeks and lips. (Don't let them add eyeshadow or foundation to your face, or you'll feel like a painted clown.)
More sparkle!
If you're the dramatic type, add some unexpected flair: a lace "mask" over your eyes, a fresh floral crown, wings, purple hair…
Forgo the elaborate updo, and wear your hair down. Keep it out of your face with a Swarovski Crystal Rock headpiece when it's time to get out on the dance floor.
The Date.
Nothing crazy here. Just go with someone whose company you genuinely enjoy (even if it's not your dream date).
Have fun!
-xo- Jemm
Rhinestones Unlimited blog author Jemm Stone is a multifaceted girl navigating our sparkly world with on-point insights. Visit Blog.RhinestonesU.com to follow her thoughts as she highlights design trends, turns the spotlight on industry influencers and breaks down how-to tips like light through a crystal prism.
P.S. Recognize that beautiful face? That's our dance model, Alayna, in her custom crystal prom dress! Here are more
images: