Posted by Rhinestones Unlimited on Jun 29th 2016
One of my life's discoveries is "Chuck Taylors unite the world." In fact, I've seriously considered contacting Converse to start a global campaign around this truth. (Or, at the very least, create a button with this motto that I can pin on my own tattered high tops.) They're one of my top 13 basic travel essentials- no matter where or when I'm going- because everywhere I go, I can find someone in a pair of Converse. It's like a bookend to their personal style, regardless of the label you would attach to them: toddler, teen, dad, grandma, biker, hippie, CEO or superstar. They suit everyone! Watch for it on your next trip- especially if you're feeling homesick or out of place.
Back home at RU, three of our rad employees have recently customized Converse All-Stars for themselves or gifts. We're going to break down what the pictures on Pinterest don't provide: how-to tips, from our rhinestoners to yours.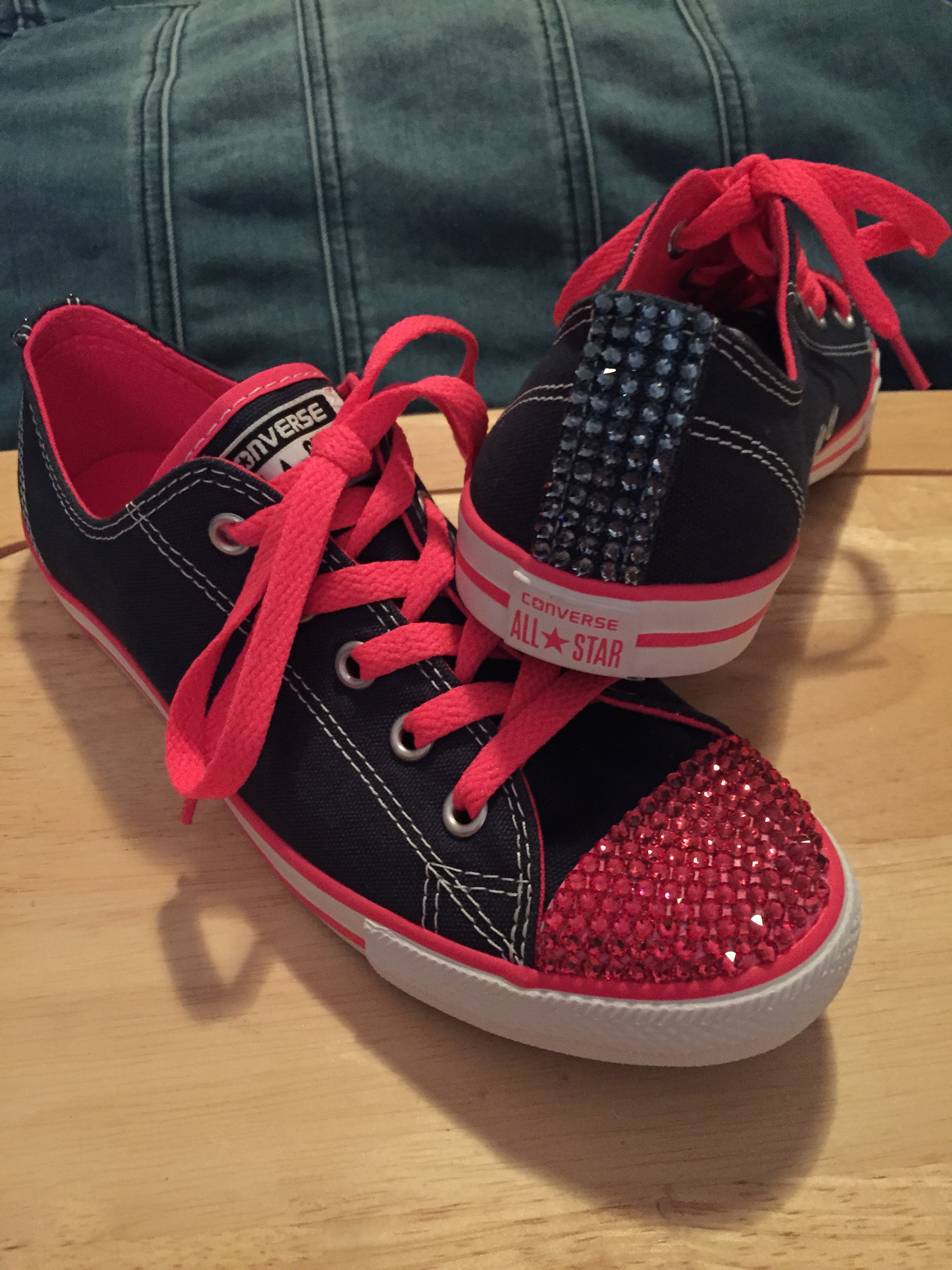 Sarah
Event: Just for fun Design inspiration: The contrasting colors Products used: Swarovski #2088 Xirius Rose in 16ss Rose Denim Blue and Indian Pink How you did it: Used E6000, a plunger syringe and a Crystal Katana What did you learn: I learned not to wear them in public because everybody wants them! Also, be aware of where you're putting the crystals. For instance, little kids will step on the back of their shoes, and everybody uses their toe of one foot on the heel of the other to take off their shoes without bending over. The back of your shoe is where a lot of stones can fall off, for that reason.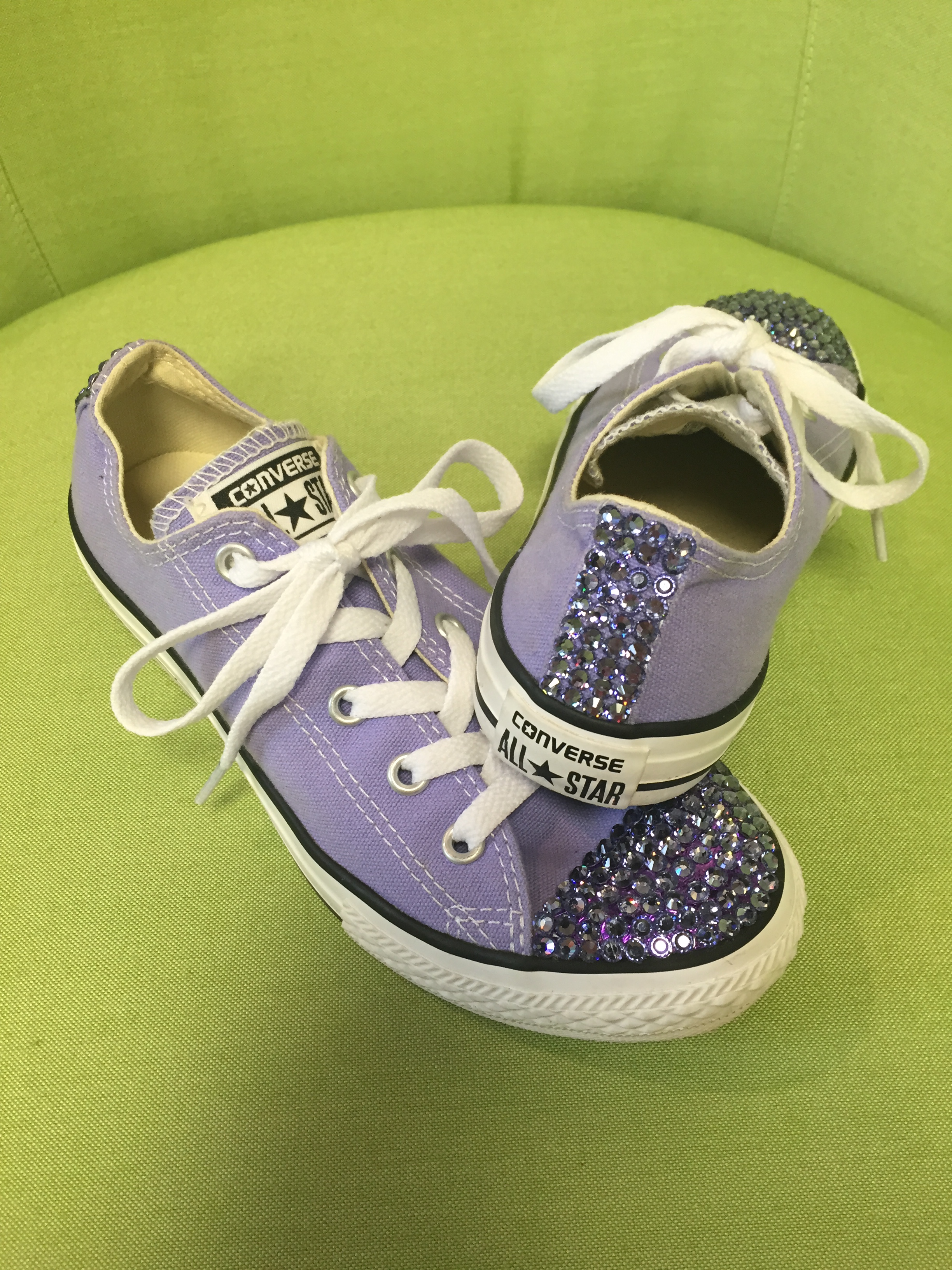 Audra
Event: Purple Converse were to show how you can use sequins to amplify the color Design inspiration: Used my favorite color Products used: Purple sequins Plum Metallic and Swarovski #2088 Xilion Rose in 20ss Tanzanite How you did it: Syringe and

E6000

What did you learn: How easy it was and how effective the use of sequins was to keep the white from showing through
Chelsea
Event: I decided to rhinestone a pair of all white Converse for my sister's wedding that happened in June of 2015. It all started with my sister deciding she didn't want to wear heels on her wedding day, for comfort of course. Now, I am only an inch shorter than my sister. The rest of the bridesmaids were going to be wearing heels but my sister made it very clear to me that I was not allowed to wear heels because she didn't want me to be taller than her on her wedding day. She's a nice lady but she was definitely a bridezilla. So, I decided I wanted to wear Converse tennis shoes because it's my favorite shoe and they are comfy. My sister approved of this choice, but only if I rhinestoned them. Makes sense. Design inspiration: Design inspiration came from my sister's wedding colors, which were called Petal Pink and Metallic Gold. I went with an all-white Converse shoe because the standard ones have blue and red stripes on the bottom and that would just clash. Picking the rhinestone colors was very easy: Rose Peach and Aurum. The decision to rhinestone them solid actually came from my dad. He said, "Chels, if you're going to rhinestone your shoes, you might as well go all out, you don't want to look stupid." Exact words. How you did it: So, I glued Aurum 16ss all over the canvas of the shoes using

E6000

in a 10cc syringe and a Crystal Katana. I used Rose Peach 9ss on the back of the shoe. The left shoe I wrote out "MOH" down the back stripe (Maid of Honor) and on the right shoe, I wrote out "06.27.16" down the back stripe (the date of the wedding). Products used: I used

Swarovski #2088 Xirius Rose

, a total of 20 gross of Aurum 16ss and 1 gross of Rose Peach 9ss. By the end of the night, only 10 crystals had fallen off. Which is impressive because I danced my booty off that night. What did you learn: The only thing I learned is that I would probably use a different glue next time to make sure none of the crystals fall off. I would probably use E6000 Shoe Dazzle next time. The shoes were a major hit, so worth it :)
So, there you have it. Chuck Taylor All-Stars: wear em' anywhere!
-xo- Jemm
Rhinestones Unlimited blog author Jemm Stone is a multifaceted girl navigating our sparkly world with on-point insights. Visit Blog.RhinestonesU.com to follow her thoughts as she highlights design trends, turns the spotlight on industry influencers and breaks down how-to tips like light through a crystal prism. P.S. Wondering what else is on my travel necessities list? These multi-use items keep me clean, comfortable and streamlined on any trip:
Passport (once you're on an adventure, you want to keep exploring)
Lip balm
Nail clipper
Headlamp
Collapsible water bottle
Ziploc bags (hold street food, trash, souvenirs, small jewelry; waterproof your phone, maps, etc...)
Bandana
Scarf
Cardigan
My own pillowcase (it's amazing how this little piece of home makes a foreign bed more welcoming)
Lavender, peppermint and melaleuca (tea tree) essential oils
Dollar store flip flops
Converse All-Stars