Posted by Rhinestones Unlimited on Mar 18th 2013
Frazzled? Flummoxed? Nonplussed? Just plain stuck? Mama is never far from your thoughts…Mama Rhinestone, that is. Our Cool Tool of the Day isn't really a tool at all- she's a superhero! Think of Mama R as the candlelit bath, the glass of red, the melted chocolate drizzling onto the creamy caramel bite in the commercial…think of Mama R as your bowl of comfort macaroni and cheese.
She's a comforter, a woman of wisdom, a supporting shoulder. If you don't know the answer to your question, chances are, Mama will. She's been embellishing her own projects and others' for quite a long time (but, we won't say how long…she'd put me in the corner for that). Mama has heard it all- the mild, the wild, and some downright strange, so don't be afraid to send your question to MamaRhinestone@rhinestonesunlimited.com.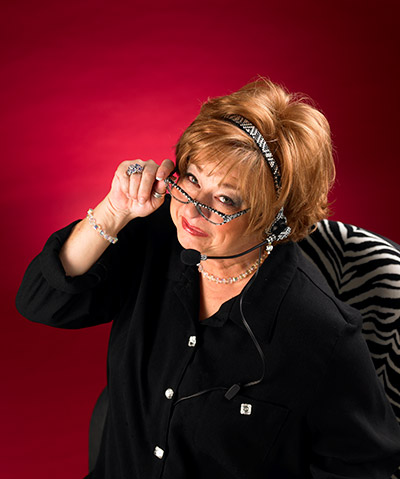 Mama Rhinestone- she's a sparkling hug, sent through your computer.
Let's fire some at her right now:
Q: Dear Mama Rhinestone, how do I attach rhinestones to my dress/shoes/ceramic vase/guitar/car/saddle/turtle…?
Q: Dear Mama Rhinestone, the stones keep popping off my leather chaps. Can you recommend a better glue?
Q: Dear Mama Rhinestone, what's the difference between 2028/2058/2038?
Q: Dear Mama, do you think it's alright to mix sequins and stones?
Q: Dear Mama, do you have any appliques that are small enough for this g–string and pasties set?
Q: Dear Mama, how many rhinestones fit into a one gallon jug?
Q: Mama, I dropped my bedazzler in the toilet- now what?
Q: Mama, do unfoiled stones sparkle less?
Q: Mama, what is vajazzling?
The real comfort in this situation is that Mama Rhinestone is not just some bosomy, flowered-muumuu-and-apron wearing character who flaunts vulgarity amidst overplayed stereotypes or beams out at you from your breakfast condiment; she's a real person, with real experience, real sympathies, and real answers to give you. And that, dear reader, is a very Cool Tool.
-xo-
Jemm
Rhinestones Unlimited blog author Jemm Stone is a multifaceted girl navigating our sparkly world with on-point insights. Visit RhinestonesU.com/blog to follow her thoughts as she highlights design trends, turns the spotlight on industry influencers and breaks down how-to tips like light through a crystal prism.
PS- Many answers can be found on our website, www.RhinestonesU.com, under the About Rhinestones heading at the bottom of the page. You might even find your answers here on our blog! And yes- vajazzling is what you think it is.