Posted by Rhinestones Unlimited on Mar 13th 2013
This Cool Tool of the Day will quickly become your new main squeeze: our Bulb Syringe Glue Bottle is an animated little guy that's equal parts intelligence, looks and personality.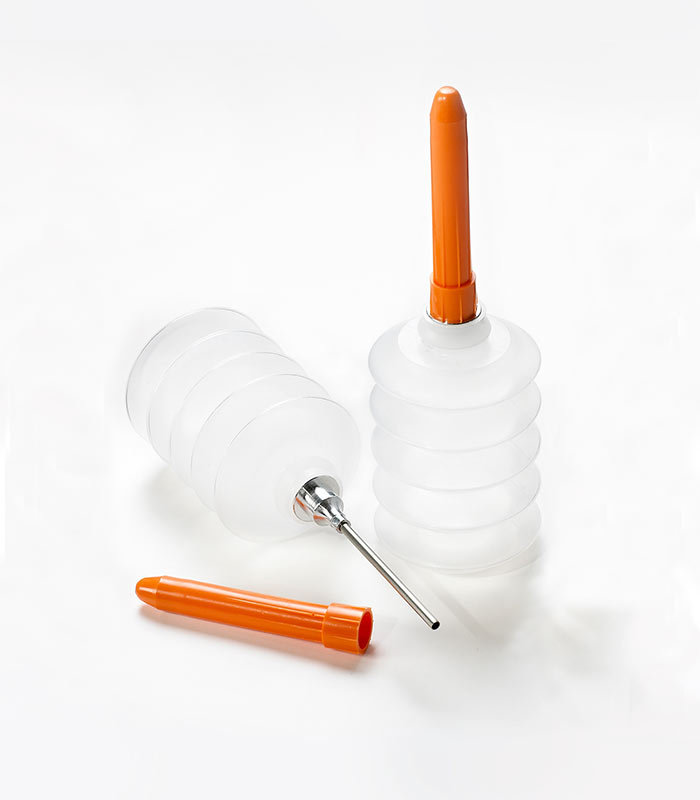 Sold in duets, two Bulb Syringe Glue Bottles can hold a full 4-ounce bottle of white craft glue, like Gem-Tac, one of our favorites. With the fine precision tip, you can control the amount of glue you lay down. The collapsible squeeze-box body lets you extract every last drop for no wasted glue; and, combined with the snug fitting cap, the air can be pushed out to extend the life of your adhesive. And, for some reason, the whole thing reminds me of a bouncy cartoon character, or those novelty birds that repeatedly dip their beaks into your vodka glass. I mean, water.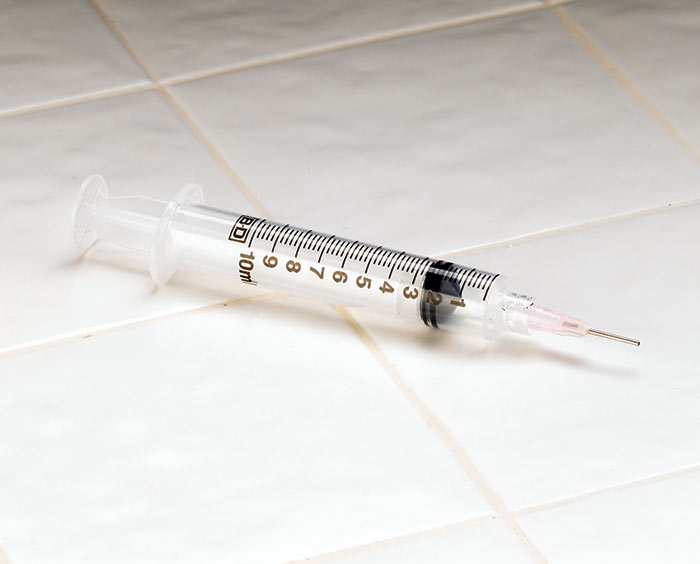 If white glue is not your thing, say you're an E-6000 user, you will not want to be without the 10cc Syringe. Even saying "10cc syringe" is elevating, as you immediately sound like a respectable surgeon ("I need 10cc's of E-6000, stat!" Doing double duty, a green mask here could really sell it…).
A little bit of this clear, industrial strength adhesive will go a long way on your project, and the heavier consistency is exponentially easier to control with this tool. It is especially preferred when using smaller stones. I won't go too deep into my praises for the 10cc Syringe- just know that, if you ask any employee's opinion, you better get ready for dramatic exultations.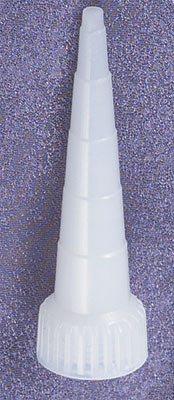 Don't forget, we also have screw-on, customizable snip-top E-Tips for your 1 ounce or 3.7 ounce E-6000 tubes (the 2 ounce tubes have a built in tip, though the opening is already present). The most economical glue aid on our shelves, it's also the most portable, give-able and easiest to clean; but it's priced so economically that you may not even want to bother cleaning it at all. These are great for handing out to your team of crafters, for including in a rhinestone or sewing kit, for tossing in the bottom of your costume bag for quick touch ups, for wearing on your fingertips and calling your Thumbkin a princess. You know, when you have a crowd of people to amuse, at your finger puppet theatre.
So, now you have a whole gang of Cool Tools to the rescue, working double duty, entertaining you and your adoring fans. A googly-eyed Bulb Syringe can make your kids smile; E-Tips can stack tall for your wee engineers, or serve as confetti for an impromptu "parade;" and the 10cc Syringe…well. Who doesn't love playing Doctor?
-xo-
Jemm
Rhinestones Unlimited blog author Jemm Stone is a multifaceted girl navigating our sparkly world with on-point insights. Visit RhinestonesU.com/blog to follow her thoughts as she highlights design trends, turns the spotlight on industry influencers and breaks down how-to tips like light through a crystal prism.
See our Bulb Syringe Glue Bottle and other Glues & Adhesives offerings here: https://rhinestonesu.com/adhere/
PS- Stay tuned for the rest of our Cool Tools. There's more glue news to come…