Posted by Rhinestones Unlimited on Mar 21st 2013
You didn't think we'd get through praising our many Cool Tools without mentioning the Hot Fix Tools, did you? The name spells it out for you. It's a tool- check. It fixes things- namely, blah things into sparkly things- check. It's hot! Check! Yes, technically, it's the opposite of Cool, but Hot is even cooler than Cool. Word.

Our Hot Fix Tools are a sexy mix of magic wand and curling iron. If you've never used hot fix elements before, they're actually pretty fun. Hot fix items are essentially iron-on; they have a glue backing that is melted before attaching to your project. They were specifically developed for fabrics. Because iron settings and fabric characteristics vary so dramatically, a precision wand is a great choice to apply your hot fix elements directly. There's no glue mess, no glue smell…
I know I'm about to give a biased opinion, here -I never said I was a nonobjective journalist- but, I think blinging in hot fix is A) Underrated and B) Much more enjoyable than gluing your stones on. Hot Fix Tools make a science experiment out of any project.
1. Lay your stones out, right side up (there's something very satisfying about seeing a big pile of rhinestones all organized like that).
2. Touch the preheated metal tip of your Hot Fix Tool over the top of a stone and it will pick it up (it's kind of like watching a magnet attraction in front of your eyes).
3. Hold it in mid-air for about five to 10 seconds. If you look at the glue, you can see it get softer and shinier as you watch (it's almost imperceptible at first, but suddenly you realize that you witnessed the adhesive melt in front of your eyes, like seeing the Wicked Witch of the West sink into a pile under a bucket of water). Don't wait too long after the adhesive gets shiny or starts to bubble- if you burn the glue off, the stone won't stick.
4. Press your stone on the design, and hold in place for a moment, about two seconds, before releasing straight up. The metal tips have slits on center- these are very useful for lining up the placement on your design (these slits are what makes the metal tip flexible enough to fully grasp your crystal. They also serve as the emergency exit strategy if your stone decides to stay in the wand; just use a fine tweezers or pin to hold it on the fabric while lifting the wand). ** Always do a test run in an inconspicuous area for any project before committing.
We don't recommend placing your stones on the design to heat them directly on the fabric. You may also want to place a small cutting mat under the fabric to protect your work surface. We carry four different Hot Fix Tools, two from the manufacturer Kandi's and two from the manufacturer Creative Crystal Co. Each line has an economical general purpose tool for light use and a higher end craft specific tool for heavier use. They all work in the same manner, but nuances in design and ergonomics may in influence your choice.
Some selling points: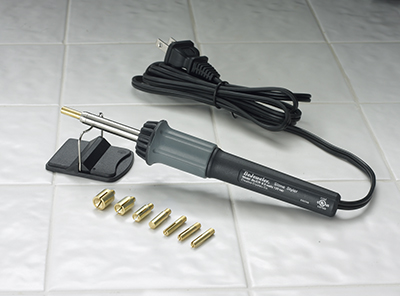 -BeJeweler Stone Styler is the original electric rhinestone setter created for and endorsed by Swarovski. It is the most economically priced in our selection from Creative Crystal Co. It includes a stand.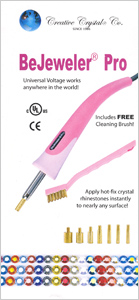 -Also created for and endorsed by Swarovski, BeJeweler Pro's design is improved with a soft touch handle that is curved at the top to rest on your hand and prevent fatigue. The nozzle is also recessed, the shorter design aiding in control. It includes a cleaning brush and a stand.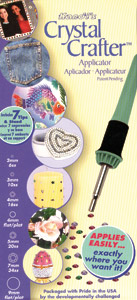 -Kandi's Crystal Crafter has been manufactured to support environmentally responsible disposal of their product, according to European standards, and it is packaged in the United States by developmentally challenged workers. The Crystal Crafter is the most economically priced in our selection from Kandi's.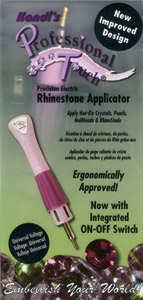 -Kandi's Professional Touch shares the characteristics of the Crystal Crafter, but is better suited for more frequent use. The nozzle is also recessed, the shorter design aiding in control. It is the manufacturer's top of the line product. All of our Hot Fix Tools are very portable and the wattage is universal when traveling between countries (you may need an adapter where necessary).
Also included with each is a set of metal tips to fit the stone size you are working with. These tips range from 6ss to 34ss. Stones outside of the size range, shaped crystals, and hot fix metals and pearls can be set with a generic flat metal tip, offered in two sizes. Not all tips are offered with each wand; the selection included may help you decide which Hot Fix Tool to purchase. We also sell all of the metal tips individually, to supplement your set or replace lost or damaged parts.
Some customers like to work with multiple tools at once, when using different crystal sizes in their designs. This eliminates having to switch out and reheat the tips while working, which can slow you down. If you find you are using a particular size stone most often, it may be helpful to purchase an additional tip in that size. Traces of adhesive may build up in the tip over time, and it will not hold the rhinestone. If this happens, remove the hot tip with a potholder, set it aside to cool, and screw in the backup tip. When the hot tip has cooled fully, clean it with steel wool or a steel bristled brush.
If you have ignored my advice and don't have a backup tip, try using the tip that is one size smaller than your rhinestone. Do not go larger, or the rhinestone will just get stuck in the too-big tip! Remember, as cool as this Cool Tool is, it is actually hot. Literally. Be careful when handling both the Hot Fix Tool itself and the rhinestones and metal studs you are attaching. Other than that, have a blast! This hot magic wand will make your admirers sweat after your steez. That's almost guaranteed.
-xo-
Jemm
Rhinestones Unlimited blog author Jemm Stone is a multifaceted girl navigating our sparkly world with on-point insights. Visit RhinestonesU.com/blog to follow her thoughts as she highlights design trends, turns the spotlight on industry influencers and breaks down how-to tips like light through a crystal prism.
See our hot fix embellishment offerings here: http://www.rhinestonesu.com/wholesale-hotfix-rhinestones-transfers-metals.aspx
PS- Check out our website for more tips and tricks on hot fix application from Swarovski, Preciosa and our own customers. And of course, stay tuned right here for more articles from me! Post PS- Steez, by the way, is that easy, breezy, striking style of yours. Yeah, you got it.