Posted by Rhinestones Unlimited on Jan 17th 2014
The metamorphosis that a costume provides can do wonders for your dance, for both the audience and you. As the performer, the addition of your dressing room routine- applying makeup, arranging your hair, clasping on your jewelry- is part of the mental journey to the stage. And then you put on the costume. Looking in the mirror, you feel different. You've become a different you.
Even though you have the same technical ability, the change in your image gives a renewed confidence. But remember: performing in something you're comfortable in is just as important as performing in something that makes you look good. I don't have to tell you that the pool from which your costumed look can be drawn is infinite, limited only by your own imagination or resources. But, a good place to start is pieces you've already had success in- your class wear. Using the leotards, shorts, skirts and tops you're already used to seeing yourself in and moving in can transition easily to performance wear just by layering or styling with accessories, introducing new fabrics or embellishing with…you guessed it: rhinestones. Ahaa!
Your basics aren't so basic, anymore, are they? (Psst- there's a self-acceptance practiced each time you see yourself in your clothes- or out of your clothes. Ever notice when swimsuit season comes and you're constantly catching glimpses of your scantily clad self that you like your butt a lot more than you do in the winter, when you rarely see it outside of the covering of your bulky layers? In the same vein, train yourself to love your body in that clingy spandex unitard by dancing regularly in front of the mirrors in a spandex unitard.)
We'll show you how we've glammed up some of our favorite basics from Discount Dance Supply to suit different performance budgets. Each piece has been in the photography studio twice: once with an introductory upgrade of one to three gross of Swarovski flat back rhinestones, and again with double or triple that amount. On most garments, the initial design style was an all-over pattern of alternating rows, to show you how far you can stretch $10-$30.
Round two filled in the spaces with a second size, or accented the seams or style lines, bringing the total rhinestone amount to the $30-$60 range.** Each design level is appropriate for a finished costume in its own merit, but allows the addition of more rhinestones (our favorite phrase) in the future.
(**This total amount is per piece, not per ensemble. This is $10-$60 retail in Swarovski #2058 Xilion Rose Enhanced rhinestones, spent to jazz up the leggings, or the leotard, or the skirt, etc.) Ensemble #1: Gabby's Jazz costume in hot pink and black, embellished by Robin. Gabby wears: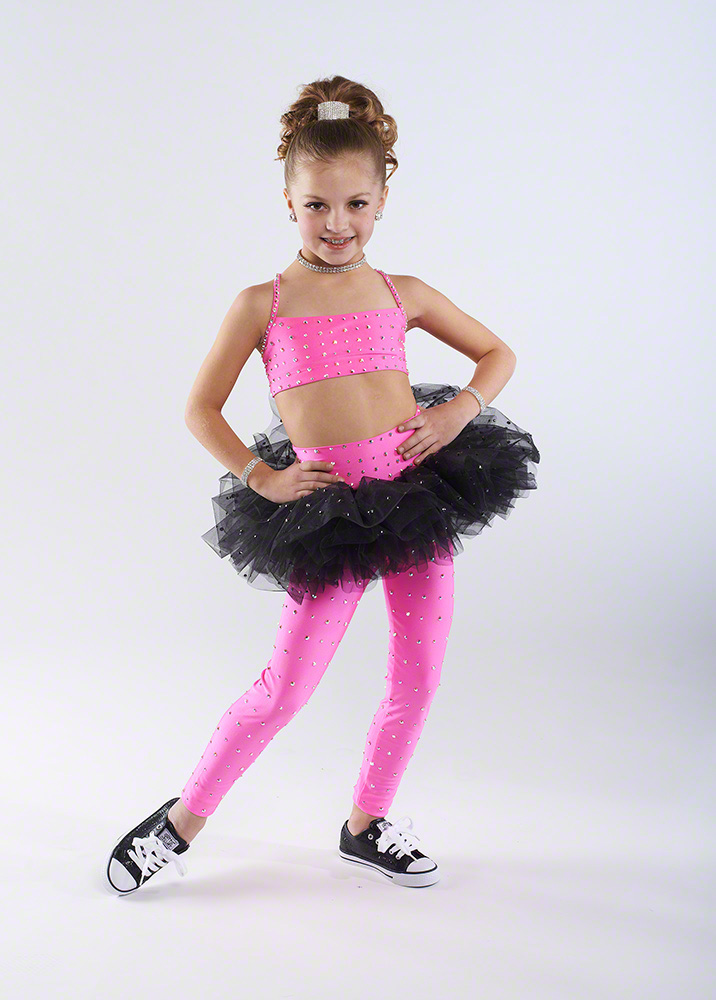 Pinks of all shades are a natural complement for Swarovski's iridescent Crystal AB, which is often chosen over Crystal when the performance style has a little attitude. Jet Hematite is my personal choice for black dance fabrics, as the metallic coating is subtle enough for elegance, but pops on the dark color in a way that is very striking when compared to the softly transparent Black Diamond or direct Jet.
Ensemble #2: Alayna's Hip Hop costume in black, embellished by Jill. Alayna wears: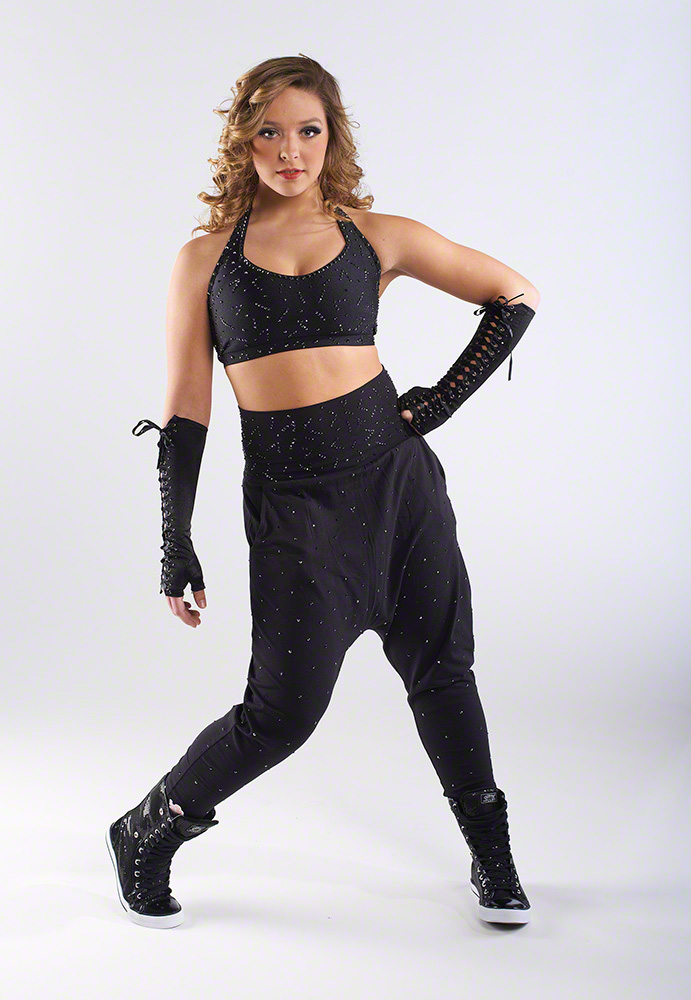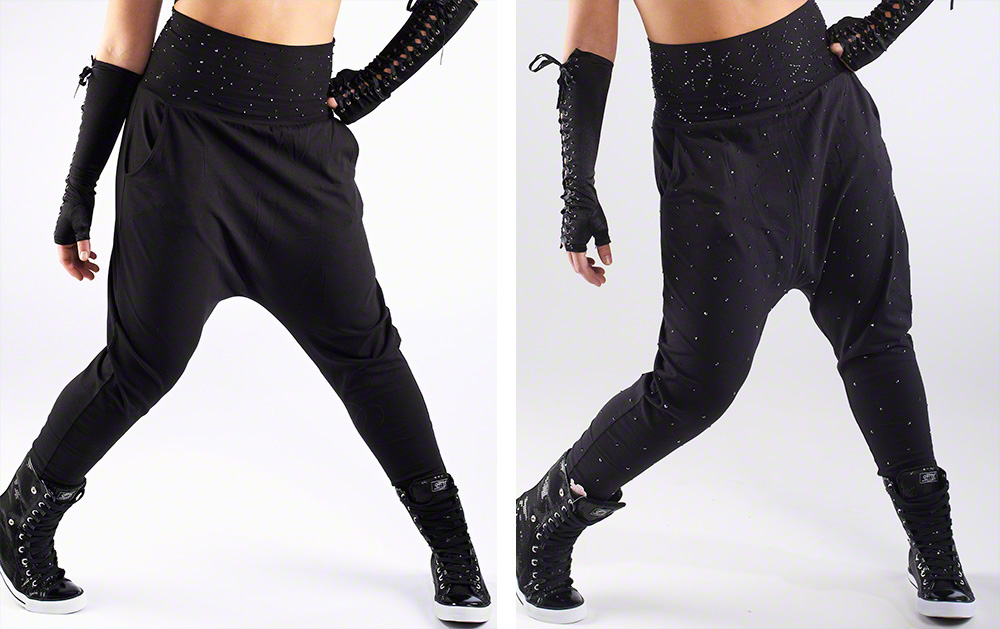 Here's a combination that proves sexy doesn't have to be skimpy. Slouchy fabrics and relaxed silhouettes give a casual cool to the wearer that looks confident- not sloppy- when the details are polished. Jill concentrated the Jet Hematite rhinestones on the waistband for the biggest impact, which doesn't detract from the unique characteristics of the harem pants themselves (PS- this pair has pockets!). With glittery high tops, shiny satin gloves and a crystallized top, allowing the pant legs to remain light on sparkle adds visual texture, which makes the whole ensemble more interesting (and safer for the audiences' eyes). I love the way Jill made a pattern of shooting lines in the second round of stones, almost like sparks across the black fabric; props for creative use of a random scatter.
Ensemble #3: Lexi's Lyrical costume in lavender, embellished by Jill. Lexi wears: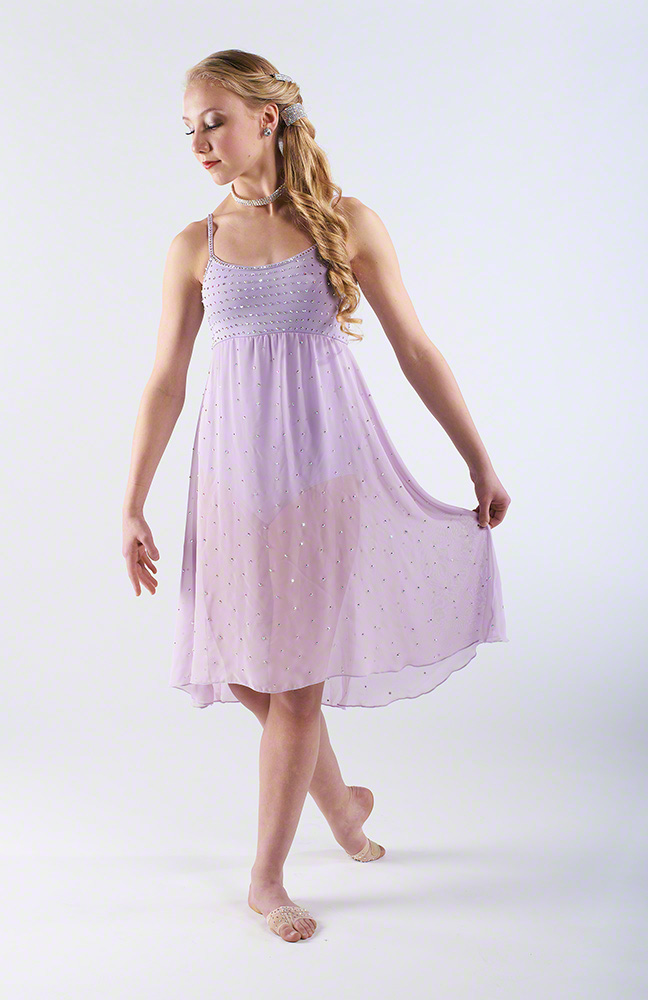 #7799 Body Wrappers Adult Camisole Dress Embellished with 3 gross of Crystal AB 16ss. Second round added an additional 2 gross of Crystal AB 16ss and 1 gross of 20ss on the skirt, 2 Gross of 20ss on the bodice.
#H07 Capezio Unisex "FootUndeez" Left unembellished in the first round. Second round added a half gross of Crystal AB 16ss, split between the pair.
A classic empire waist dress is always feminine, and very flattering for slight figures. Here, iridescent Crystal AB stones are used for their eye-attracting qualities under stage lighting- though the soft purple would accommodate other color directions with ease. The flowing georgette skirt only needs a light layer of scattered stones to make an impact- too much will weigh down the lightweight fabric and restrict the skirt's intended movement. Instead, concentrate the crystal design along the bodice, which will draw the eyes up and frame the dancers face while the skirt enhances the choreography.
Ensemble #4: Bella's Ballet costume in black, embellished by Ester. Bella wears: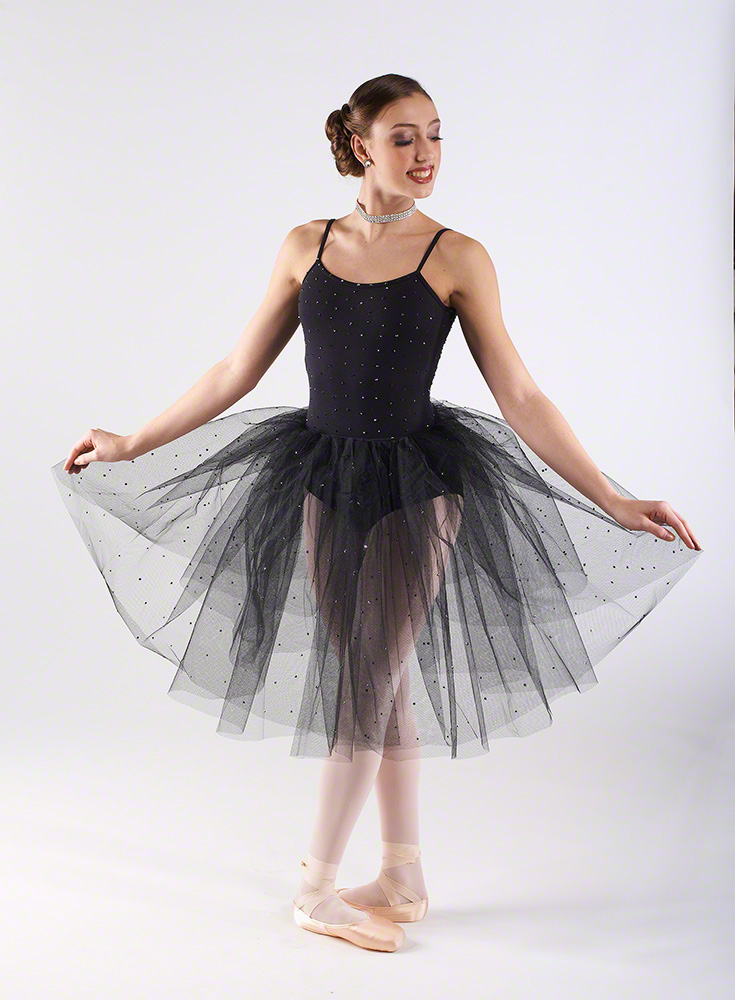 I'm a sucker for a black ballet costume. In a world of unnatural body contortions smothered in pinks, the moody tutu seems to give the discipline a modern depth of emotion that is suddenly more believable, more relatable to the audience. Jet Hematite stones on the black fabric (again, my favorite option in the noir color family) seem the perfect snappy compliment.
Ester has introduced two design options on the leotard between rounds one and two: the gross she initially places are evenly spaced in alternating rows, a tidy but predictable pattern. If one was not watching the dancing but paying attention to the way the light played through the stones, one could anticipate it's path. In round two, she intentionally maneuvers the second layer of stones into a more random smattering, which keeps one's eyes guessing. Though the tidy look is very befitting for a tight-bunned (in both aspects) pink dance style,
I like the idea of a more organic, constellation-like scattering on the moody dark costume. There are a few crystals below the waistline of the leotard as the skirt is sheer, but most are concentrated above the tutu line.
A third design to create an all-over sparkle on this leotard would be to line the straps with stones, then cluster a dense mass of stones in the top half of the bodice, slowly fading to a trickle at the waistline, where the tutu would then take over. With the sheer tulle, stones on the second layer would peek through for interest (this would be a good area to subtly introduce a contrasting color), but the most impact will be on the top layer. To prevent a big sticky mess, remember to put a barrier such as wax paper between the layers of tulle when you glue your rhinestones on.
Ensemble #5: Lexi's Jazz costume in white, embellished by Jill Lexi wears: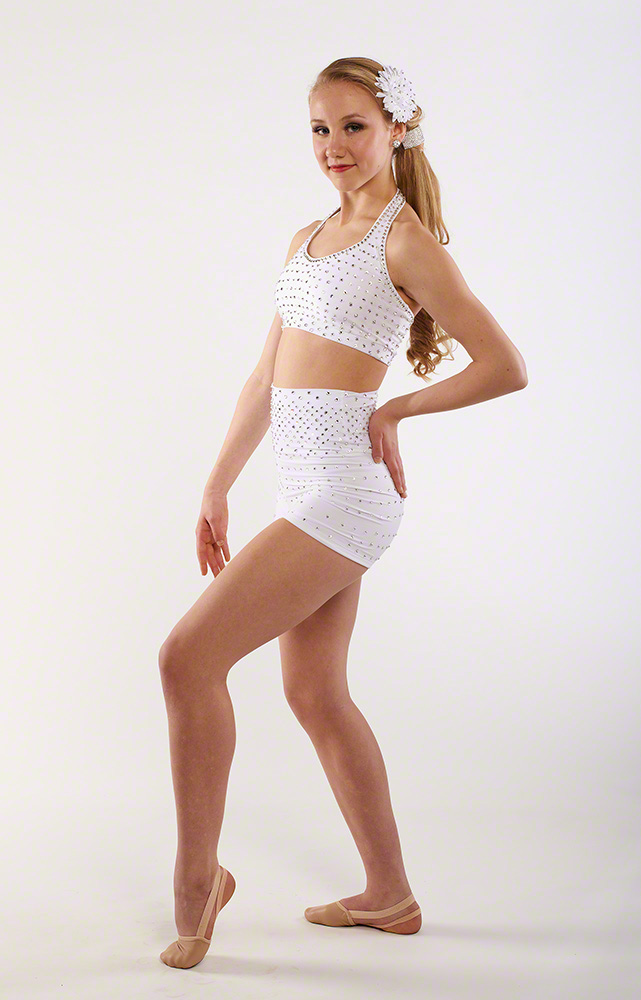 Yes, pure white may be irksome to your lighting designer, the way it bounces light, but it is so dynamic on a stage. Crystal is a natural choice for embellishment on white, as it is unfussy, streamlined, polished. Lexi's high-waisted shorts are a classy throwback to ladylike vintage. Depending on the way the ensemble is styled (say, a tulle wrap vs. a garter and thigh-highs), the same two pieces can be sweet or spunky. Note the rhinestone trim around the halter neckline and shoulders, eliminating the desire for additional jewelry, and the concentration of smaller stones through the center of the waistband, which help highlight the flow of the dame's undulating curves.
Ensemble #6: Bella's Musical Theater costume in black, embellished by Jill. Bella wears: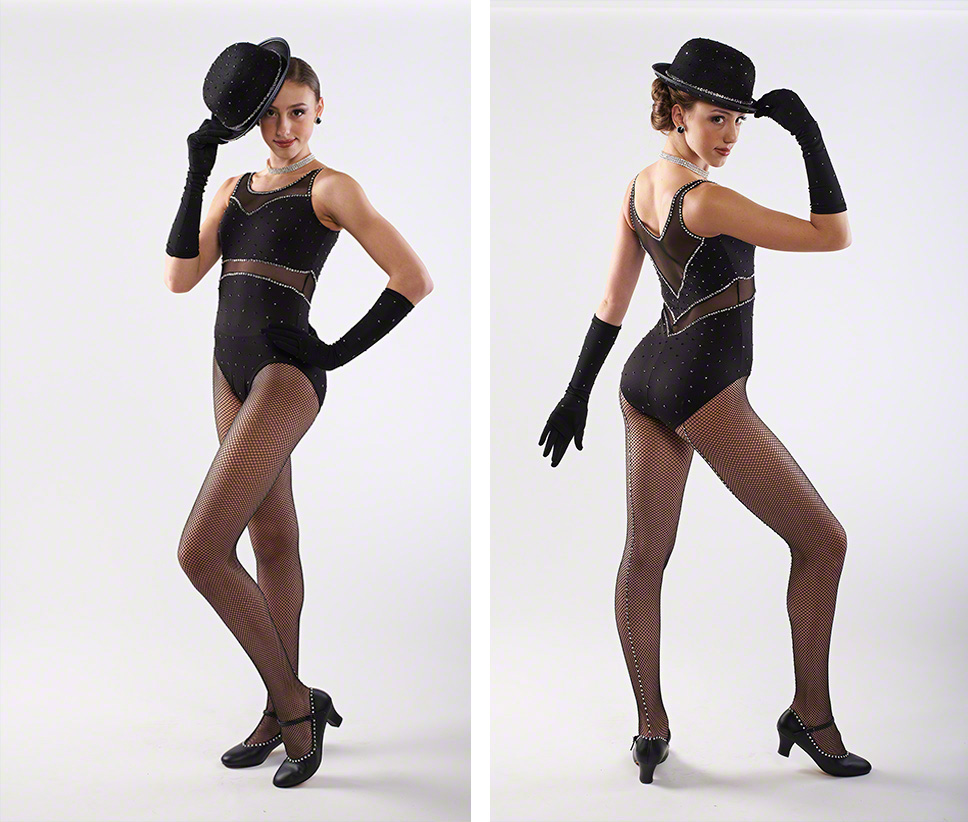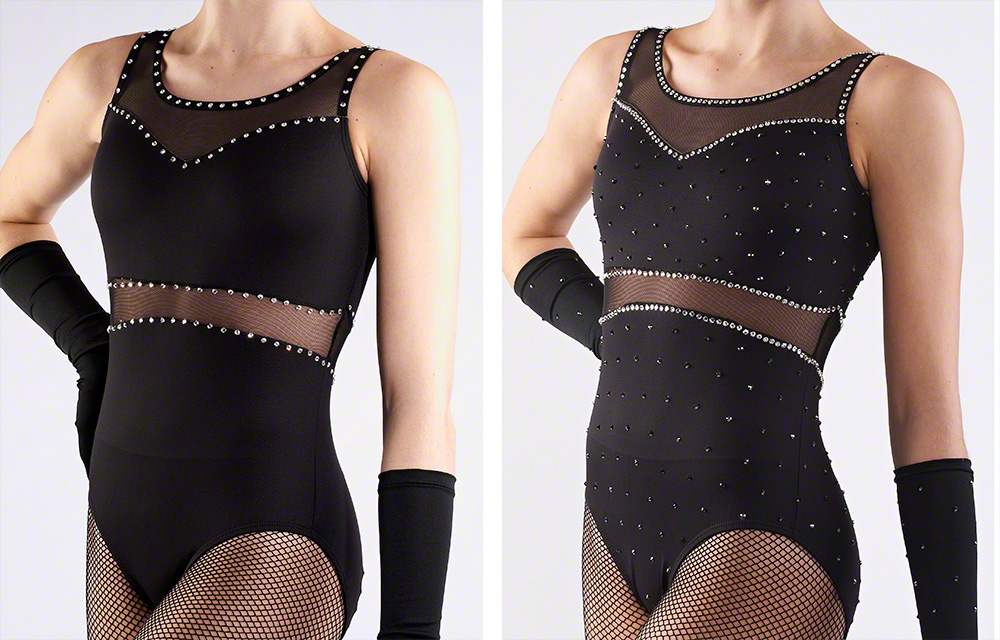 Rows of rhinestones play up the unique style lines of this leotard. Opting for clear Crystal over the tone-on-tone alternative, Black Diamond, the stark stone punctuates the alternating panels of Lycra and mesh- and the gal's gams- in a (musically) theatrical way. The outline changes dramatically between photography sessions, the ante upped to the point of becoming a totally different costume for my eyes. Enhancement vs. intention. A push up bra vs. a whole new set. Round two also introduces the sultry highlights and low-lights of Jet Hematite all over to add a subtle sparkle without detracting from the style lines. Keep in mind that pieces less prominent should still be performance-ready, or they'll look out of place next to the classy duds, like Mr. Moneybags with scuffed up penny loafers: in Bella's look, the derby hat and gloves still got the royal treatment for uniformly-spread pizzazz.
PS, if you're planning on reusing the shoes, consider gluing the stones onto ribbon, then using double-stick tape to secure the back of the ribbon to the shoes once the glue has dried.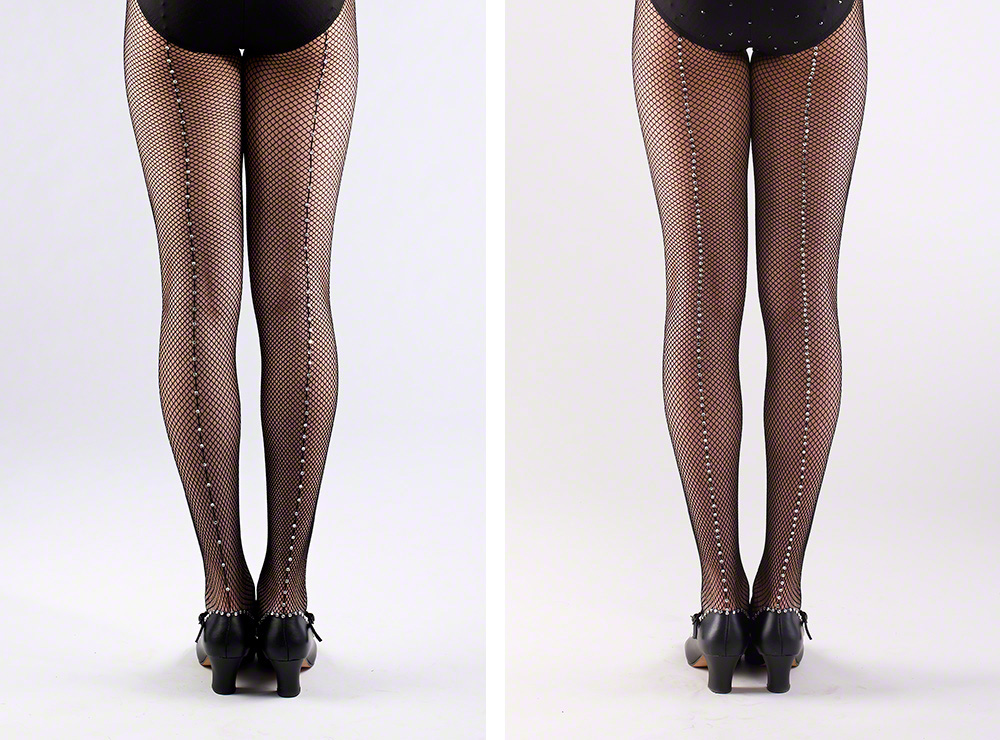 You can see what a different personality your everyday dance pieces can take on with a little effort. I don't want to say they become the superstars of the spotlight- that's your job- but they will make your stage presence that much more compelling.
The beauty of a budget is that it lets your ingenuity shine through, so go ahead, get creative. Make those pieces your own. And, if you want to use crystal rhinestones- dancers' performance enhancers, I like to say- well, you know where to find them… Break a leg!
-xo-
Jemm
Rhinestones Unlimited blog author Jemm Stone is a multifaceted girl navigating our sparkly world with on-point insights. Visit RhinestonesU.com/blog to follow her thoughts as she highlights design trends, turns the spotlight on industry influencers and breaks down how-to tips like light through a crystal prism.