Posted by Crystals For Nails on Feb 14th 2020
WHILE SUPPLIES LAST! $1030 Retail Value
As a bundle we are able to offer huge savings; pick up this LIMITED-EDITION PRODUCT BUNDLE before they are gone!
Note: Distributors should purchase 3-bundles to receive product in retail-ready packaging. When you purchase 1 bundle the crystals will be packaged in envelopes and not retail-ready.
Bundle includes:
1- Swarovski Nail Art Display: this crystallized nail art display is perfect for use as a salon menu. The product bundle includes everything you need to re-create these designs!
16- 5 gram Crystalpixie 5 gram Bottles: 3 of the most popular Edge and 13 of the most popular Petite Crystalpixie colors! All featured on the Nail Art Display.
31- Swarovski Nail Art Single Size Packs: the most popular articles 2058, 2088, 2080, 2400 and mini shapes in the most popular colors! All featured on the Nail Art Display.
3- Nail Technician Tools
Product Details:
Swarovski Nail Art Single Size Packs (Retail $10.95)
2058 Aquamarine AB 7ss
2058 Blue Zircon Shimmer 5ss
2058 Crystal 9ss
2058 Crystal AB 5ss
2058 Crystal AB 9ss
2058 Fuchsia Shimmer 9ss
2058 Light Rose 7ss
2058 Light Sapphire Shimmer 9ss
2058 Light Siam Shimmer 5ss
2058 Light Turquoise 9ss
2058 Metallic Light Gold 9ss
2058 Moonlight 7ss
2058 Paradise Shine 7ss
2058 Peridot Shimmer 9ss
2058 Rose AB 5ss
2058 Rose AB 9ss
2058 Rose Gold 5ss
2058 Rose Gold 9ss
2058 Scarlet 9ss
2058 Silk Shimmer 9ss
2058 Silver Night 7ss
2058 Tanzanite 7ss
2058 White Opal 5ss
2058 White Opal 9ss
2080 Pearls Nacre 10ss
2088 Flat Back Sapphire AB 12ss
2088 Flat Back White Opal 12ss
2400 Crystal AB 2x2mm
2400 Square Light Chrome 3x3mm
Mini Duo Mix Pack Crystal AB
Mini Duo Mix Pack Crystal AB
Mini Mix Pack Crystal
Swarovski Crystalpixie 5 gram Bottles (Retail $28.90-32.90 each)
Edge Cute Mood
Edge Electric Touch
Edge Punk Candy
Edge Rebel Spirit
Petite Aurora Shimmer
Petite Blue Lagoon Shimmer
Petite Candy Land
Petite Champagne Shimmer
Petite Deluxe Rush
Petite Jungle Green
Petite Love's Passion
Petite Ocean Dreams
Petite Rock Shock
Petite Rose Shimmer
Petite Sparkling Moments
Petite Starry Night
Displays (Retail $200)
Swarovski Crystals Branded Nail Art Display/Salon Menu
Swarovski Crystalpixie Branded Display Box (limited-while supplies last)
Nail Technician Tools (Retail $15 total)
Swarovski Branded Nail Wheels
Swarovski Branded Tear-Off Application Mat
Swarovski Branded Crystal Display (Crystal Storage) Box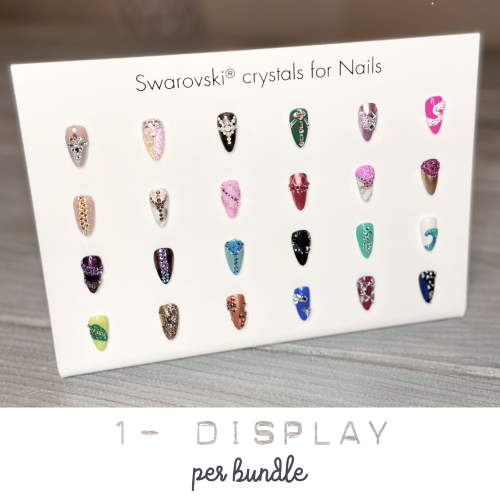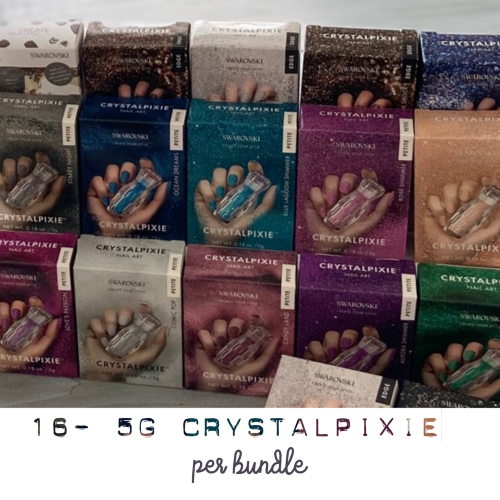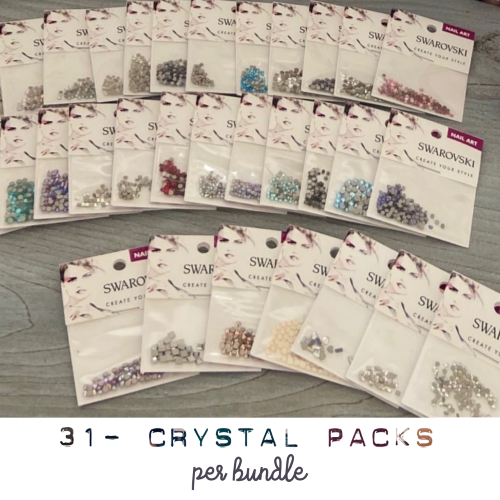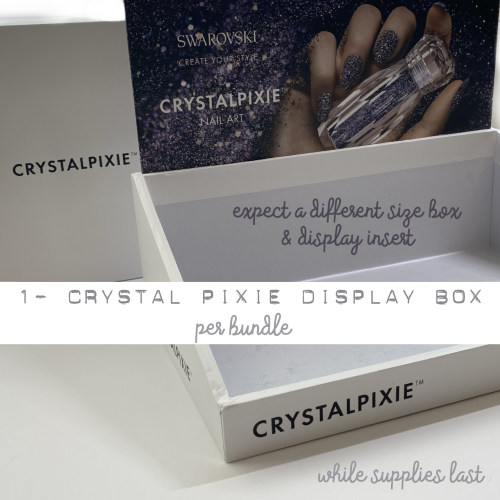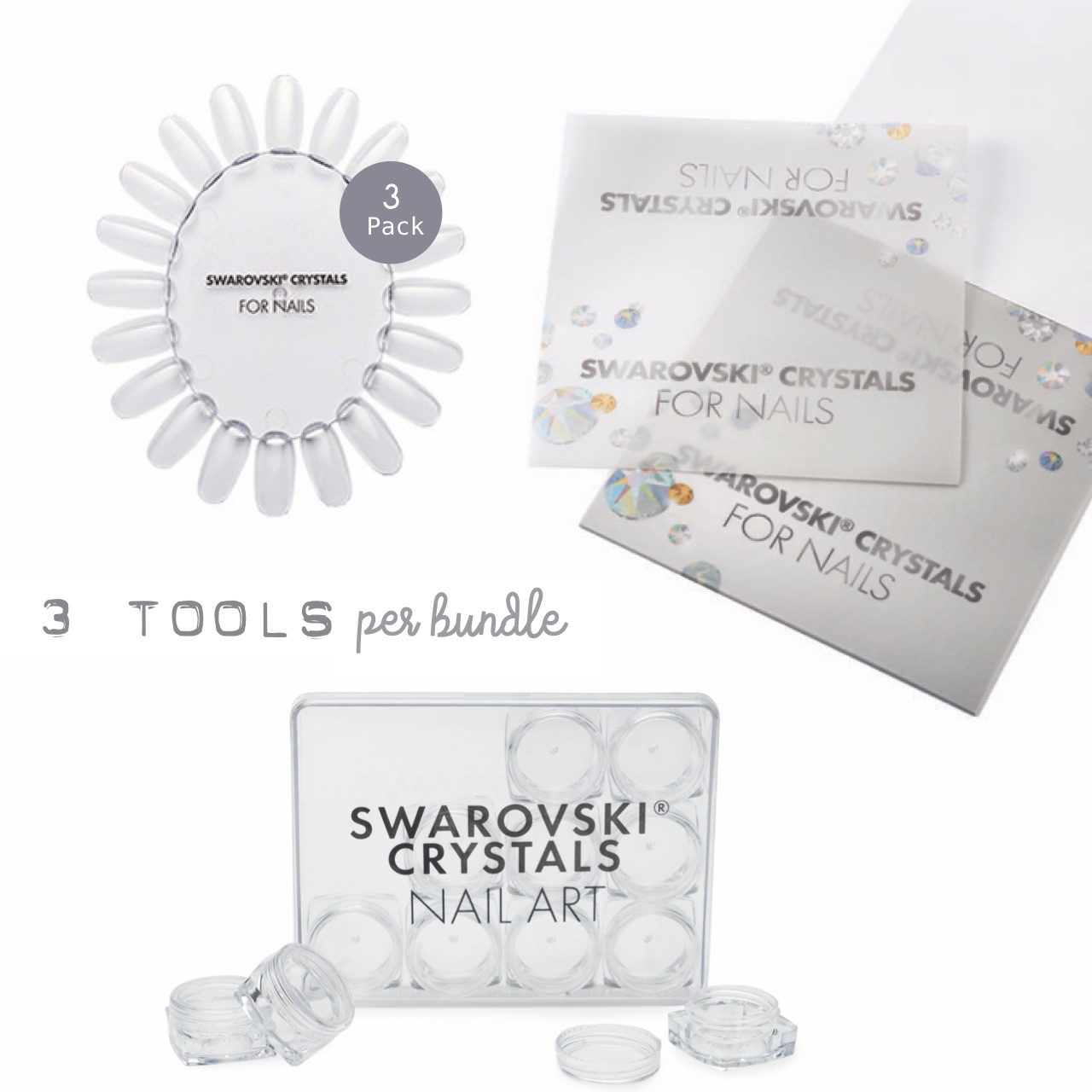 As proud Swarovski Authorized Reseller and packager of Swarovski retail-ready crystals for nails art, we continue to bring our customers the latest innovations from Swarovski. Our commitment is to service Nail Artists and Nail Art Distributors with top notch customer service.