Posted by Rhinestones Unlimited on Nov 4th 2013
We're no strangers to fantastic costumes- with dozens of dance studios in the Minneapolis/St. Paul metro, renowned pattern companies, cobblers and costume manufacturers calling the Twin Cities home, and the most theaters per capita outside of the Big Apple itself, we've been privy to some incredible performance pieces. Of course, one can never be satisfied- we (I) always want more, more, MOAR!
To get you through until the next show, here are three beautiful dance costumes, featuring our very own PriceLess Crystal rhinestones. I've gathered some behind-the-scenes stats from the very crystallers who put their heart on these sleeves.
The Costume: Blush floral stretch lace cropped mock neck top, sheer with dusty rose-lined empire bust, long, slim sleeves and zip back; paired with a nude Lycra spandex trunk
The Strasser: Nadine
The Dancer: Payton
PriceLess Crystals used: Crystal AB sizes 16ss and 30ss cluster tightly on the floral pattern of the top, with meandering scatters of 16ss following the leaves and vines. The warm pastels look great against Payton's rosy undertones and blonde hair, and the addition of iridescent rhinestones keeps a sophisticated palette looking playful. What could have otherwise been a very sporty look becomes polished and feminine in this fresh combination of colors, fabrics and embellishments.
Nadine's routine: "I only use Gem-Tac, I love my squeeze bottle [2 oz. Bulb Glue Bottle] and the pick with the wax at the end [Pick-N-Stick], and I watch all the late night shows."
Favorite detail of the costume: "I just like the way it sparkles in all lights."
How do you care for your completed costume: "I hand washed it. It does need to be kept out of heat or the glue sticks to the other parts of the costume."
On PriceLess Crystals: "They truly do sparkle as well as other brands."
The Costume: Midnight satin slip dress, with plunging V-shaped front accented in black lace, a standing collar that gives way to a front cutaway panel of black lace over the décolletage and supports a web of straps playing over an open back. Fingerless opera-length gloves in matching black lace complete the look.
The Strasser: Stephanie (with additional thoughts from costume owner Teresa)
The Dancer: Alayna
PriceLess Crystals used: Jet Hematite- 16ss, 30ss; Amethyst 16ss. The larger Jet Hematite stones solidly adorn the shoulder and back straps, with a dense scattering of mixed sizes over the black lace on the slip dress and gloves. The deep blue is given dimension with the Amethyst stones, which are applied in a delicate freehand scatter reminiscent of constellations. With Alayna's olive complexion and dark hair, saturated jewel tones are well complimented.
Stephanie's routine: Stephanie, the dance instructor and designer of all three looks shown here, is a crystalling veteran indeed. You'll usually find her sitting comfortably on her couch late at night, surrounded by open packages of rhinestones on the cushions and armrests, watching Bravo or The Food Network (and probably whistling while she works). The costume project is in her lap, stuffed with garbage bags or stretched over a toddler's pillow ("a good form for bra tops," she states).
Favorite detail of the costume: "I love the clean lines of the back straps and their color against Alayna's skin." The costume was designed so as not to detract from her striking natural beauty, and the total effect- though in midnight blue and black- is radiant.
How do you care for the completed costume: When ready to transport, Stephanie will wrap appliqued or heavily embellished areas with a garbage bag or paper towel to prevent it catching on other areas of the costume, which can snag the fabric; and, depending on the features of the costume, will fold it into a box (think a sheet cake box) or structured and handled bag ("prevents crushing any poufs or feathers") or will simply hang it up.
Teresa on PriceLess Crystals: "The costume was absolutely GORGEOUS! So many people approached us to look closer at the costume, and more specifically, the PriceLess [Crystal] stones. They reflected light beautifully on stage and they didn't seem as heavy. We will DEFINITELY use them again!"
The Costume: A 3-piece midnight-blue Lycra spandex and stretch mesh ensemble: mesh raglan sleeves with a pointed cuff are attached to a choker-style collar which hooks at the back of the neck; a separate backless halter bra top featuring a shallow V décolletage; and briefs with a surplice V waistband, adorned with a tuft of black feathers and a handkerchief-hemmed swath of fabric.
The Strasser: Ester
The Dancer: Bella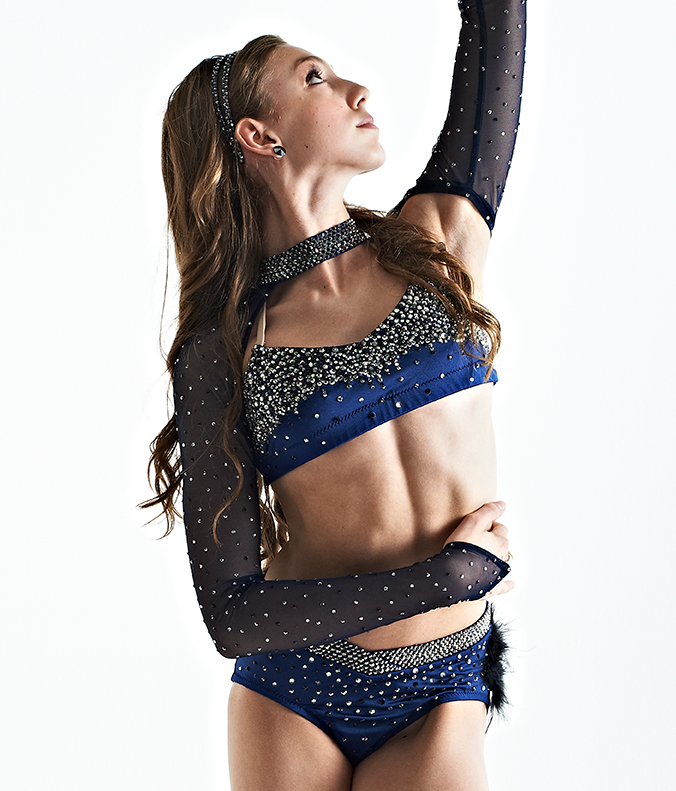 PriceLess Crystals used: Black Diamond sizes 16ss, 20ss, 30ss; Jet Hematite sizes 16ss, 20ss, 30ss; Jet sizes 16ss, 20ss. With 27 gross used, there are close to 4,000 rhinestones on this costume! The bra top is heavily encrusted with all three colors that begin to trickle down to the empire line, an effect that enlivens the moody colors and helps frame Bella's face. Both the sheer mesh sleeves and the briefs have an all-over scattering of mixed sizes and colors; the choker-style collar and the surplice V waistband are solidly embellished in graduating sizes of Jet Hematite.
Ester's Routine: Plates to separate colors and sizes, a toothpick with a dab of dried glue to pick up the stones**, E6000 adhesive, and a glass of wine for the overnights. She applies single dots of glue for each stone, which allows the fabric to keep their stretch once embellished- highly recommended! **[As an alternative, may I suggest a Pick'N'Stick: easier to use, harder to lose]
Favorite detail of the costume: The solid Jet Hematite collar and waistband. The stones are applied in graduating layers, starting with a line of 30ss stones at the center, windowing
How do you care for the completed costume: Hand wash or spot wash, air dry, and hang
On PriceLess Crystals: "They're not as heavy, they don't weigh the costume down-" in short, they're more comfortable to move under, allowing for better sustaining of momentum in turns and aerial maneuvers.
Wonderful words of inspiration from seasoned sparkle-lovers. When you're planning your next performance piece, see how much you can get for your money with PriceLess Crystal (I'll give you a hint- up to 33% more rhinestones!). They are available in the most in-demand colors, and offer the unique extra stone size, 24ss, in Crystal and Crystal AB. You may commence daydreaming...
-xo-
Jemm
Rhinestones Unlimited blog author Jemm Stone is a multifaceted girl navigating our sparkly world with on-point insights. Visit RhinestonesU.com/blog to follow her thoughts as she highlights design trends, turns the spotlight on industry influencers and breaks down how-to tips like light through a crystal prism. P.S. Jonesing for PriceLess Crystals to enhance your own performance? They're found only at Rhinestones Unlimited! See the video of the costumed gals in action, then shop the most cost-effective crystals on the market: http://www.rhinestonesu.com/priceless-crystal-rhinestones.aspx