Posted by Rhinestones Unlimited on Feb 26th 2016
For those confident enough to handle all the attention they'll get, there are rhinestones. PH balanced for a woman? Maybe. But rhinestones are strong enough for a man, too, and I've known plenty of confident men in my life… …starting right here. I've interviewed some of the mighty men of Rhinestones Unlimited, men who have proudly sported a bedazzled bow tie, a smart jacket with sequins and stones, maybe a rhinestoned sash, maybe sparkly shoes. And when the spotlight is turned on these men, boy do they know how to charm the crowd. Geoff, Jaeden, Patrick, Galen and AJ: real men who wear rhinestones.
Geoff...
...of macho whiskey-drinking Irish heritage, is it safe to say over half your life has been devoted to performing, choreographing or instructing the powerful rhythm-based dance forms of tap and hip hop?

"Much more than half of my life has been devoted to dance. I have been dancing for 28 years with no plans to stop anytime soon."

What was the strongest, confident, most manly costume you've ever performed in?

"A three piece charcoal (Silver Night) colored suit that was tailored from head to toe."

Looking back now, do you see places on that costume that you would add rhinestones if you could?

"We actually rhinestoned the wrist watches that we were wearing as a costume piece. We looked very debonair in our suits, but the blinged wrist watches added a dash of guile and confidence."

You lead a group of men, the "dance dads," in a very testosterone-filled routine each year. When you're together, perhaps gathered over rhinestones, embellishing your stage suspenders, have you ever grunted, scratched, guzzled a beer or spit?

"Yes, Yes, Yes and Yes, and you can bet a whole lot more."
That is very manly. Check out this blog article by En Pointe featuring Geoff and the Dance Dads: https://en-pointe.com/dance-feature-dancing-dads/
Jaeden...
...a beard-sporting man of tap and lyrical, what superpowers can rhinestones give a performer?

"The power of illusion. You can blind your enemies, become a facade, a mirage, appear enflamed, or even look as though made of ice or steel."

If "power performance" could be measured, what would be the unit of measurement?

"Giga-Lux. Lux because it is the amount of light on a surface given off by a candle per meter. It's also the Latin word meaning light. Giga because when you put them together it reminds me of the movie "Back to the Future" and the Gigawatts."

Hmmm. That's interesting. So, hypothetically, if rhinestones were some sort of superhero, who would they be?

"Superman. Since he also gets his power from light (the sun). Rhinestones would probably be closest to him. At the right angle with the right light they could also blast laser beams out."

You've taken stones into your street style, as well. Can you give your swooning audience some examples of your latest non-stage rhinestone projects?

"Recently I took a hat with an old school NES controller (Nintendo Entertainment System) and rhinestoned that for some extra attention."

In one masculine word, tell me how rhinestones make you feel:

"Unique. 'Only dead fish go with the flow'."
So hot.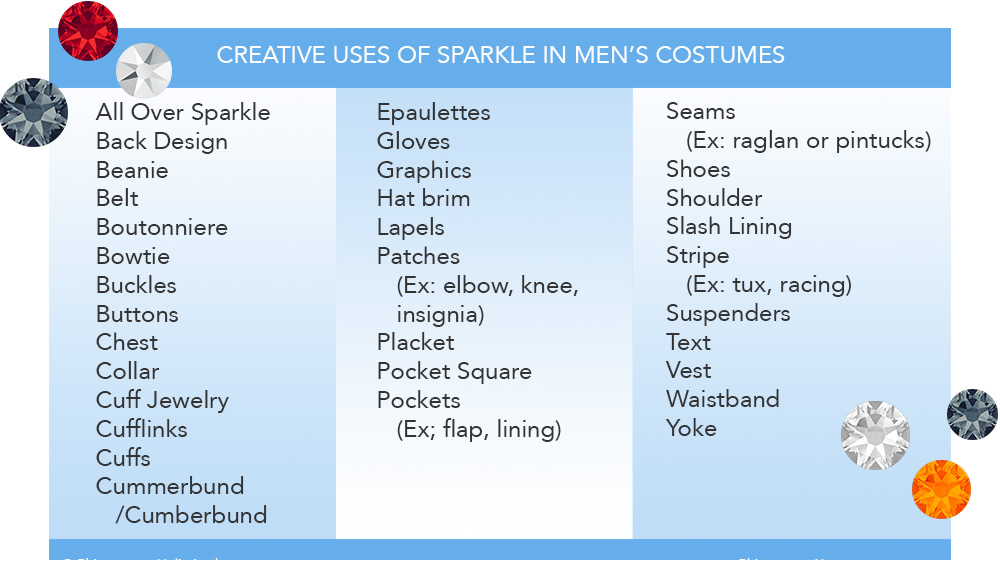 Patrick...
...I have seen you put on and take off many an embellished piece in your physically demanding performance career. One particular character comes to mind here: the Rat King. Now, you chose, of your own accord, to design and carry out firsthand the crystalling of some of your Rat King pieces. Is that correct?

"That is correct, Jemm. I voluntarily rhinestoned my Rat King shoes and they turned out better than I could have imagined! I also rhinestoned two of my other costume pieces, but you'll have to come check out the show to see those."

And, I saw the seed of addiction take hold during that time: is it true that once you started rhinestoning, you wanted more sparkle on everything?

"I wouldn't go as far as everything, but sparkle here and sparkle there makes for glistening smiles everywhere! I haven't rhinestoned anything since then, but I'm hoping to get to do some ties before Christmas comes around."

How much can you bench?

"I'm not exactly sure how much I can bench, but I'm assuming it's over 68038.9 grams."
Wow. That is manly.
Galen...
...a world traveling soloist in the tap-based troupe, Rhythmic Circus, has sported some knock-out crystal pieces when he's not mentoring his own group of macho dancers. Galen, your signature move involves a quick splits-and-recover from standing position. Very bold for a man, no? Even, dare I say, dangerous?

"Generally in our society it is common belief that men are less flexible than women. Though there are, apparently, some medical facts that support this theory, one thing that people always forget is the power of practice and self-discipline. For whatever reason growing up, I loved stretching out in my straddle position and relaxing while I watched tv or listened to music. Transitioning to other poses over time, I was able to keep relatively flexible for a 25 year-old male. If only I had kept focusing on my right and left splits the way I focused on my center splits, then maybe I would have those too! But then again, it's never too late to try! And for anyone who may feel that the splits cannot possibly be manly, I suggest they see this: https://www.youtube.com/watch?v=M7FIvfx5J10. And as for the "dangerous" bit…hey, if it somehow adds to the wonder of my, apparently, abundant masculinity…then yes. Quite dangerous indeed."

Did I hear that "Dangerous" is your middle name?

[no comment]

In a traditional circus, which act do you think is the most death defying act of manhood?

"I think that in a real circus the most death-defying stunt is performed by the traditional Lion Tamer. I say this because although many of the other acts can be practiced and perfected, the one thing the Tamer cannot account for is the behavior of his counterpart, the lion. In the moment where the Tamer enters the ring, there are only two lives connecting and performing together, and between these two lives, a barrier through which their ability to communicate is reduced to feeling and action. Not only must a Tamer be brave, but they also need to be smart and tender, providing the beast with the sense of control it desires. Truly a feat for any great man, and, of course, any woman as well."

And, do those men wear rhinestones?

"I'm sure rhinestones are incorporated in the garb of many circus performers, but I suppose the only question for a lion tamer would concern function. Does being covered in splendid, light reflective [crystals] pose a threat to the animal? Surely, no lion wants to be out-shined, but a magnificent coat of rhinestones might accomplish exactly that."
Incredible.

And AJ...
...a strapping young man of 5- holding his own machismo as gallant dance escort in a sea full of little ladies also bears the burden of representing the family rhinestone business on his soon-to-be strong shoulders. Now, AJ- I've seen your athletic prowess- you're a pretty fast runner. Would you say you're pretty strong

? "YES!" [Promptly runs off to the nearest large toy- a car track- and lifts it over his head.]

Wow- muscles! AJ, they say that every girl is crazy about a sharp-dressed man. Did your tap recital bow tie have rhinestones

? "Yes." [Mom prompts, "Did anyone like it?" "Jolie and Madeline liked it." I'm then told that Jolie is his girlfriend.]

Nice. Do your mom's friends pinch your cheeks and tell you you're cute

? [AJ affirms and mom admits she'll pinch his booty. Cheeks vs. cheeks...it all counts.]
Well, dear reader, what can we conclude from these dauntless displays of raw man power? Rhinestones aren't for the wallflowers of the world- bold men, women and everyone in between best be prepared for attention. The mighty men of RU exercise restraint, as they already command the spotlight in their daily lives, and we are thankful that, for the protection of both themselves and their fans everywhere, they only pull out the crystals on rare occasions; use them too frequently, and folks would lose their senses. Their swagger gets so strong- well, let's put it this way. Remember the Fembots (yes, I'm going there), Bunny-worthy robot gals professionally trained in their assassin mission to "seduce and destroy"? Remember when Austin Powers all but obliterates those Fembots with his irresistible mojo? Yes. It's risky being so charismatic. With great power comes great responsibility, men- use your rhinestones wisely. -xo- Jemm Rhinestones Unlimited blog author Jemm Stone is a multifaceted girl navigating our sparkly world with on-point insights. Visit Blog.RhinestonesU.com to follow her thoughts as she highlights design trends, turns the spotlight on industry influencers and breaks down how-to tips like light through a crystal prism. P.S. Check out Galen's dance reel: