Posted by Rhinestone Unlimited on Apr 15th 2014
If you've not been in our showroom in the past year, you've missed out on the show-stopping show jacket garnering so much attention. Designed by Liz Workland from Idaho's Dry Creek Designs, the custom made piece features nearly 54 gross of Swarovski ELEMENTS crystals, pearls and ceramics, all hand-applied.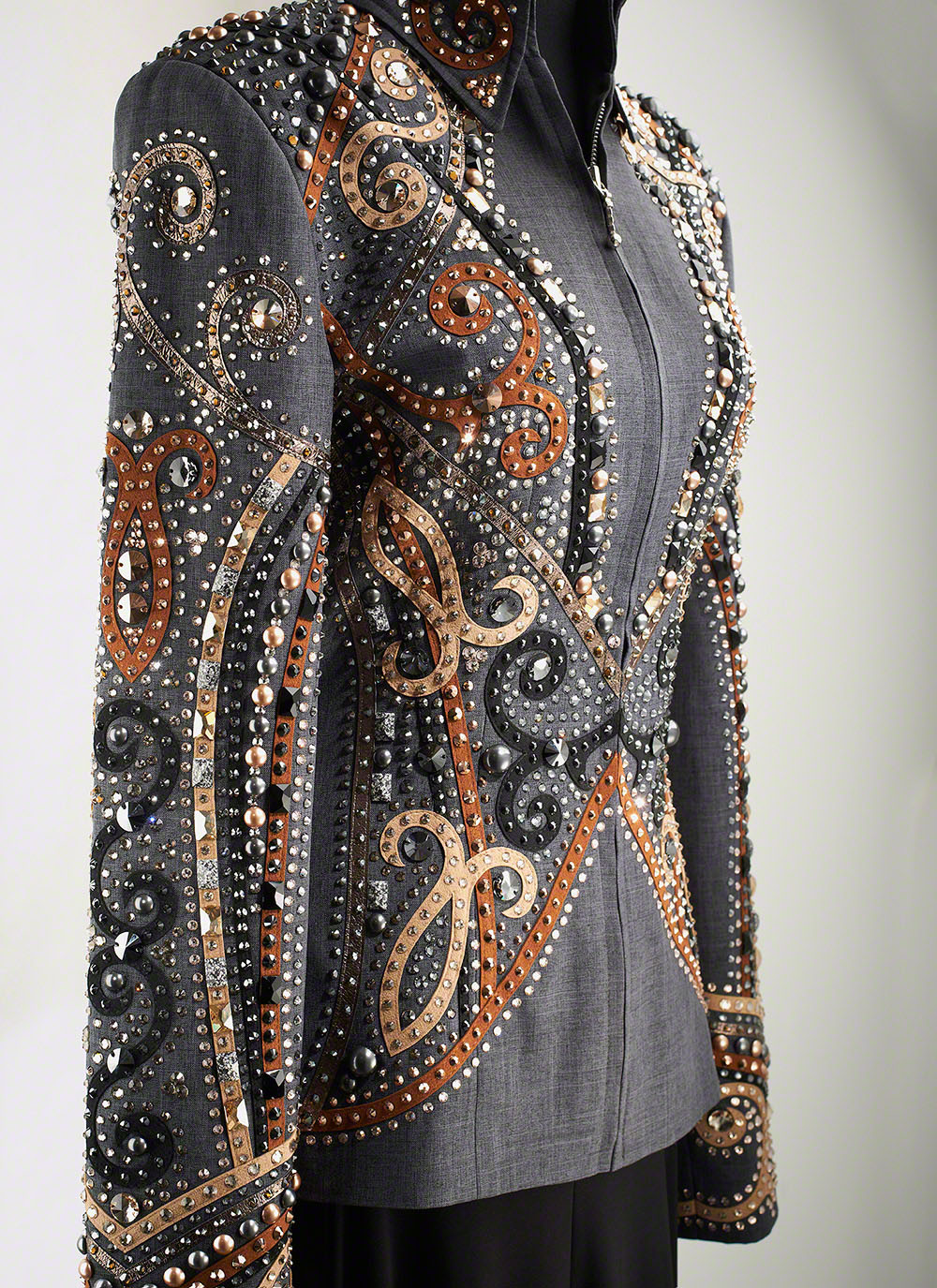 As we welcomed new products to our shelves at the request of our Western wear customers, we asked Liz- one of our long-time friends- to create a piece showcasing them, exclusively for display at Rhinestones Unlimited. When I asked Liz what her inspiration was in coming up with the design, the first thing she pointed out was the colors. Thanks to Swarovski, we sent her a box filled with gorgeous neutrals to pick and choose from: silky nudes, smoky shades of translucent greys, bronzes and metallics. She came up with a swirling motif of hand cut ultrasuedes, set on a charcoal woven suiting fabric and a coordinating inner lining of graphic squares. It blazes in faceted crystals, soft charcoal and golden pearls, funky metallics, and artsy ceramic mosaic stones. This jacket is classic and edgy all at the same time, can suit any horse's coloring and will complement any rider's skin tone.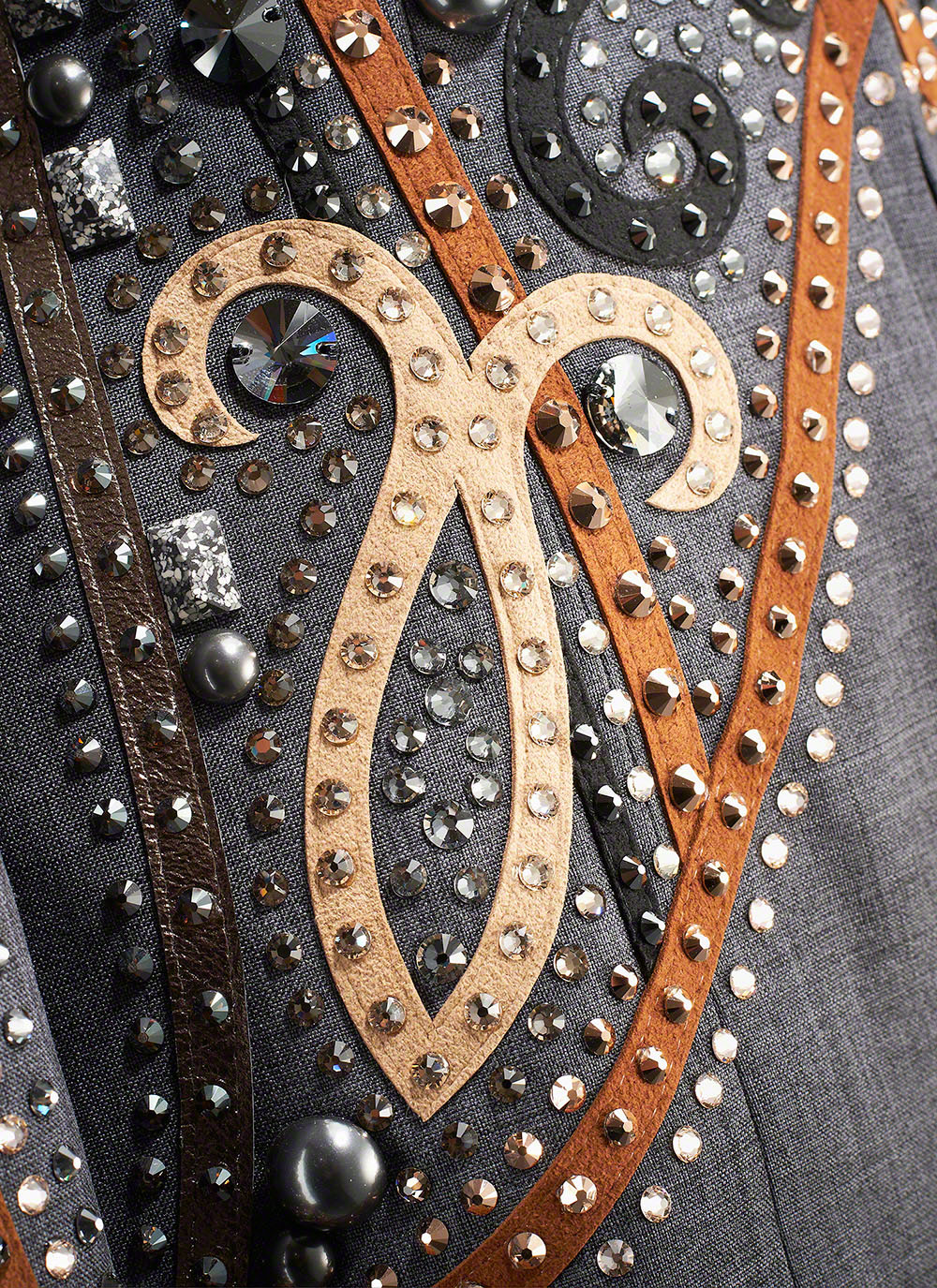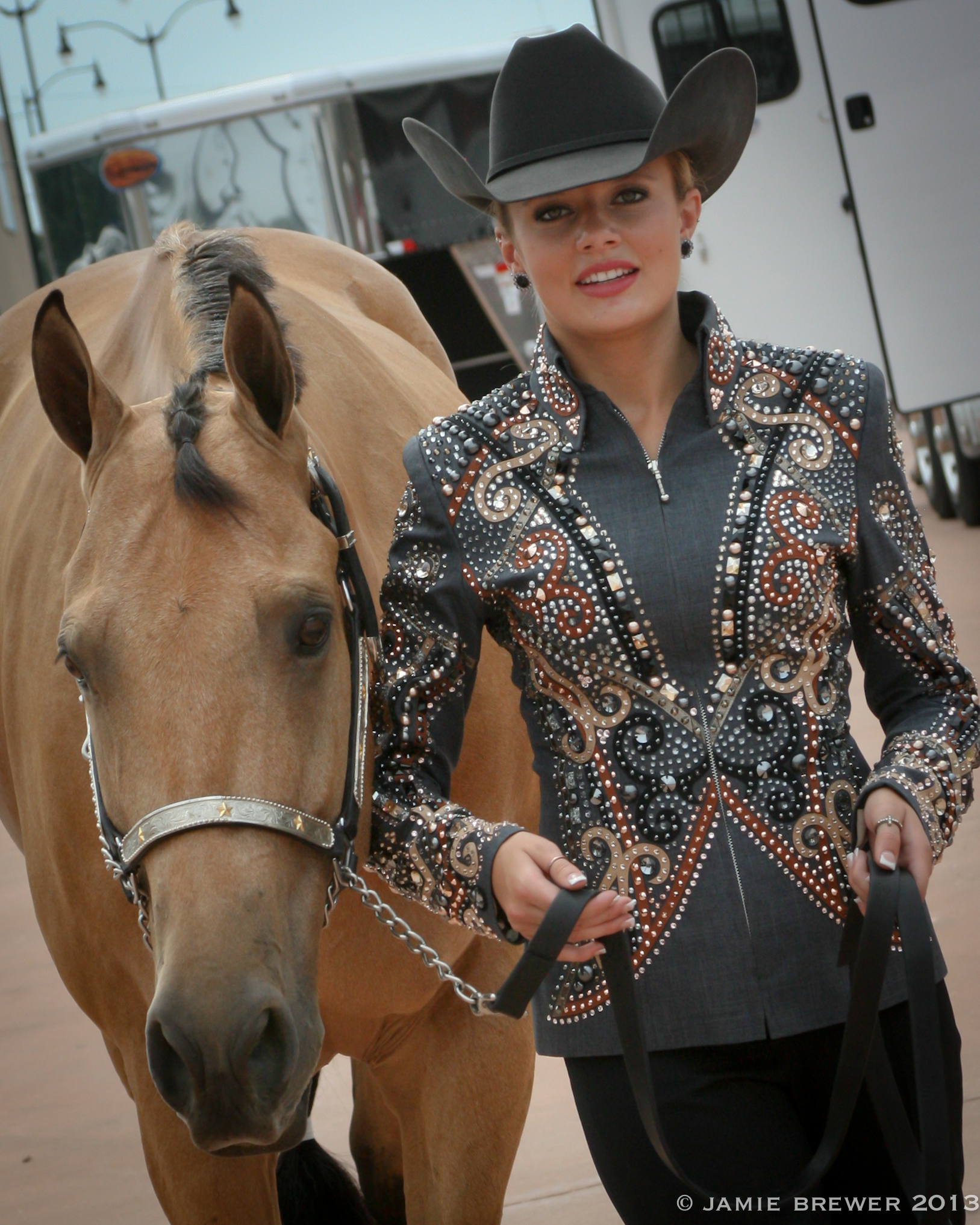 TJ- an American Quarter Horse- and Austin B. rock the jacket on the streets
Because you're not looking at it in person, let me assure you that this piece is stunning. Anyone who sees it is drawn in by the precision level of detail. I've personally witnessed it hold teenagers' attention for minutes. Minutes! Now, I'm not going to lie to you- I don't know horses. I love horses. But, I don't know their world. My background is in fashion and theater costume. I can tell you what looks good on an individual, and if you're willing to listen, why it looks good. The rest of the information I have to get via phone interview from Liz, a long-time veteran in the Western and equestrian world.
Q: Liz, what would you like people to know about Dry Creek Designs? A: We are professional tailors first, designers second. I'm in my 22nd year of [creating custom show apparel]. Our fit in the industry is probably the best as far as jackets and pants. I went to school to learn this- you don't learn this from your mom! From toddlers to 70-year olds- you have to know how to [fit everybody] and make a pattern specific to their intent. We always put care labels inside – the only custom show company doing that. And they last! Our clothes last forever. I've seen pieces of mine that are 10 years old on clients and they still look great- all lined, beautiful on the inside and outside- and the resale value is phenomenal. Unlike the majority of show clothing out there sold at pop-up arena booths or in a catch-all store, Dry Creek Designs creates pieces that are made especially for the wearer. Liz uses woven fabrics and fits them through intentionally flattering seams- not a standard one-size-fits-all stretch polyester that pulls here and sags there. She assesses each person's figure and personality, shades that look best with their skin and hair, how they ride, the horses' breed. The most important factors? "The person's age and what they show."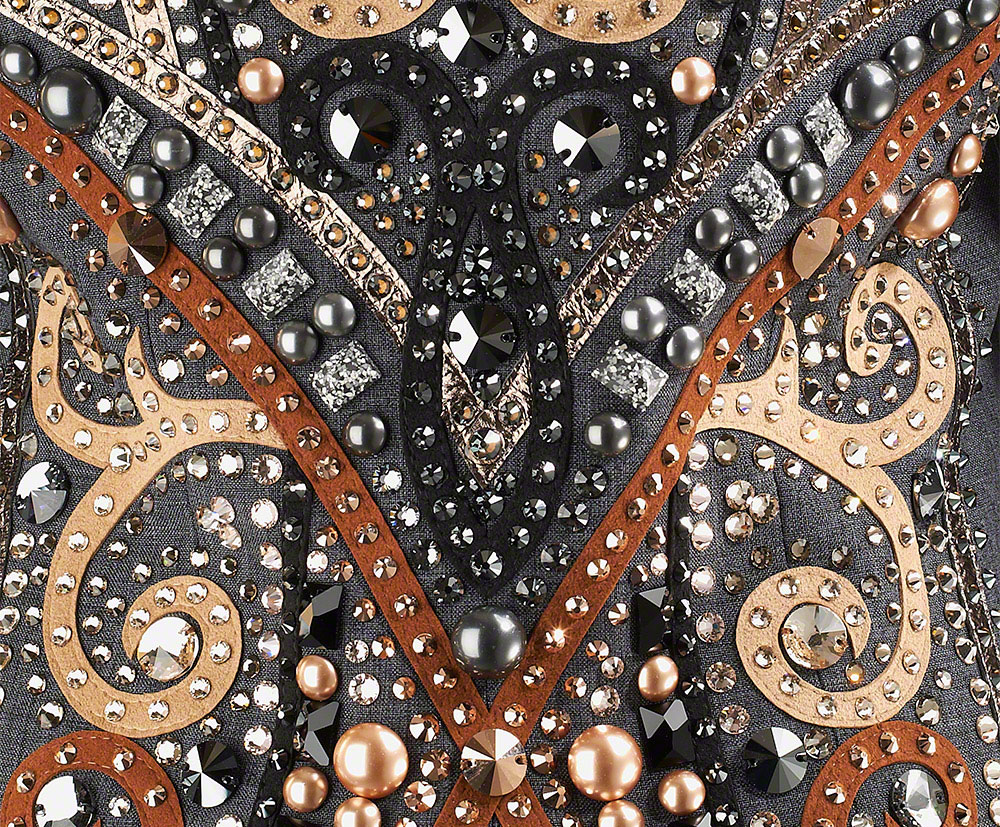 Liz on Rhinestones Riding horses since she was 8 years old and in business for over two decades, you better believe that this woman knows her craft. She graciously shared her trade secrets with me, as I must have appeared charming and trustworthy.
Q: You're showcasing some product that is new to our shelves- did any specific embellishment strike you? A: I loved the rectangles [Cosmic #2520] in Golden Shadow. Anything we can glue on we love! We're putting out an average of one garment a day, so we like speed.
Q: RU is a Swarovski distributor- if they make it, we can get it for you. What are your top three Swarovski products? A: Crystal and Crystal AB are number one. Jet Hematite number two, Light Colorado Topaz number three. The latest one we're really liking is Comet Argent Light- or as we started calling it in the shop, the "shiny diamonds."
Q: Any tips & tricks you're willing to share? A: Too many to name. I'd say know how your product is going to respond- test it. Prototype it. We test every product we might use, every fabric for shrinkage and colorfastness. Leather bleeds like crazy, so we use pig suede and synthetic ultrasuede instead. Also, I only use Gem-Tac [adhesive]. I bought it from you at your beginning. Best glue on the market.
Q: Do you have a rhinestone routine? A: We don't put stones on until after a coat is completely finished, because we line our coats, and there's a chance for the stones to get damaged [during the construction process]. We put any spikes, big domes, metals or hot fix stones on first, and we start on the back, working around to the front…I don't know why. Generally, as priority, there's a lot [of rhinestones applied] by the face; we can shortcut on the sleeves.
Liz On Horses For those outside of the equestrian world, like myself, you may not realize that competitive showmanship is serious business. "It's incredibly expensive. Horses are like children that require round the clock care, day in and day out. You'll need a confident trainer and coach to compete at any level. But, it's a lifelong passion, an addiction. What we do is all we do. It's hard work at the shows. There's long days, early mornings. Late nights. Home is easier. And, you better know how to drive a truck and fix a flat tire if you're going to travel! But, it's so beautiful. It's so rewarding. When people have horses, they are passionate about them. You're born with that passion. It's not acquired."
Q: When I'm on a horse I feel… A: …Fabulous. Special. Connected, like I belong there. It's hard to put words to that, really. It's kind of like riding a giant dog sometimes: similar personalities, just bigger. It feels very natural.
Q: Barbie has ridden more than a few (dozen) horses in her world. Any prize winners in your book? A: Not a Barbie
girl.
Liz on Leather "Horse showing is stinky. It's dirty. Everything we make is washable." You can launder every piece they make- and that includes the Swarovski display jacket.
Q: In your business, what is the most recent mistake you have learned from? A: Hmmm. I don't know… Well, we had a quality control issue on a couple substandard pig suedes recently. I guess it reinforced the habit of double checking hides.
Q: With PETA and bondage and bike gangs and Prince in peekaboo chaps, leather can be scary. How have you taken the fear out working with it? A: Working with leather is something you have to experience. Learn to look past what it is and treat it like fabric; it takes the fear away. I have so many years of experience with ultrasuede, pig suede, lambskin, leather, that I have no fear. Recently, we had a design for twisted fringe and we just did a prototype and doggone it if we didn't nail it on the head! I'm big on prototyping- that's how we started painting. Now fifty percent of what we create is hand painted. And for that, you have to know your products.
Liz on Style Shockingly, when asked whose country star style Liz most related to, all of my prompts were rejected. Granted, they could all be considered retirees today. And one of them is a horse. (Dolly Parton? Hank Williams, Jr.? Loretta Lynn, Mister Ed, Patsy Cline?) "I don't do country music, so I'm going to have to guess…can I say Trisha Yearwood?" Sure you can, Liz. And what does her Trisha Yearwood eye for style predict for the future trends? "There's more texture lately: lace accents, eclectic embellishments, found objects, a lot of shiny things, of course."
With the recent rock and roll boom in Western wear, Liz was quick to interpret the attitude into a more timeless composition for the Swarovski display coat: the groupings of assertive Jet Hematite and acutely angled Rose Gold metallics are edgy but not hard. Use as accents, they don't define the design.
Q: Do you see any big differences in show clothing from coast to coast? A: In the past, yes: the East coast was generally more conservative in color- typically all black- and the West coast was more flamboyant . But, the East coast is catching up.
Q: Any stand-out show outfits you've never forgotten? A: This display coat is number one for me. There's also a little leather jacket with feathers, fringes, a powder blue buffalo coat my daughter wears. It's all hand painted and covered in crystals and absolutely magnificent.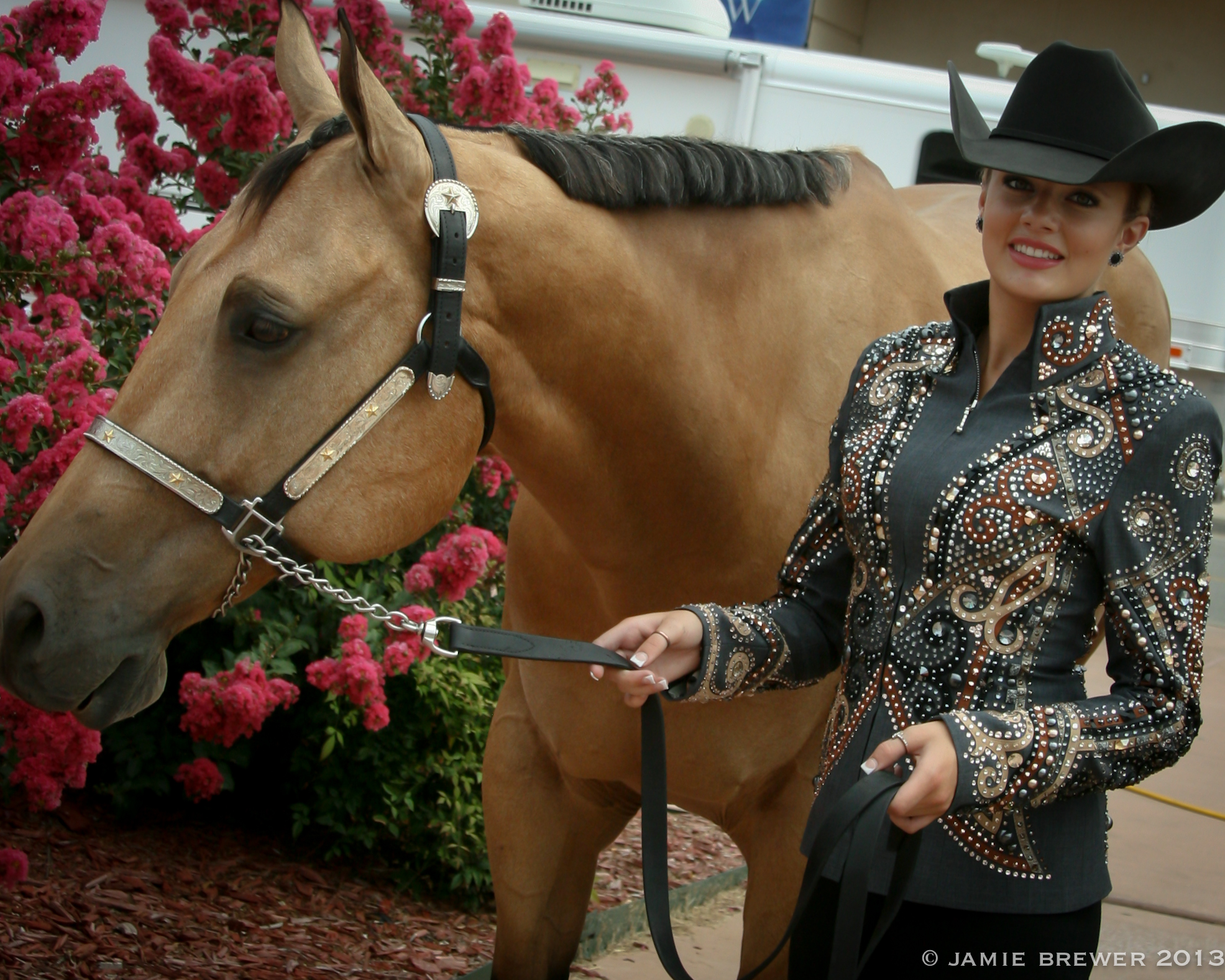 Liz on Liz Though she doesn't have a cowboy name (because I asked), she was quick to supply her American Indian name: "Runs with Scissors!" After an enjoyable conversation on a grey Minnesota day, I figured I better let the Dry Creek Designs ringleader get back to her Idaho life ("It was 60 degrees yesterday! I gave the horse a bath." In contrast, the February forecast on my end of the telephone was technically -8 degrees Fahrenheit - though the official "feels like" temp was -23). With reluctance, I hit her with my final barrage of investigative journalism.
Q: Liz, describe your personality as a Swarovski color: A: Fireopal.
Q: And as a horse color: A: Oooo. That one's harder. I'll say black. It's a strong color, and I have a very strong personality.
Q: What is your favorite movie with horses? A: [thinks about it] The Black Stallion. There are a lot of poorly done horse movies. Horse people can be critical of handlers and horses, just like a dancer would be watching a dance movie; but I'd say The Black Stallion.
Q: After a job well done, you gotta treat yourself. Are there any classic recipes suitable for the stable, arena or a picnic in the pasture that you'd like to share? They may or may not involve whiskey, as you see fit. A: A bottle of red wine and always a couple of friends. We take off on Fridays to enjoy some flatbreads, food, friends, wine. And we breathe! It had to be done with the display coat. First, we had to get Jamie wearing the coat in some photos, but when we were okay to ship it off to you, the first thing we did was take a breath!
Want a jacket just like it? Well, this one is not for sale. But you're not alone! She gets many requests for so fine a piece. If duplicated- after 66 hours of work and nearly three pounds of crystal embellishments- it would retail at $4,995. And by the way, did I mention that this jacket features Swarovski crystals coated in 18 carat rose gold? Gold! "I get at least one hit a week [asking after the coat]. You make a great design and people want it. They just don't want to pay for it!" [She laughs] But not to worry, dear reader. Dry Creek Designs will definitely work with you to modify the design for your budget. That's the advantage of custom show clothing- YOU become the central element in the piece. Not the other way around.
-xo-
Jemm
Rhinestones Unlimited blog author Jemm Stone is a multifaceted girl navigating our sparkly world with on-point insights. Visit RhinestonesU.com/blog to follow her thoughts as she highlights design trends, turns the spotlight on industry influencers and breaks down how-to tips like light through a crystal prism.
Looking for a genuine Dry Creek Designs show piece? Keep your eyes peeled for the miniature L she's tucked in to every garment since 1998. You can find Liz Workland in Meridian, Idaho or by visiting www.DryCreekDesigns.com. Special thanks to Swarovski ELEMENTS for sponsoring the creation of the Rhinestones Unlimited Swarovski display jacket.