Posted by Rhinestones Unlimited on Feb 2nd 2015
Swarovski has just announced new flat back crystal colors! We are taking pre-orders now for Blush Rose, Metallic Sunshine and Light Chrome. We are expecting the first shipment of these flat backs, in the new Xirius cut, by mid to late February. Created to align with the trends forecasted for the Spring/Summer 2016 season, these colors are being manufactured now, giving you time to plan and produce your designs.
Swarovski introduces new crystal colors twice a year, corresponding with spring and fall collections. Check back in the next few weeks for my thoughts on the new shades and color pairing suggestions! For now, get acquainted with these three new colors through Swarovski's words, below.

Blush Rose (Standard Color) In Swarovski's words:
"The new color Blush Rose represents an important development according to color trend forecasts, which name pink as the key color for the coming season. With Blush Rose, Swarovski introduces its own graceful, soft and dreamy, dusty pink hue that is reminiscent of highly prized fancy pink diamonds." "In color psychology, pink is a sign of hope. It is a positive color, inspiring warm and comforting feelings and a sense of a silver lining on the horizon. Blush Rose creates a modern and sophisticated classic look with a mellow, feminine touch."

Crystal Metallic Sunshine (Crystal Coated Color) In Swarovski's words:
"A sophisticated, ethereal yet radiant effect, Crystal Metallic Sunshine exemplifies the strong trend direction for more upmarket metallic. This new, semi-transparent classic gold shade makes a welcome addition to our assortment. " "Associated with prosperity, luxury and quality, Crystal Metallic Sunshine fully conveys the psychology of gold. This new effect is perfect for creating extravagant, romantic or opulent, even regal looks."
Crystal Light Chrome (Crystal Coated Color) In Swarovski's words:
"Crystal Light Chrome is a highly sophisticated interpretation of the color silver, which is associated with feminine energy and the moon. Its fluidity, emotion, sensitivity, and mystery create a soothing and purifying effect. For the upcoming season, this new shade lends itself particularly well to the textile segment." "In color theory, silver is associated with feminine energy, prosperity, and modernity. An elegantly shimmering color, Crystal Light Chrome is a classic element for all ages and looks, from tech-glamour to romantic mysticism."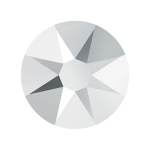 Swarovski Light Chrome in #2088 Xirius Rose cut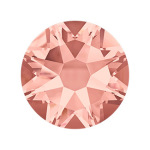 Swarovski Blush Rose in #2088 Xirius Rose cut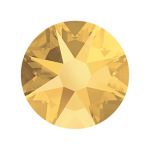 Swarovski Crystal Metallic Sunshine in #2088 Xirius Rose cut
Shop the new colors in your favorite cut here: http://www.rhinestonesu.com/swarovski-newest-colors
-xo-
Jemm
Rhinestones Unlimited blog author Jemm Stone is a multifaceted girl navigating our sparkly world with on-point insights. Visit RhinestonesU.com/blog to follow her thoughts as she highlights design trends, turns the spotlight on industry influencers and breaks down how-to tips like light through a crystal prism. P.S. Remember to watch for my next post, featuring color pairing suggestions for these gorgeous new shades!