Posted by Rhinestones Unlimited on Jan 15th 2016
At Rhinestones Unlimited, dance is our passion! This year, we've collaborated with our hometown heroes, the University of Minnesota Dance Team, creating a one-of-a-kind costume as they compete this month for their 16th national championship in 13 years*.
The innovative, trend-driven collection of crystals from Swarovski® continue to inspire the dance-based staff here at RU- we're coming to realize how the tried-and-true method of hotfix in ready-to-wear apparel can be used to the advantage of performance groups. Rhinestones Unlimited- together with the U of M team coach, Amanda Gaines, seamstresses Anne Sutter and Chris Kongsvik- designed a nude lace performance look incorporating crystals from Swarovski®. The 18 costumes feature gorgeous Swarovski® Crystal Rock appliques and custom hotfix transfer designs. The Crystal Rock appliques, which adorned bodice curves, were applied with a household iron with the help of tailor's ham. The transfer designs were then applied by the new heat press at Rhinestones Unlimited- an application process that, once perfected, took a mere 22 seconds for each skirt panel.
To add to the argument for creative brains of the benefits of planning ahead, hotfix transfer designs eliminate the need for securing the rarely available long time commitments in the twelfth hour by volunteers who may or may have the sense of precision that a disciplined choreographer has. (And, I should say a huge THANK YOU here for the volunteers who did help on this big costume project, for they did have a keen eye and a steady hand. They also had plenty of grace and patience, as this was an experimental process that we all learned on together.)
The glue-on method has been faithfully used by performers for nearly two decades- ever since folks started looking for an alternative to bedazzling with a staple-style rim setting, whose pointy metal prongs ripped holes in the knit Lycras and snagged the delicate chiffons. Gluing rhinestones on a costume is safe for nearly any fabric or accessory, providing you use a glue that is compatible with your material, and it requires so little investment: just a tube of glue, maybe a syringe for precision placement, and a pick-up tool, which can be purchased at your trusted rhinestone wholesaler (wink, wink) or can be as simple as a pinch of candle wax molded on the end of a rogue toothpick you found in the dirt pile when you finally swept under the oven.
However, as dancers, parents, instructors and studio owners can attest, gluing unfortunately takes time, maybe more than you have to spend by the time you get your performance affairs in order. When you have an intricate design, embellishing can get upwards of 5, 6, 7, 8 hours! (See what I did, there?) In short, consider custom transfer designs and even appliques, both of which can be applied in one swift movement but will cover larger areas with lots of eye-catching sparkle.
Technology is always improving; Swarovski®'s hotfix adhesive formula has the lowest melting point, meaning it can be safely applied to even dance fabrics that are heat-sensitive, like spandex, silk and polyester lace. Check out the products used in creating the University of Minnesota's jazz costume embellished with Swarovski® crystals, below.
We can't reveal the design yet- the costume will be debuted publicly January 16th*, as the team takes the floor in the UCA & UDA College National Championship in Orlando- but RU blog readers can get a sneak peek, as, hey, loyalty earns perks. Watch this blog and the Rhinestones Unlimited Facebook page as we cheer on our Minnesota Dance Team, and unveil the hows and whys of the RU/U of M costume collaboration. Go Gophers!
*Watch the UCA & UDA College Cheerleading & Dance Team National Championship via live stream on Saturday, January 16th at 2:30pm Eastern Time at UDA.Varisty.com. If you're lucky enough to be one of the spectators or, better yet, one of the participants, use the hashtags #SwarovskiCrystals, #RhinestonesUnlimited, #UMDT to share the bling!
-xo-
Jemm
Rhinestones Unlimited blog author Jemm Stone is a multifaceted girl navigating our sparkly world with on-point insights. Visit RhinestonesU.com/blog to follow her thoughts as she highlights design trends, turns the spotlight on industry influencers and breaks down how-to tips like light through a crystal prism. P.S. Want your own custom hotfix transfer design? Contact our Customer Care team- we can help facilitate the process.
Swarovski® gives you the edge in Competition Revolutionary Hotfix technology and an innovative new glue assures long-term durability even through the most rigorous athletic routines. Swarovski® crystals also assure maximum washability that sustains through many seasons. The crystal is lead-free**, making it environmentally friendly and the responsible choice. Swarovski®, the world's leading producer of machine cut crystal since 1895, maintains production at its headquarters in Austria, where quality assurance throughout the entire production chain is standard.
Today, Swarovski® stands for detailed workmanship, superior quality, and creativity. Trusted by top designers and worn by the best talents for 120 years From Coco Chanel and Christian Dior to Rihanna and Pharrell, the world's best talents demand the world's best crystal.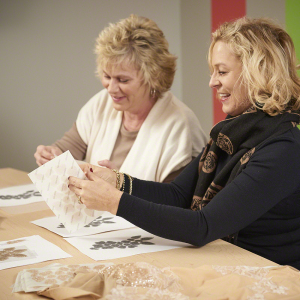 A little about the Swarovski® products used on the University of Minnesota competition jazz costumes:
Swarovski® crystal vs. market standard: - Intricate and multilayered cut for unmatched sparkle like a diamond - 4 times the facets of a standard crystal with more than twice the brilliance - 10 times more effective hotfix glue to keep your stones in place - Hassle-free, rigorously texted and completely reliable - Lead-free** and environmentally friendly to keep you worry-free. It's what you don't see that matters!
Swarovski® Crystal Fine Rocks and Crystal Fabric in "Floral Motifs" were used.
Crystal Rocks product features: An innovative and stunning design element that showcases large double-pointed chatons. The surface and the edges of Crystal Rocks are smoothe, which offers a whole new range of application possibilities. Crystal Rocks conjure up unique effects on accessories, jewelry and textiles. - An eye-catching, luxurious and innovative design element - The irregular arrangement of the crystals causes a unique effect -
Application possibilities: Hotfix or self-adhesive - Washable up to 40°C Swarovski® Transfers Unlimited- the line of hotfix transfer motifs that includes custom designs- were used.
Xirius Rose #2038 Hotfix product features: XIRIUS was named after Sirius, the brightest star in the galaxy, and is Swarovski®'s most brilliant crystal yet. The beautifully intricate star cut, rich color, and enhanced foiling come together to produce unrivaled brilliance and an exceptionally durable new generation of crystal.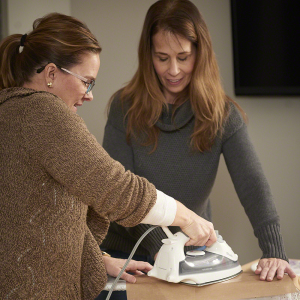 Unsurpassed brilliance has been scientifically proven - Crystal created to safe and sustainable standards of Advanced Crystal - Available in the greatest selection of colors/effects and sizes on the market - Platinum Pro enhanced foiling is resistant to factors such as chlorine, salt water and perfume - Hotfix technology can be applied at lower temperatures - Hotfix adhesive offers the highest strength and washability on the market ** Crystal glass and all other materials containing 0.009% lead or less.