Posted by Rhinestones Unlimited on Apr 15th 2013
Ladies and gentlemen, we announce the arrival of a PORTABLE and AFFORDABLE hand tool for use with our beloved Rivets and Rose Pins, as well as crystal Snap Fasteners and Buttons! This is a brand new Swarovski development, a year in the making- a tool that, weighing in at 1.65 pounds, can (smoothly!) apply enough torque with the squeeze of one hand. Unless you're a pansy. (Wait- can I say that?)
We, here at Rhinestones Unlimited, recently passed around this applicator amongst eager hands and pretended to be impressed at each employee's technique. Of squeezing. We clapped, we cheered, we generally whooped it up in support, but really, our merriment was in regards to the ease of such a glamorous product. Already our attentions had turned to the glittering infinity of endless, glorious project possibilities!
Sugarplum dances of purses, cuffs, dog collars on our chocolate labs, dog collars on our sexy neighbor, bedazzling snaps on our baby's onesies… oh, the visions that wafted through our collective minds! We tested our new ornaments on various strips of leather (hence the high number of stone-speckled restraints in the pool of thought during an office lunch). This way, we were confident that if the tool works so efficiently with a difficult material, it will be a breeze with your denim/chambray/gingham/chiffon.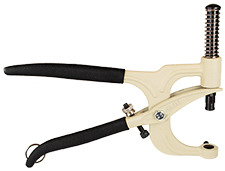 Crystal Applicator is essentially an oversized hole punch with interchangeable pieces, referred to as dies. Depending on your needs, you can purchase one set of dies to go with the applicator or the whole shebang. The die sets include top and bottom bits unique to the shape of snaps, jean buttons, rose pins or rivets. Though detailed instructions are included and we are always willing to help, most of you will be able to unwrap the set and breeze through your project with nary a glance at the guide (however, we don't recommend that. At least try testing on a swatch of the material, first).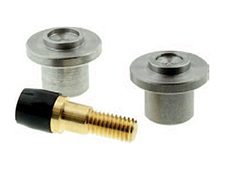 Rivet die set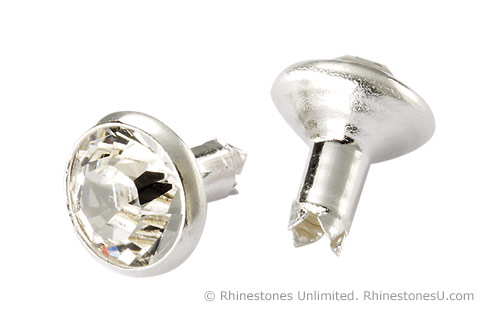 Rivet front
We are genuinely really excited about Swarovski's Crystal Applicator and the possibilities it ensues, especially for small businesses and individuals. Being a fraction of the cost of existing setters- I've seen one rivet machine selling for $8,000- it seems a low-risk investment, and the ability to add impact is pretty maximum, in my opinion. Rabbit punches weigh an average of nine pounds, and work best when mounted to a table.
Swarovski's Crystal Applicator is easy to pack, easy to lift, easy to use. Sitting in a booth at a market? Beautify your new samples comfortably in between selling your wares. On the road with your Western riding competitions? Add a few crystals onto the new shirt you just bought, wear it in the ring tonight. Experimenting with a new line of leather accessories? This is a good way to play with your options, see what inspires you. Check out the hand tool, die sets and embellishments here: https://rhinestonesu.com/adhere/
Bottom line: Rhinestones Unlimited predicts that Swarovski's new Crystal Applicator is about to become a valuable staple piece, the new stone and metal collaborations representing the future of rhinestone technology. Expect to hear more about these setting methods, as this is not the end, my friend; this is only the beginning…
-xo-
Jemm
Rhinestones Unlimited blog author Jemm Stone is a multifaceted girl navigating our sparkly world with on-point insights. Visit RhinestonesU.com/blog to follow her thoughts as she highlights design trends, turns the spotlight on industry influencers and breaks down how-to tips like light through a crystal prism.