Posted by Rhinestonesu on Mar 12th 2013
Hot Fix Transfer Paper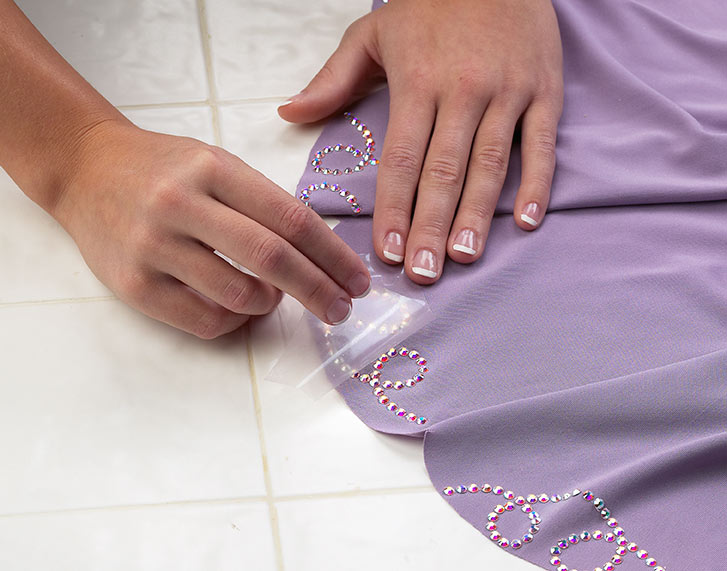 Don't let the name of this Cool Tool fool you (remember, it's still just Robert Van Winkle behind that tiny soul patch, though people call him Vanilla Ice). Hot Fix Transfer Paper, our Cool Tool of the Day, is technically not real paper, and its use runs well beyond placing Hot Fix stones.
HFTP is a clear sheet of material, smooth and shiny on one side, tacky on the other, in order to hold your rhinestones or metals. It does not melt when the temperature rises, but instead acts as a conductor to simply allow the heat to move through it. Its main purpose, of course, is to aid in the application of your Hot Fix rhinestone design. Peeling off the backing to reveal the tacky side of the transparent material, Hot Fix rhinestones are arranged onto it, face down, in the mirror image of your design. The tacky material grabs your rhinestones so that, when turned over onto your project, the whole design can be laid at once, glue side down, and adjusted for placement. From there, you just use your heat press directly over the heat-transferable film, and peel it off when the glue has cooled and set.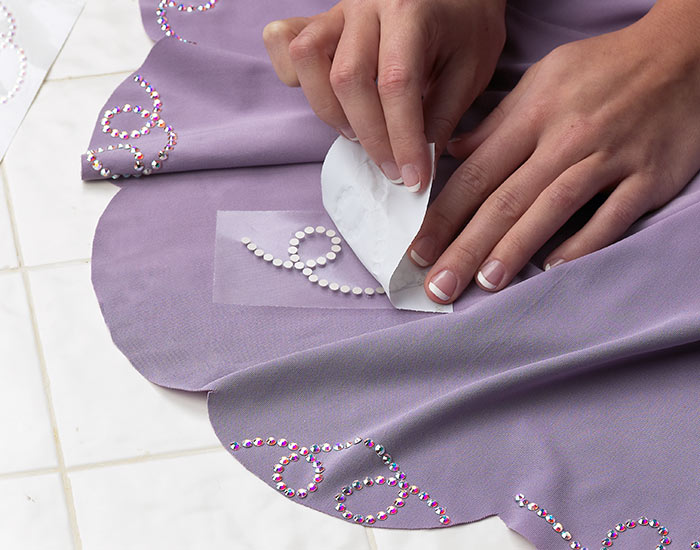 For those of us who don't have a heat press, Hot Fix Transfer Paper can be used with an iron, though you may need to adjust the heat settings (and, note of liability: as with any project, we highly recommend doing a test run before starting the entire project).
Say you want to outline a shamrock in Hot Fix rhinestones for your St. Patrick's Day tee shirt. You can lay out your design on the tee shirt, peel the backing off of the Hot Fix Transfer Paper, and (carefully!) press the sticky side of the film on top of the rhinestone design.
Do your final adjustments, and make sure you have a barrier between the front and back layers of your shirt. Put a lightweight cloth over the shiny side of the HFTP, and press your iron on top -don't slide it- for a few seconds on a low setting until the glue has melted into the fabric.
After the Hot Fix glue has cooled, check for proper attachment. Remember that the transparent film will transfer the heat from the iron down through the top of the rhinestone to melt the glue on the back; the stones may be toasty to the touch. If you find you need to increase the heat settings, do so in small increments; you may, in fact, just need to press longer.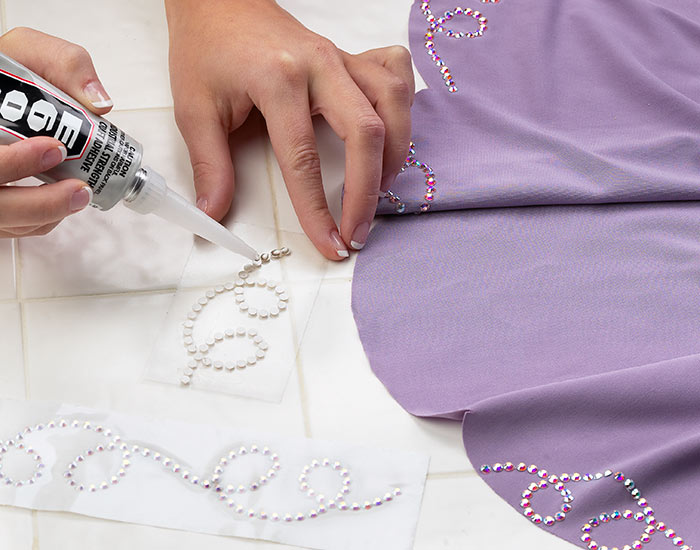 Hot Fix Transfer Paper can even be used with non-Hot Fix embellishments. If you're working small areas at a time, you can arrange your rhinestones or metals on the sticky side of the transparent film, apply a tiny speck of glue on each back, and flip the whole mess onto your fabric- done.
Oh, there's all sorts of other ways HFTP comes in handy around the house. When you're out of spirit gum (yes, that's a real thing), just put a strip on your upper lip and draw your moustache on- ta da! Dapper. When the evening's affairs are finished, you can make a window cling out of it! That'll show everyone passing that you're a gentleperson with impeccable class. Or, you can use HFTP to pick the cat hair off of your sweater. Use it to pick your overturned container of crystals up from the carpet…yeah, I knew you'd like that one. (By the way, if that rite of passage hasn't happened to you yet, consider yourself still in the Rhinestone Rookie category.) Once it's in your stash of supplies, you'll find plenty of uses for it. You could even stick it to your toddler's bundled-up bum and see if it will work as a portable toboggan down your sloping backyard when you're getting cabin fever. Get creative! This is a Cool Tool you'll be glad to have around.
-xo-
Jemm
Rhinestones Unlimited blog author Jemm Stone is a multifaceted girl navigating our sparkly world with on-point insights. Visit RhinestonesU.com/blog to follow her thoughts as she highlights design trends, turns the spotlight on industry influencers and breaks down how-to tips like light through a crystal prism.
Check out our Cool Tool of the Day, Hot Fix Transfer Paper, here: https://rhinestonesu.com/hotfix-transfer-paper/ PS- Next time you're expecting a big project using repeats of the same design, ask us about our Swarovski Custom Hot Fix Transfers. Just peel, press and go!