Posted by Rhinestonesu on Mar 20th 2013
Last summer, I heard it said that crystal Rivets and Rose Pins will be the future of the rhinestone industry; that the trends are moving towards a sweeping use of these inventive and innovative unions of metal setting and crystal stone. Well, time is relative…the future is now! (Although, since I just prefaced that statement by claiming that time is relative…hmmm. Let's meet up for philosophical discussions at the hip corner coffee joint when I'm done here…)
With the development of the Crystal Applicator Tool, there's finally an efficient way to apply these ornaments.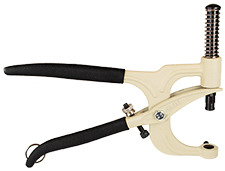 Today's Cool Tool of the Day is indeed the Swarovski Crystal Applicator Tool and Die Sets. This is like an oversized hole puncher, doctored up. I mean, bedazzled. (Doctored up…I work in a rhinestone warehouse. I couldn't think of a jazzier term than "doctored up?" Really Jemm…) It's main purpose is to merge the two-piece embellishment, and secure it on the fabric, all in one fell swoop. It sets Rivets, Rose Pins, Snap Fasteners, Decorative Buttons and Jeans Buttons, all rhinestone elements unified in sturdy hardware. Previously, one would have to use a myriad of tools to set these embellishments along with the die, such as an awl or leather hole punch, rubber under-mat, concave rod, hammer, flat screwdriver, or and entire industrial setting machine (read: expensive). This Cool Tool is a portable, hand-held device that does it all with a simple squeeze.
The embellishments the Crystal Applicator Tool sets all feature genuine Swarovski Elements. They are often seen used on premium denim, fashion-forward handbags, shoes, belts and leatherwork, western show clothing, even tack. They are offered in versatile combinations of color, stone and metal casing.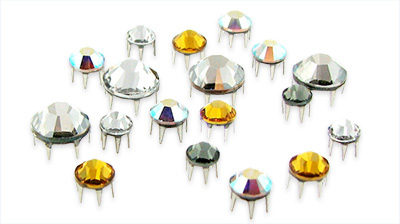 Swarovski Rose Pins
Rose Pin- Looks like a flat back crystal, with metal legs attached. Once set, you cannot see the metal from the right side of the fabric.
Rivet- Looks like a pointed back rhinestone in a metal rim casing that forms solid post. A rivet has a separate backing that locks into place once set.
Snap Fastener- To put it simply, this is a glammed up snap. Unlike the Decorative Button, it utilizes both male and female components.
Decorative Button- Only the crystal face of the snap. The male component is not used here; the result is a decorative but non-functional embellishment.
Jeans Button- This is the button you would find at the waistband of your denim- a sturdy, heavy-shanked piece with a separate backing that locks into place once set. It features crystals on the face.

Die Set for Rose Pins
With the purchase of the Swarovski Crystal Applicator Tool, expect to receive only the setting tool itself. Although sleek, with a confident weight and smooth pneumonic movement, it can't do its job without the proper accoutrements. There are die sets sold separately for the categories Rivets; Rose Pins; Jeans Buttons; and Snap Fasteners/Decorative Buttons. The die sets are interchangeable pieces made to fit the individual embellishment components. Without them, the tool wouldn't hold the item you were trying to set; it would, instead, just give the fabric a little pinch. That's...not helpful…
Swarovski has been credited with revolutionizing the crystal market worldwide throughout the 19
th
and 20
th
centuries. Even today, they continue to break through the boundaries of technology, consistently rising above their competitors. With the development of the Crystal Applicator (Cool) Tool, they have provided an affordable, efficient and portable product that will become a staple in your work, and inspire new waves of creativity- to infinity...and beyond!
-xo- Jemm
Rhinestones Unlimited blog author Jemm Stone is a multifaceted girl navigating our sparkly world with on-point insights. Visit RhinestonesU.com/blog to follow her thoughts as she highlights design trends, turns the spotlight on industry influencers and breaks down how-to tips like light through a crystal prism.