Posted by Rhinestonesu on Feb 25th 2015
Keep up, dear reader. We're highlighting some of the creative ways that our customers use flat back rhinestones in their projects this week. We have four flat back lines for every budget, each with a wide range of sizes and colors to suit your style. Check out our webpage (www.RhinestonesU.com) for your flat back options and read on for today's tips. Today's topic is: Flat Backs in Beauty
Tuesday's topic was: Flat Backs on Accessories
Monday's topic was Flat Backs on Apparel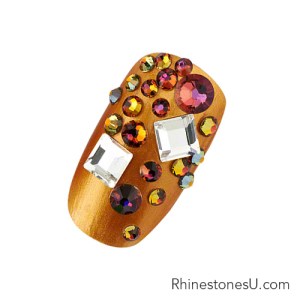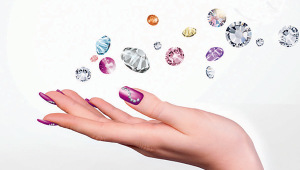 Flat Backs in Beauty: Hair, skin and nails look radiant and party-ready with a little crystal sparkling over them. For skin, invest in a quality eyelash glue and you can comfortably wear flat back crystals on your face, or decorate a stellar tattoo for special occasions or particularly effervescent Tuesdays. This is the one instance that I can accept the use of superglue on your rhinestones. Normally, the adhesive is too brittle to support crystals on a costume or craft project, but since superglue has been used as a medical adhesive for wounds, I say give it a try. (Disclaimer- I have not yet tested this on my own body.)
Crystals on skin is big in fashion events and parties. There's even a (useless?) trend called vajazzling. Need I say more on that subject? Don't google those images at work.
Nail art, of course, has rocketed these recent years in popularity, the use of crystals in the designs becoming a creative standard because they make people happy. Tiny flat back stars or rounds can be set directly into a wet gel topcoat before curing or applied to a dry polish topcoat with nail glue. Salons and nail techs can whip out elaborate and precise designs, or you can adorn your fingertips with the stray stones you find in your carpet after a big project.
Finally, a use for those! In hair, headbands and ornaments can easily accommodate any flat back, large or small. Try purchasing a drugstore package of basic barrettes and making a unique piece of hair jewelry. Or, attach Velcro rounds with sticky backing (available at fabric and craft stores) to large stones and press them directly into your silky strands. Or, tangly frizzy strands, whatever. Get creative! Get weird.
There are so many ways to incorporate rhinestones into your look, thanks to the versatility of flat backs, and weird is interesting. Weird starts trends. (Case in point: vajazzling.)
-xo-
Jemm
Rhinestones Unlimited blog author Jemm Stone is a multifaceted girl navigating our sparkly world with on-point insights. Visit RhinestonesU.com/blog to follow her thoughts as she highlights design trends, turns the spotlight on industry influencers and breaks down how-to tips like light through a crystal prism.
P.S. I'm serious- DON'T google vajazzling at work.