Posted by Rhinestonesu on Feb 24th 2015
Oh, the small but mighty flat back rhinestone. So versatile, so easy to use, so much payoff in visual pleasure. Get an idea of how and when our customers are using flat back stones in this five-part mini-series; then, get amped up to start your own project with these customer favorites! Today's topic is: Flat Backs on Accessories
Yesterday's topic was Flat Backs on Apparel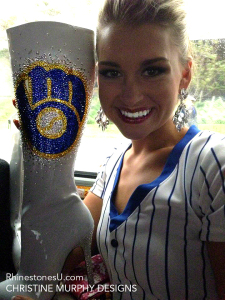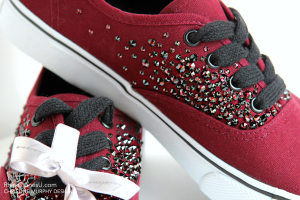 Flat Backs on Accessories Ever wonder where folks around town are getting that fabulous phone case or pair of crystal-encrusted platforms? Oh. They do it themselves, my friend (DITs?). If they can do it, you can do it. (Yeah! What's so great about them?!)
For any project, use a glue appropriate for the material. Specialty adhesives like the mighty construction-glue-turned-crafter's-favorite E6000 forms a super strong bond on nearly any surface, is flexible, and can be laundered. Try using E6000 to adorn your skateboard helmet, your evening clutch, your dog's collar (or your dog collar, no judgement).
Another adhesive commonly used for accessories is an epoxy. Epoxies are comprised of two elements that you mix together just before using. They are not flexible when dry, but are especially well-suited for metals and finicky hard plastics. For this reason, epoxies and jewelry go hand in hand.
For belts and handbags- items that may be exposed to a lot of friction and wear- you may want to consider using a metal setting to attach your rhinestones. Metal settings give you an added feeling of security, like a rich old husband or a whistle on your keychain. They encase the stone and the fabric together, surrounding the edges of the stone. There are two general types of metal setting: rim and Tiffany. A rim setting frames the front of the stone in an endless ring, and prongs are folded under the back side of the fabric. A Tiffany setting, like a diamond worn by Holly Golightly in front of the famous jewelry store, grabs the stone from behind and closes it's prongs over the face of it. If metal settings are put on an accessory that is worn directly against the skin, you may want to finish the item off with a barrier material for comfort.
Lots of options for the DITs to embellish their accessories. It could be you! It should be you...
-xo-
Jemm
Rhinestones Unlimited blog author Jemm Stone is a multifaceted girl navigating our sparkly world with on-point insights. Visit RhinestonesU.com/blog to follow her thoughts as she highlights design trends, turns the spotlight on industry influencers and breaks down how-to tips like light through a crystal prism. P.S.- Need help with your DIY project? Call or email us in times of need (952.848.0133 or Reception@RhinestonesUnlimited.com), or visit the How-To section of our website.