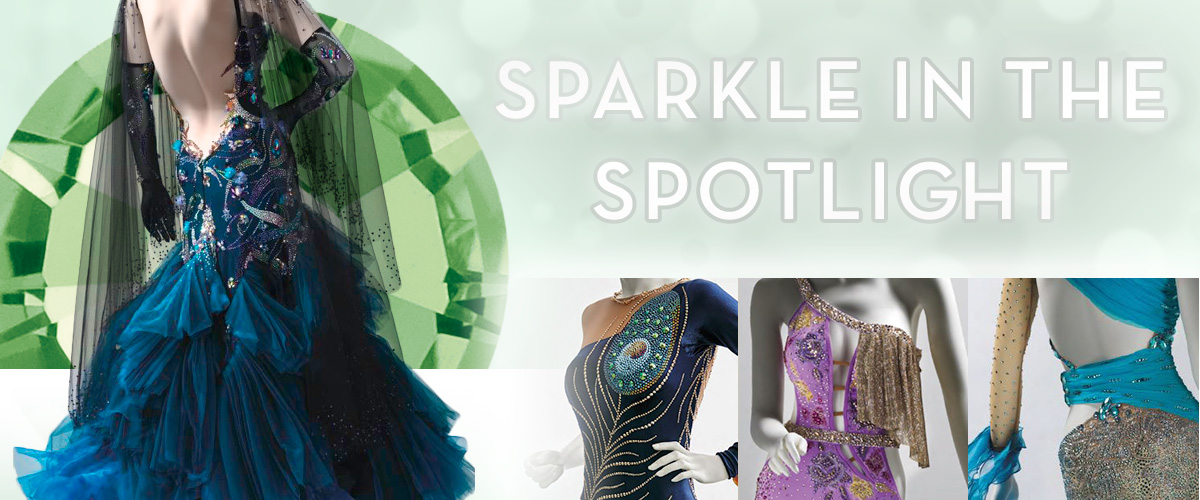 "Look away? They wouldn't dare."
There's choreography…and, then there's connection. When you move across the floor it's more than the music, the feet, the frame. It's that, in these moments, your every instinct is the only answer. True to you, a release of control, pure bliss- only possible because of the trust you have in your partner's arms. It's magic when every move is met, every rhythm echoed, every impulse understood. The connection that blazes in the space between two people becomes an invisible inferno that can be seen in the memory of spectators for the rest of their lives.
Let it burn brighter with rhinestones for ballroom dance that highlight the light of your connection.
"Swarovski adds elegance and beauty to moments of perfect expression in the spotlight. Designers apply them to a model, but in their imaginations they know their dresses were meant to move. On the sculpted body of a dancer, crystal embellishment emboldens confidence when it matters most."
Read More of the Swarovski® Dance Magazine (Ballroom Dance p.38) and make sure to check out the Rhinestones Unlimited feature dance costume and accessories on p. 58-60. Swarovski® honors our commitment to support artists and bring top quality costume trimmings to designers and performers around the world.
YOU WERE BORN TO STAND OUT!
Bodies in motion deserve the brilliance of crystals for ballroom dance from Rhinestones Unlimited. For 20 years, Rhinestones Unlimited has been presenting unlimited shine and endless inspiration. Present your performance in the finest crystal components available, curated for the true performer- at every level. Our four crystal lines offer the best sparkle on the market, including brands only found at Rhinestones Unlimited: Swarovski® crystals, LUX Austrian Crystal™, Preciosa® crystals, and Priceless Crystal™.
Our exclusive Ovation Marquis Collection was designed in-house specifically for Dance Sport. Created by a ballroom professional, this line of crystal accessories helps students take the often expensive leap into competition with a more affordable performance look. Ballroom earrings, rhinestone bangle bracelets and crystallized belts can dress up any practice wear for a professional look at an amateur budget. The Ovation Marquis collection features the Made with Swarovski® ingredient branding seal, assuring you of top quality genuine Swarovski® crystals guaranteed to sparkle in the spotlight! Learn more about our Ovation Marquis Collection and watch practice wear transform to a performance ready ensemble.
More rhinestone jewelry and accessories to complement the look include:
Ovation Performance Jewelry & Accessories - Ovation Appliques & Ovation Crystal Rock Jewelry

Starlight Performance Jewelry - A collection of crystal jewelry made for movement and the spotlight

Little Star CPSIA Children's Compliant Jewelry - CPSIA compliant jewelry packaged and sized for children age 12 and under
Our professional grade tools and adhesives are loved by the seasoned dressmaker and the first-time DIY designer alike. You'll find plenty of help through our staff of seasoned industry veterans and 24/7 resources such as How to Rhinestone a Dance Costume, blog articles, exclusive professional grade tools of the trade, and the worldwide community of dedicated artists- just like you- that we've brought together over two decades of brilliance.