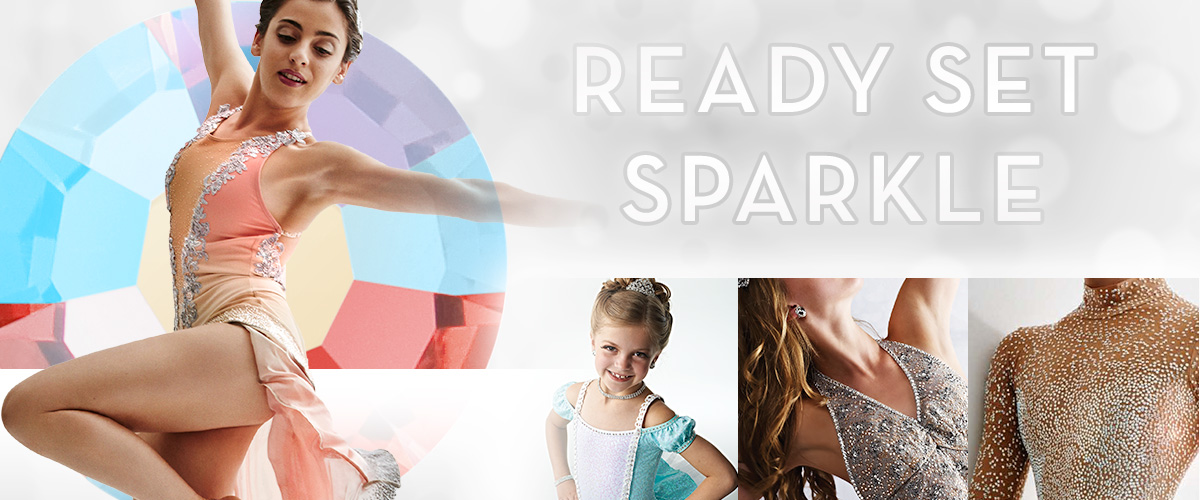 "Truly moving performances are a synthesis of strength and balance expressed as grace. Appearing fluid and effortless on stage, on the mat, or on the ice requires years of training and preparation. Swarovski designs crystals to keep up with your every move, twist, turn and leap."
Push yourself, turn heads, shift perspectives, blow minds. You'll never do it sitting still…so, get up and move! Your crystals can handle it. They were made to sparkle for the moment you step out in front of that crowd.
"Since our very inception, we have inspired movers & shakers, freethinkers & icons, and they in turn have inspired us to create an ever-better product to light their way in and out of the spotlight." Markus Langes-Swarovski
Read More of the inspirational Swarovski® Dance Magazine highlighting iconic sparkling moments in pop culture history and the influential makers in today's world of performance. Be sure to check out the Rhinestones Unlimited feature dance costume and accessories on p. 58-60. Swarovski® honors our commitment to support artists and bring top quality costume trimmings to designers and performers around the world. Then, Watch the stunning Dancesport video produced by Swarovski®, "All Eyes on You," featuring world championship movers Kathrin Menzinger and Vadim Garbuzov.
YOU WERE BORN TO STAND OUT!
Rhinestones Unlimited was an idea dreamed up by a competition dance instructor, who not only continues to win national titles for teaching (and, for her costume design!), but has steadily built her company on innovation, understanding and genuine customer care, building a strong reputation for the family business.
Throughout the last 20 years, our commitment to serving dance teachers and studio owners has earned us recognition from all leading crystal manufacturers. What does this mean for you? It means that the "unlimited" in our name is truly unlimited! We've assembled the very best in brilliance with tried and true examples of quality: Swarovski® crystals, LUX Austrian Crystal™, Preciosa® crystals, and Priceless Crystal™.
Our impact on the dance world shines bright with our rhinestone jewelry and accessories:
Ovation Performance Jewelry & Accessories - Ovation Appliques & Ovation Crystal Rock Jewelry

Starlight Performance Jewelry - A collection of crystal jewelry made for movement and the spotlight

Little Star CPSIA Children's Compliant Jewelry - CPSIA compliant jewelry packaged and sized for children age 12 and under
Our exclusive Ovation Marquis Collection was designed in-house specifically for Dancesport. Created by a ballroom professional, this line of crystal accessories helps students take the often expensive leap into competition with a more affordable performance look. Ballroom earrings, rhinestone bangle bracelets and crystallized belts can dress up any practice wear for a professional look at an amateur budget. The Ovation Marquis collection features the Made with Swarovski® ingredient branding seal, assuring you of top-quality genuine Swarovski® crystals guaranteed to sparkle in the spotlight! Learn more about our Ovation Marquis Collection and Watch practice wear transform to a performance-ready ensemble.
Our aim is to support costume designers, educators and performance artists beyond our product offering. Through Services we have developed with dance costume designers, dance teachers and studio owners in mind, we have found a way to support profitability through true wholesale pricing, save precious time with services such as custom re-packaging, and teach dance moms (and dads) How To Rhinestone a Dance Costume!
We continue that support and education by consistently updating our library of blog articles, designer spotlights, artist sponsorships, and trend-setting inspiration. Our staff of seasoned industry veterans- combined with exclusive, professional grade tools of the trade- keeps you at the forefront of trends and innovation. We pride ourselves on bringing together a worldwide community of artists, like you, for over two decades of brilliance.
For 20 years, the sparkle solutions at Rhinestones Unlimited have helped you shine in the spotlight when you're ready, take the leap and READY, SET, SPARKLE!
"Move and the light moves with you."