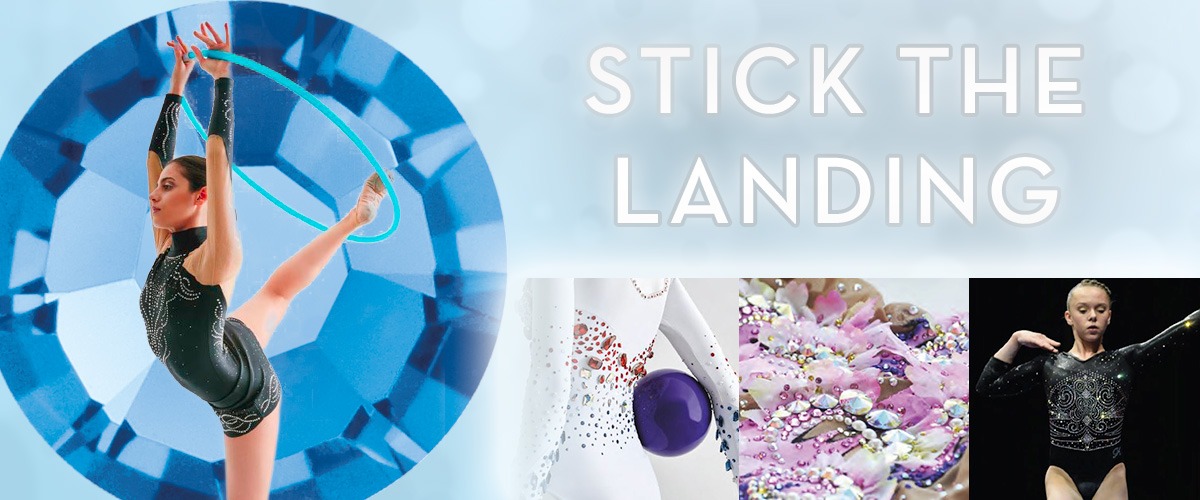 Gymnasts dedicate hours to perfecting their routines, and competition is your time to shine. Elevate performance wear and gymnastic leotards with the perfect crystals, rhinestones, appliques, and embellishments in all kinds of colors and styles. Bring out brilliant athleticism and confidence with rhinestone sparkle and shimmer.
"Do we borrow the light? Or is it the light that finds in you, the performing athlete, the perfect vehicle? Fluid, graceful, practiced, precise, moving within a routine yet feeling the freedom to improvise. As the light shines down upon you, will you conduct the crystal's brilliance or become it?"
-Markus Langes-Swarovski, Member of the Swarovski Executive Board
Shine Big & Bright
Rhinestones Unlimited offers the best in brilliance with reliable, quality crystals for every budget. The sparkle and shine of rhinestones and crystals transform active leotards into fashionable, stunning competition wear. Our curated collections include:
SHOP BY COLOR to find crystals that complement any gymnastics apparel.
Swarovski Crystals are no longer available for gymnastics leotards due to the Swarovski 2020 Corporate Re-structuring. LEARN MORE
Stunning Accents for All Gymnasts
Your performances will come alive with the perfect sequins, belts, trims, and rhinestone appliques to capture light and showcase color. Finding the right sparkle for gymnastic leotards and competition wear should be easy—we strive to make the process as straightforward as possible.
Professional Value for Athletes & Artists
Rhinestones Unlimited supports your creation of unique gymnastic apparel. Our specialized tools and adhesives are top-quality and easy to use. You can also request rhinestones in smaller packages to save you time – no counting necessary – while still benefiting from bulk pricing.
Our dynamic product line reflects today's latest trends while honoring classic styles. Our YouTube tutorials, blog, and social media keep you up to date on the latest designs so your gymnasts can perform confidently, knowing they look spectacular.
You're Made to Move. So Are Our Accessories.
Crystal headbands and ponytail holders add sparkle and functionality during competition without causing distractions. And every gymnast knows jewelry that moves with your routine is essential to a confident performance. Our stunning jewelry and applique collections include Starlight Performance Jewelry made for movement and the spotlight.
Time to Take It to the Mat
At Rhinestones Unlimited, helping gymnasts succeed is our passion. Whether you are a coach, parent, or athlete, we have plenty of resources. Turn to our tutorials, design help, and blog posts along your journey.
We have your back from top-of-the-line products, assessable wholesale pricing, and personalized customer care. It's your turn to shine in the spotlight! Let us help you sparkle.