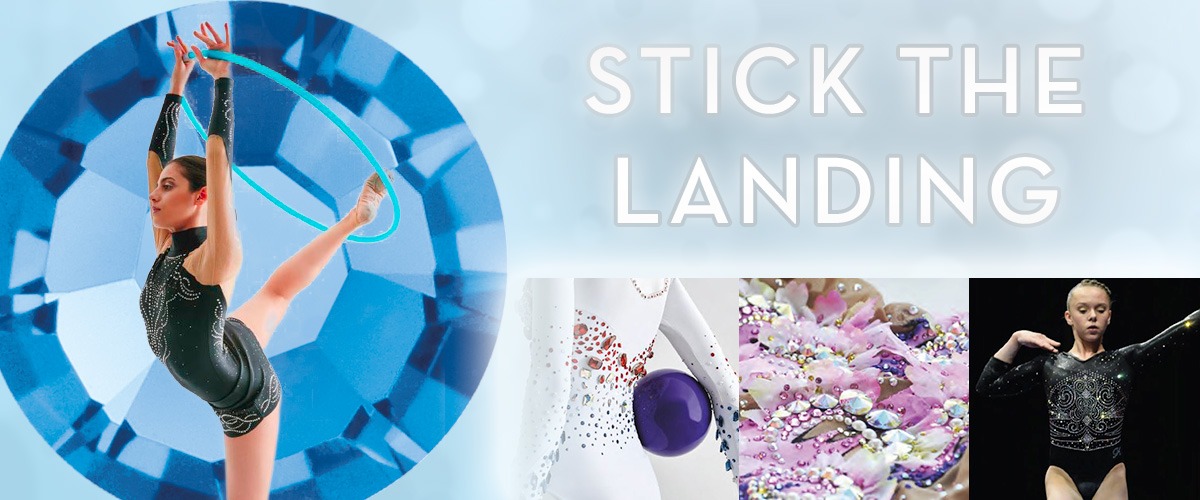 "Do we borrow the light? Bending and refracting, irradiating blue then yellow. Or is it the light that finds in you, the performing athlete, the perfect vehicle? Fluid, graceful, practiced, precise, moving within a routine yet feeling the freedom to improvise. As the light shines down upon you, will you conduct the crystal's brilliance, or become it?" Markus Langes-Swarovski, Member of the Swarovski Executive Board
Precision on the beam, the bars, the mat: the perfect performance is a balancing act of strength and grace. It's the story you carry of falls, sprains, wavers and defeats that pushes you toward your brightest moments.
Whether you are manufacturing team leotards with custom hotfix transfers or creating a one-of-a-kind artistic costume for a rhythmic gymnast, Rhinestones Unlimited will work with you to realize the full potential of your vision.
"Brilliance is when artistry and intensity meet."
"Move and the crystals move with you. The brilliance of Swarovski Crystals is steadfast, their luminescent highlights graceful movement until the very end. Hands raised to the ceiling at the defining moment, will you stick the landing?"
Read More of the Swarovski® Dance Magazine (Gymnastics p. 18) and make sure to check out the Rhinestones Unlimited feature dance costume and accessories on p. 58-60. Swarovski® honors our commitment to support artists and bring top quality costume trimmings to designers and performers around the world.
YOU WERE BORN TO STAND OUT!
For 20 years, Rhinestones Unlimited has celebrated your dedication by bringing out the best in your performance. If you're looking for rhinestones for gymnastics, look to us for endless inspiration between the highest qualities of wholesale rhinestones and crystals available to highlight your every move: Swarovski® crystals, LUX Austrian Crystal™, Preciosa® crystals, and Priceless Crystal™.
And, for those still moving and shaking their way to the top, you'll find plenty of help through our staff of seasoned industry veterans and 24/7 resources such as How to Rhinestone a Dance Costume, blog articles, exclusive professional grade tools of the trade, and the worldwide community of dedicated artists- just like you- that we've brought together over two decades of brilliance.