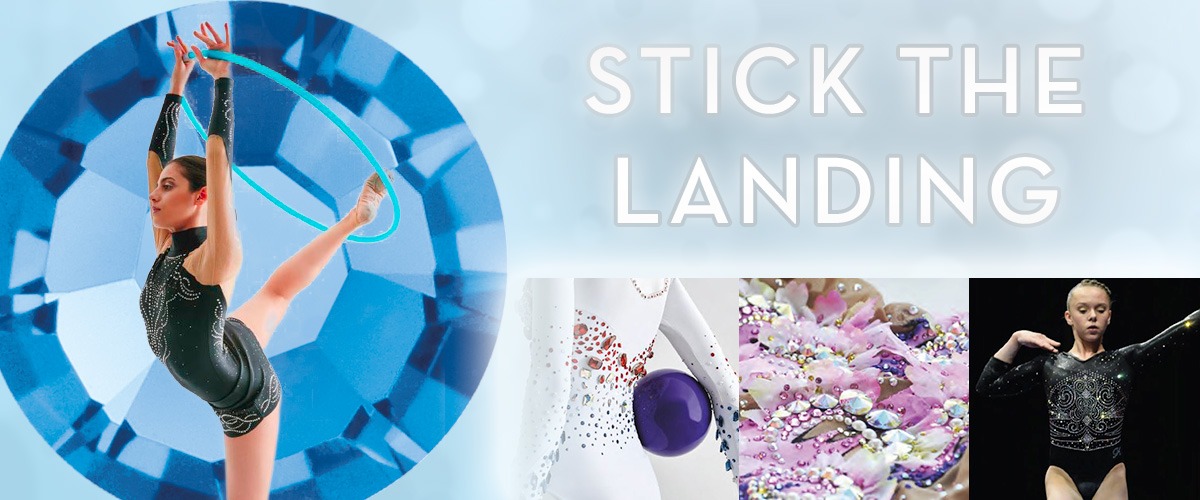 Stick the Landing
Gymnasts dedicate hours to perfect their routines and competition is their place to shine above the stars. Elevate their performance wear with the perfect crystals, rhinestones, appliques, and embellishments in a myriad of colors and styles. Bring out their brilliant athleticism and confidence with rhinestone sparkle and shimmer.
"Do we borrow the light? Or is it the light that finds in you, the performing athlete, the perfect vehicle? Fluid, graceful, practiced, precise, moving within a routine yet feeling the freedom to improvise. As the light shines down upon you, will you conduct the crystal's brilliance, or become it?"
-Markus Langes-Swarovski, Member of the Swarovski Executive Board
Shinning Stones
Rhinestones Unlimited offers the best in brilliance with reliable, quality crystals for every budget. The sparkle and shine of rhinestones and crystals transform active leotards into fashionable, stunning competition wear. Our crystal collections include:
You can SHOP BY COLOR and select crystals that complement any competition apparel.
We research crystal design and engineering to bring you the highest quality rhinestones available. Our extensive collection of crystal rhinestone embellishments and jewelry create the perfect sparkle. Our ample selection makes finding what you need easy and alleviates your time spent on sourcing product. If you cannot find what you need, request it. We will search for options to fit your needs.
Stunning Accents for Gymnasts
Your performances will come alive as your gymnasts move with the perfect sequins, belts, trims, and rhinestone appliques to capture light and showcase color. Finding the right sparkle for your gymnasts' leotards and competition wear should be easy, and we strive to make the process as straightforward as possible.
Professional Value
Rhinestones Unlimited specialized services support the creation of your gymnastic apparel while helping you balance your time and profitability. You can request rhinestones in smaller quantity packages to save you time – no counting necessary –and still benefit from bulk pricing. We offer a price match promise; you can be confident that you are receiving the best value. Our extensive line of tools and adhesives are of professional quality and simple to use.
Inspired Gymnast Trends
Our dynamic product line reflects what is new and trending! We love to share the latest design and fashion trends on Rhinestones Unlimited Blog, YouTube, and Facebook. We want your gymnasts confidently performing while showcasing current fashion trends.
Accessories Made to Move
Crystal headbands and ponytail holders add sparkle and functionality during an athlete's competition. Jewelry that sparkles and moves with your gymnast without interfering during her routine is essential. Our jewelry and applique collections are stunning:
Our Culture of Care
We want you and your gymnasts to succeed. Whether you are a coach, parent, or athlete, we have resources for you. Use our tutorials, design help, or personalized advice from Mama Rhinestone. Reference and News pages provide information on everything from the design process to selecting the best tools to DIY tutorials.
We are committed to your success with our high-quality product line, assessable wholesale pricing, and superior customer care and support. We strive to help every performer sparkle and shine in the spotlight.
Salto, Straddle, and Splits!
Sparkle, Shimmer, and Shine!