Posted by Rhinestones Unlimited on Mar 27th 2017
Swarovski® announces a new addition to the crystals for nail art market with Crystalpixie™ Edge!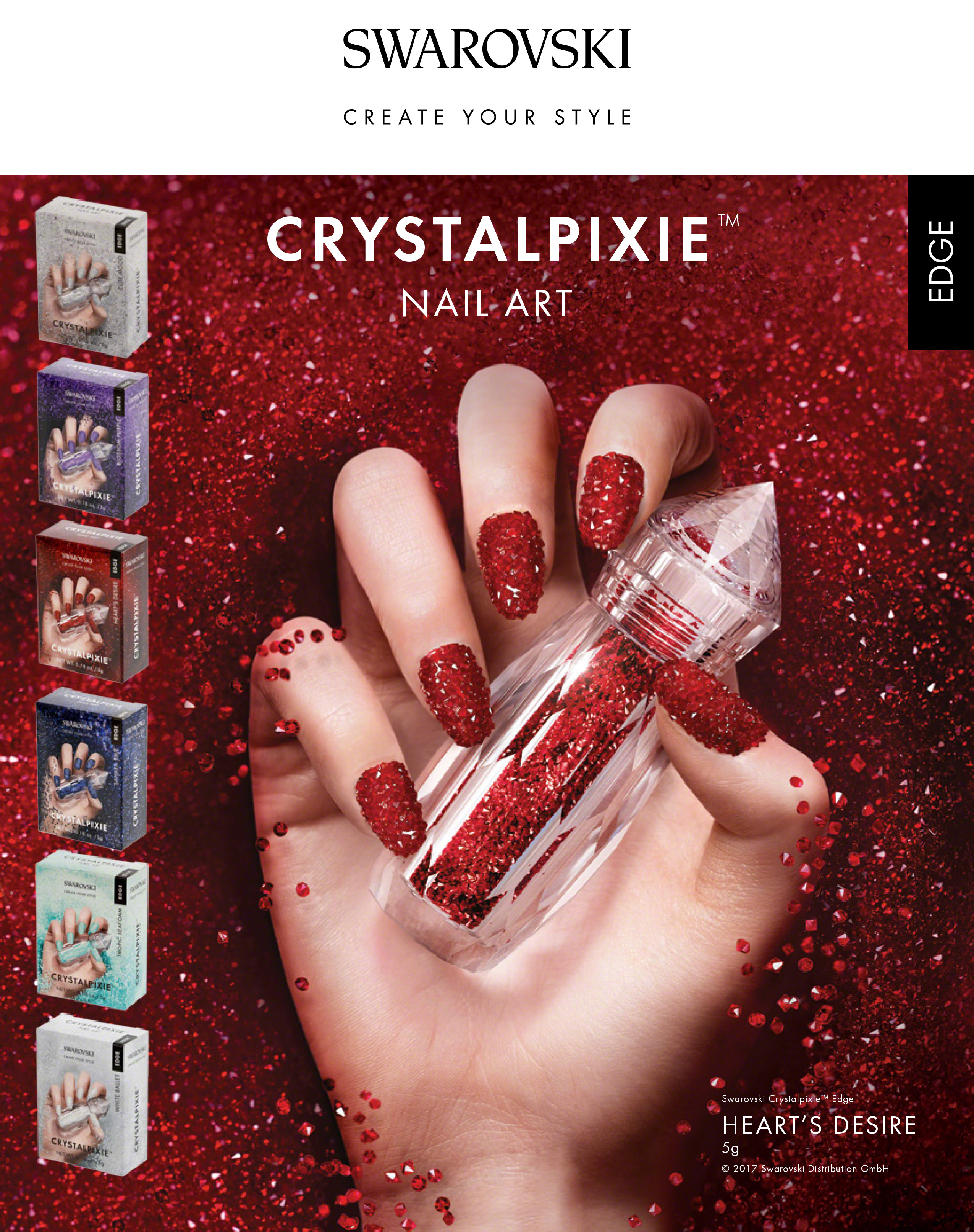 This funkier version of the classic Crystalpixie™ - which has been renamed as Crystalpixie™ Petite, made up of a mixture of cut crystals and round stones in size 3pp - the new Crystalpixie™ Edge shimmers with faceted 9pp stones.
"Edge features thousands of loose crystals that glitter with a super-sharp bi-cone cut. Unconventional and brilliantly eye-catching, the effect is a glam-punk look that truly makes a statement."
The most forward-thinking crystal manufacturer in the world, Swarovski® has done their homework, and has given us a myriad of ways to introduce Edge to your customers' unique styles. Debuting in six on-trend shades, Edge pairs well with the colors already in your crystal collection: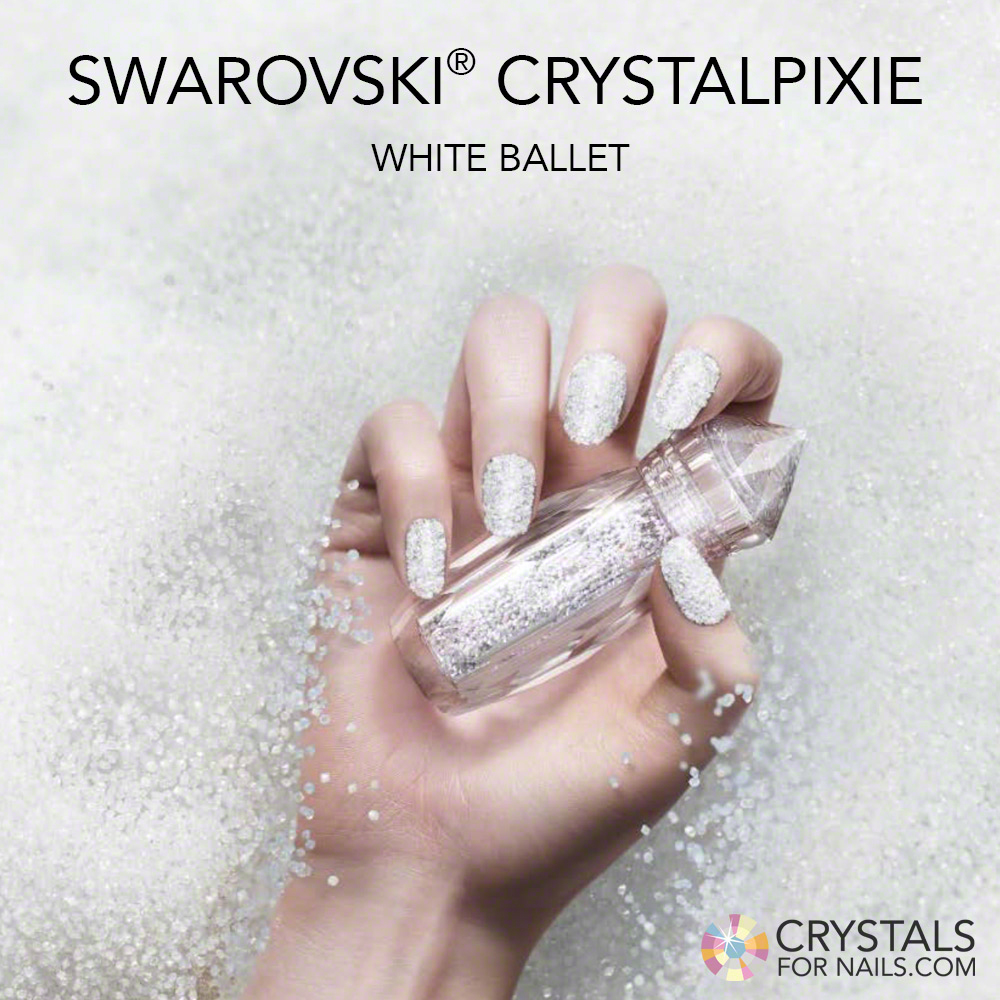 "White Ballet" is pale and interesting, rather than stark, with White Opal softening the sleek minimalism into a delicate alabaster palette reminiscent of ballet's graceful elegance.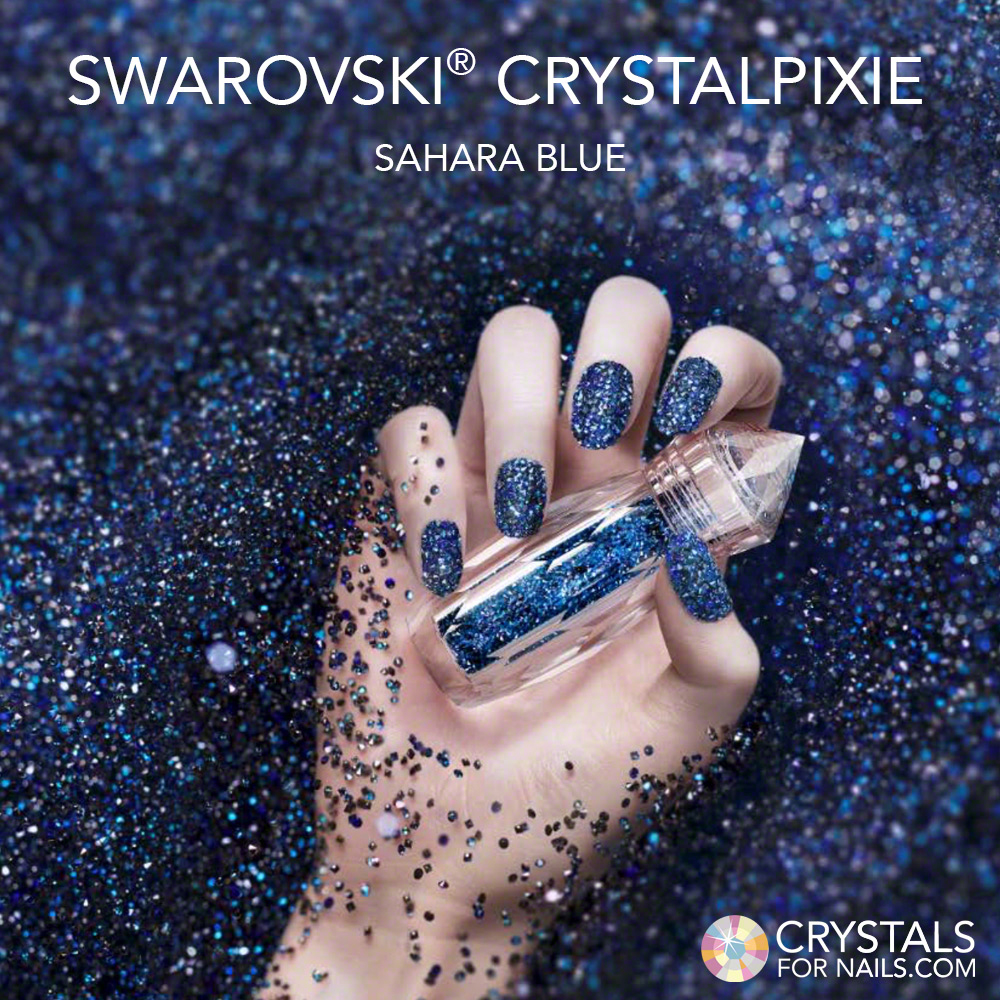 Bermuda Blue crystals are used to conjure the mysterious Sahara Blue theme, which takes inspiration from ancient mosaics, Middle Eastern tiles and star-filled desert nights.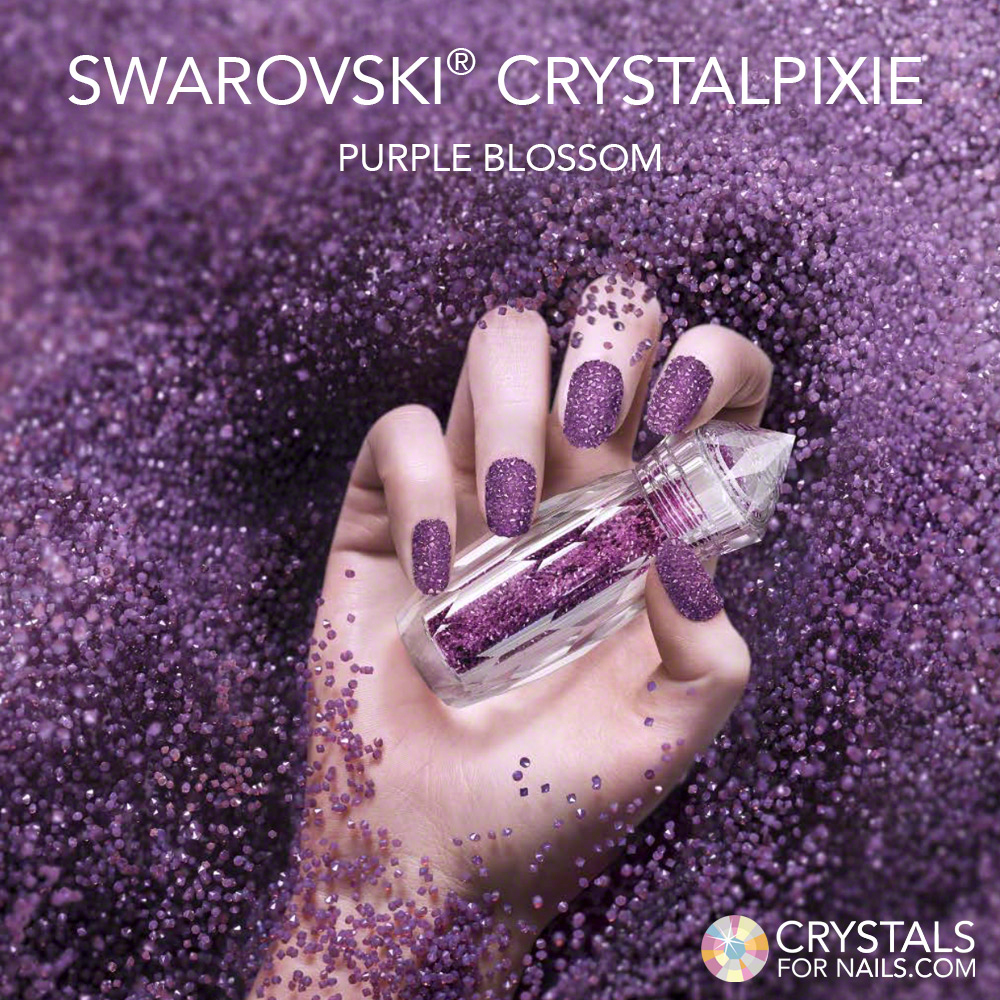 Cyclamen Opal is the pretty pastel foundation color for Blossom Purple—it sings with the warmth, optimism and romance of spring flowers.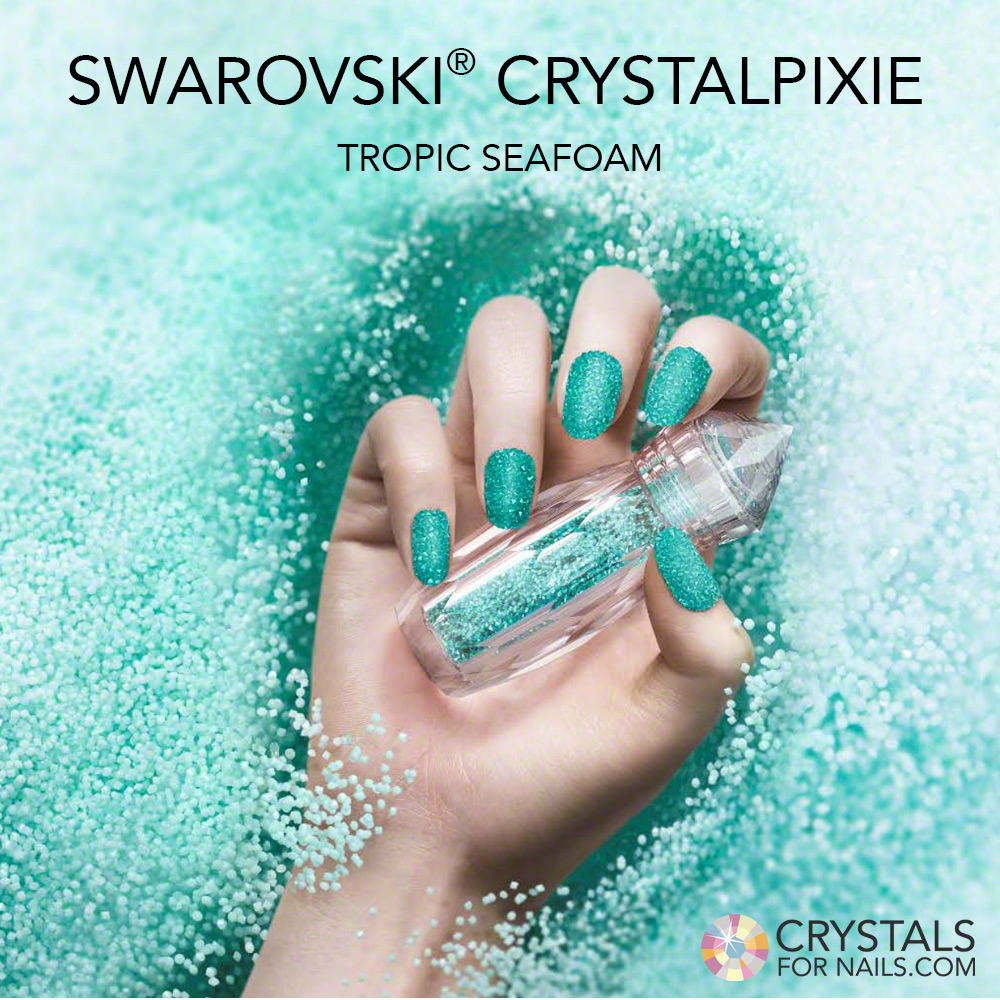 Fresh and fascinating, Tropic Seafoam is made with Mint Alabaster crystals and glistens like the waves of a tropical turquoise ocean.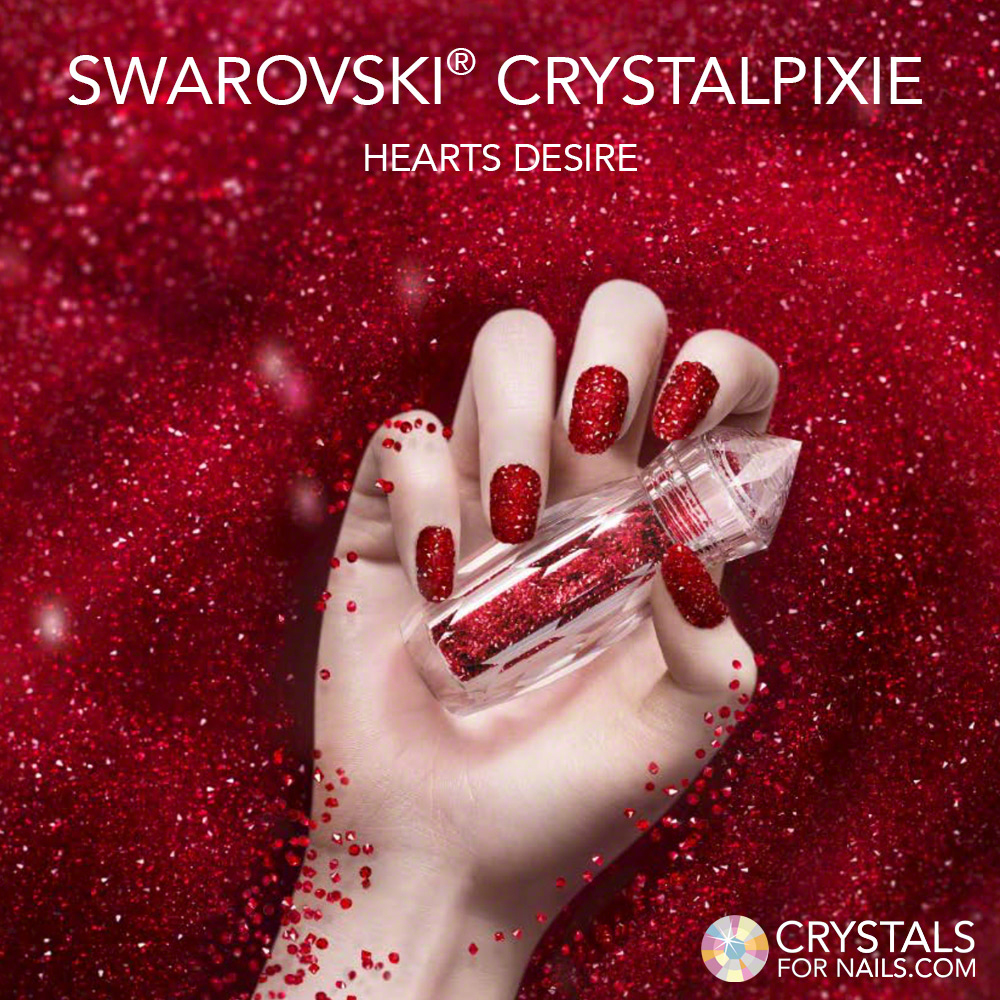 The alluring Heart's Desire uses Indian Siam crystals to inflame our inner scarlet woman into a blazing passion.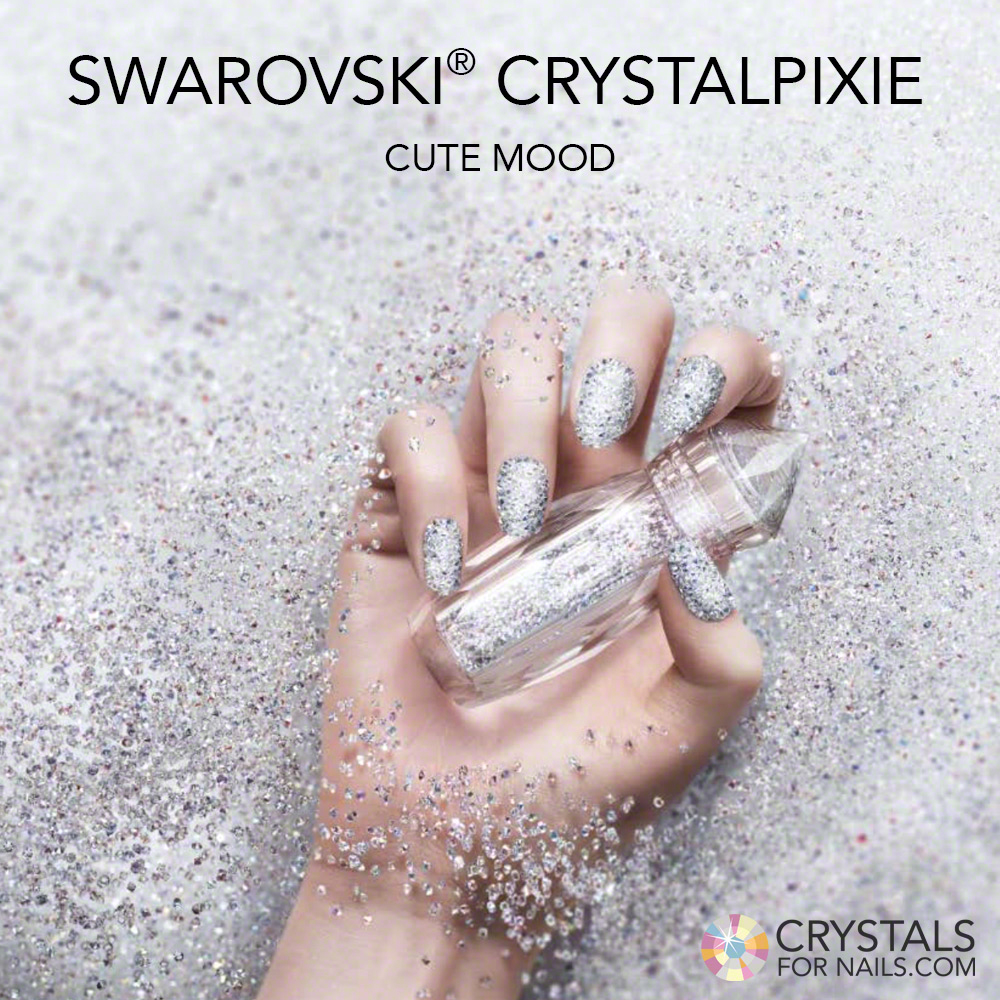 Cute Mood [designer edition from Gina Silvestro] plays with candy rainbow colors from the Crystal AB to create a fun, girly-pop mood with a touch of eccentricity."
Crystalpixie™ Edge pairs well with your collection of Swarovski® crystal Flat Back shapes, 3D Pointed Backs and Fancy Stones. Or, use in combination with the finer, smoother stones of the classic Crystalpixie™, renamed as Crystalpixie™ Petite. Edge adds another dimension to professional nail art, and can be used to complement directional looks of the season:
"The prettiest styles to make the fashion pages this season are chintz florals, child's play pastel dots, splotches and splashes, and, an icing of white over a pearlescent base for simple sugar-tipped sweetness.
Alternatively, drama noir comes courtesy of pierced nails with monochrome and crystal accents, along with a sharp update on the classic French manicure.
There's also a high-octane party going on that takes us straight back to the 70s and 80s: think neon ombré disco graphics against black, holographic, multi-chrome effects combined with psychedelic exotica and acid citrus.
Keeping it luxe, there's a filigree golden graphics look, worn against natural gloss."
Application of Crystalpixie™ Edge is just as easy as the classic Crystalpixie™ Petite, and can be used with polish or gel products:
Apply two coats of polish or gel color, allowing to dry or cure in between.
Apply topcoat, but do not allow to dry or cure.
Pour Swarovski® Crystalpixie™ over the wet topcoat. (Alternatively, nail glue can be used.)
Gently press to embed and compact Crystalpixie™ into the topcoat or glue. Allow to dry or cure completely.
Tidy up the edges of the design if needed, then protect by applying an additional application of topcoat to the edges only. To maintain the brilliance of the crystals, do not apply topcoat over the entire nail.
For complete application instructions, including tips and tricks, visit Step-by-Step Application Instructions for Swarovski® Crystalpixie. Crystalpixie Edge™ is in stock and ready to ship.
-xo- Jemm
Rhinestones Unlimited blog author Jemm Stone is a multifaceted girl navigating our sparkly world with on-point insights. Visit our blog to follow her thoughts as she highlights design trends, turns the spotlight on industry influencers and breaks down how-to tips like light through a crystal prism.