Posted by Rhinestones Unlimited on Sep 25th 2022
Narrow down the best rhinestones for your project. Time to talk about rhinestone size.
Ah, the age-old question: does size matter? I'm not sure I can fully answer that in this article, but we have some general theories to guide you when choosing the right rhinestone size for your next creative endeavor.
You will find three units of measurement among our products: Millimeters (mm), Stone Size (SS), and Pearl Plate (PP). The consistent unit you'll see across our site is millimeters: Flat backs, pointed back, and sew on shapes, beads, and pendants are always referred to in millimeters.
You'll see Stone Size and Pearl Plate when referring to some round flat back and pointed back cuts.
Stone Size & Pearl Plate
Stone Size and Pearl Plate sizings account for slight millimeter variances. Stone Size is currently the most common method of measuring flat back and pointed back chatons.
Pearl Plate sizing is used on the smallest rhinestones, as it can differentiate down to a tenth of a millimeter.
Fun fact: Pearl Plate comes from the traditional method of sizing pearls. A pearl would be placed on a plate in which various-sized holes had been bored. The holes through which the (sometimes irregular) pearl fell through would determine the measurement.
What is the Most Common Rhinestone Size?

When we're giving design help, we usually do recommend about 2-3 different sizes to help add dimension to the design. We often recommend using 12ss, 16ss, 20ss, 30ss & 40ss. For us, 20ss and 30ss are the most popular sizes we sell. In the image above you can reference a few common sizes. We believe the reason that 20ss and 30ss are the most popular is that there is nice differentiation but they are not "too small" and not "too big"- really "just right"!
Because of the popularity of these sizes, you will find that the broadest range of colors in 20ss and 30ss.
As you begin, we recommend flexibility when choosing color and size combinations. I also always tell fellow artists to use caution when ascertaining stone size from their computers. Because monitor display settings vary, the image in front of you may not represent the actual size of the rhinestones. A 30ss rhinestone shown on your computer screen should be about the diameter of a standard pencil eraser.
Tip: Press the Ctrl key on your keyboard while spinning the wheel on your mouse- adjust the size of the chart below until the 30ss rhinestone on the chart below is the same size as a pencil eraser! Once the screen size is set, then you should get a fairly accurate representation of the other rhinestone sizes.
If millimeters feel hard to imagine, try thinking about them as centimeters.
How big is 11mm? 11mm is 1.1 centimeters.
How big is 13mm? 13mm is 1.3 centimeters.
How big is 15mm? 15mm is 1.5 centimeters.
How big is 18mm? 18mm is 1.8 centimeters.
Our Rhinestone Size Chart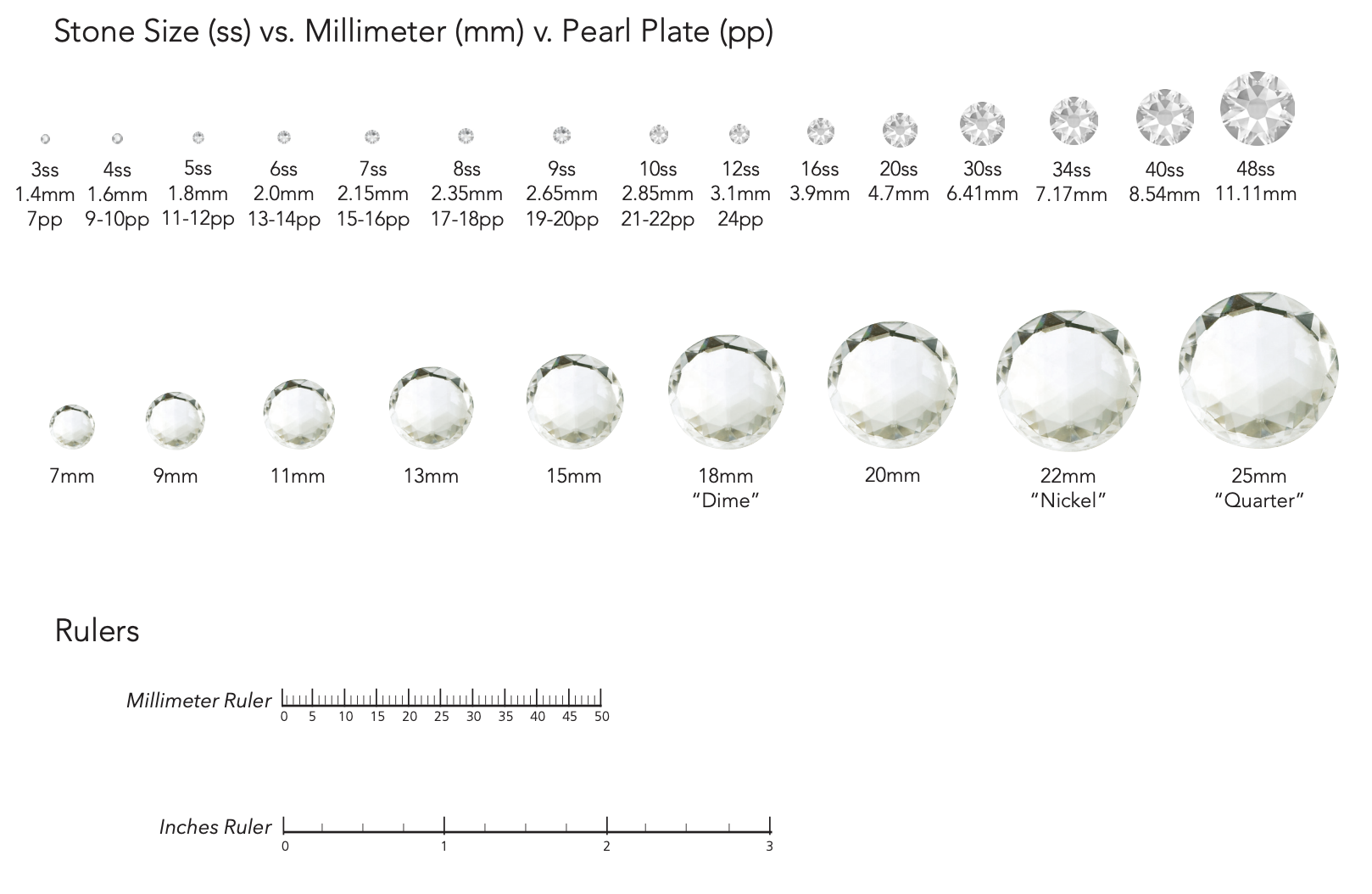 We have a PRINTABLE RHINESTONE SIZE CHART for you to use in a PDF. Before you print, be sure you have set your print scale to 100% or "None." Or, if you order a flat back color sample card, they will include a size chart printed on the back.
Here's a quick reference:
12ss: appx. 9 stones per inch
16ss: appx. 7 stones per inch
20ss: appx. 5 2/3 stones per inch
30ss: appx. 4 ½ stones per inch
ORDER A FLAT BACK COLOR SAMPLE CARD.
Rhinestones Unlimited Has All of the Crystals, Tips & Tricks You'll Need!
Choosing the best rhinestone size is a matter of personal design preference. One rule of thumb to follow: the bigger the stone, the flashier the shine. You can also consider mixing sizes at random, allowing the light to bounce unpredictably among the design; if one wants to get crazy, that is. Of course, choosing a stone size is also dependent on the amount of work you want to do. The smaller stones can be trickier to work with at first but stick with it—they create a dazzling effect.

Thank you for following along on today's lesson! We know that choosing the right size of rhinestone for your project is only one of the many decisions you need to make while planning your design. Check out our Rhinestones 101 Series, PLAN YOUR PROJECT for help:
1) Choosing a brand & quality of crystal.
2) Deciding what rhinestone size you want.
3) Learning what attachment method is best for your project.
4) Selecting your rhinestone colors.
5) Estimating how many you need to order.
6) Determining which rhinestone glue will work best for you.
And don't forget to download our RHINESTONE SIZE CHART to help you along your rhinestone journey. See you again soon.
-xo-
Jemm
Rhinestones Unlimited blog author Jemm Stone is a crystal fanatic, bringing you the latest news and insights into our sparkly world. Keep an eye on OUR BLOG for her latest thoughts on everything about rhinestones, from trends to how-tos.