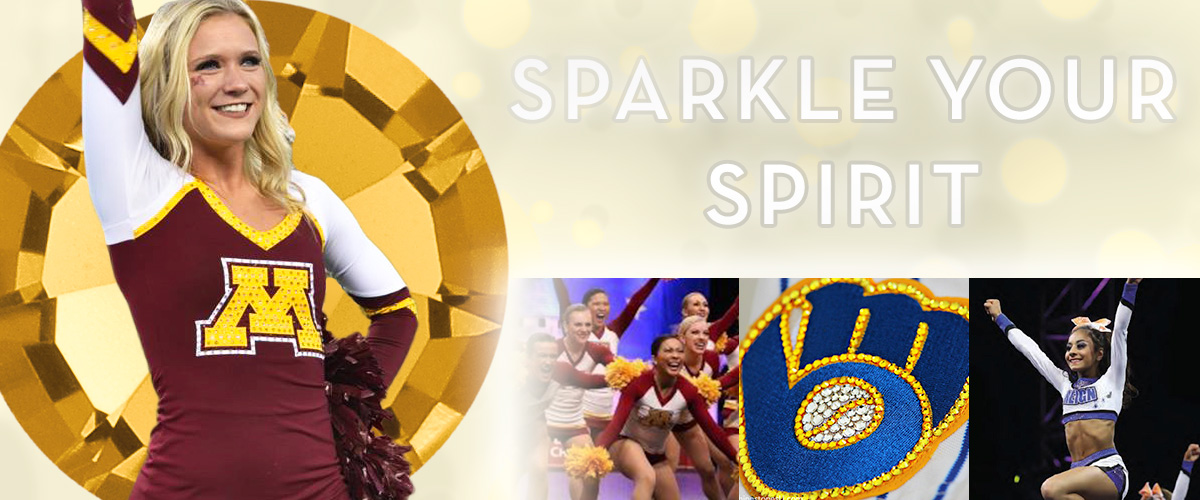 "When it's time to perform, you have to trust in your training and in your team because the whole must be greater than the sum of its parts."
There's power in numbers.
When many come together to become one, united by a common platform, working to sacrifice self for team, you an inspire hundreds, thousands of people to rise to their feet in solidarity.
"Performance at the highest level is the ultimate expression of dedication. Making the impossible seem effortless requires precision, practice, and even failure." Markus Langes-Swarovski
Dance teams, cheer squads, majorettes, drill teams, show choirs: sparkle your team spirit! In precision, fluidity, movement and pose, it's your collective energy that make you a dynamic force. Maximize your impact when you intensify the light.
Sports fans, school groups, sororities, and soccer moms: show your support and sparkle your spirit! Crystals highlight your team colors and swag with more intensity; rhinestone your team gear and stand out in the crowd.
"Move and the light moves with you."
Read More of the Swarovski® Dance Magazine (Cheer p.34) and make sure to check out the Rhinestones Unlimited feature dance costume and accessories on p. 58-60. Swarovski® honors our commitment to support artists and bring top quality costume trimmings to designers and performers around the world.
YOU WERE BORN TO STAND OUT!
With endless inspiration and unlimited shine, we've been lifting teams to higher heights and highlighting every move for 20 years. We have sparkle and services to get team costumes unified with ease. Brilliant crystal rhinestones for school spirit teams are here for every competing level- including exclusive brands only found at Rhinestones Unlimited: Swarovski® crystals, LUX Austrian Crystal™, Preciosa® crystals, and Priceless Crystal™.
Jazz up your look with our selection of rhinestone jewelry and appliques:
Ovation Performance Jewelry & Accessories - Ovation Appliques, Ovation Crystal Rock Jewelry & Ovation Marquis Collection

Starlight Performance Jewelry - A collection of crystal jewelry made for movement and the spotlight

Little Star CPSIA Children's Compliant Jewelry - CPSIA compliant jewelry packaged and sized for children age 12 and under
Captains and Team Leads, plan your look with help from our staff of seasoned industry veterans and 24/7 resources such as How to Rhinestone a Dance Costume, blog articles, exclusive professional grade tools of the trade, and the worldwide community of dedicated artists- just like you- that we've brought together over two decades of brilliance.