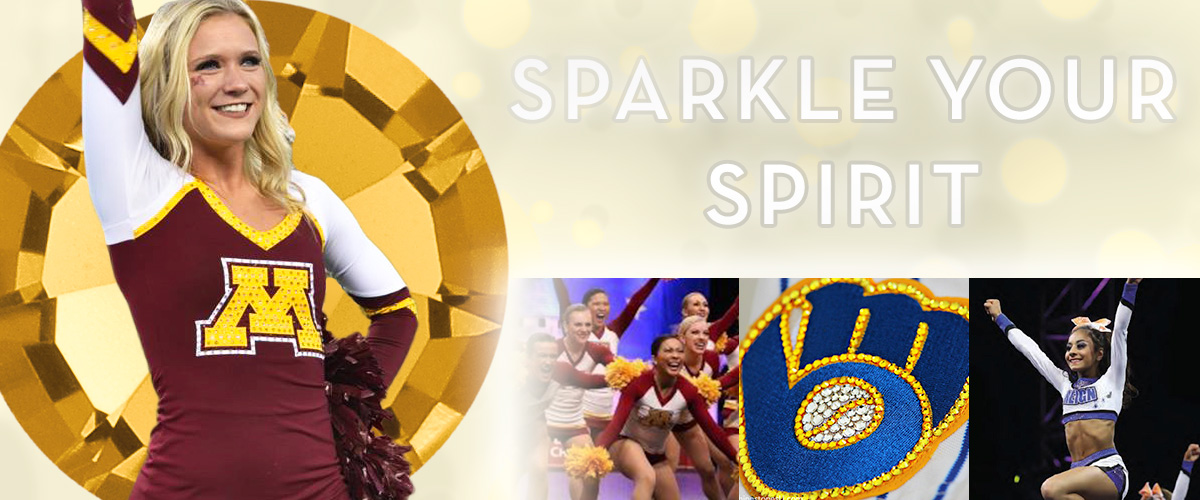 Sparkle Your Spirit Wear
Dance teams, cheer squads, majorettes, drill teams, and show choirs invigorate cheering crowds. Game time is showtime, a chance to dazzle spectators with sparkle. Let your team spirit shine to a new level of brilliance with custom embellishments and accessories.
During performances and games, your team's precision creates a collective, dynamic radiance intensified by sparkle and shine. Crystals add radiance to any uniform or spirit wear in any color. Customize jewelry and hair accessories with appliques and crystals to complement uniforms and costumes with our DIY tools.
Your team has worked hard. Now it's time to be noticed.
Shimmer & Shine
Spectators and fans, show your support and bring your team together in shimmering solidarity. Rhinestones Unlimited offers exclusively high-quality crystals for every budget, partnering with brands we trust, including:
SHOP BY COLOR to find the perfect match for your team colors!
Swarovski Crystals are no longer available for dance, cheer or team apparel due to the Swarovski 2020 Corporate Re-structuring. LEARN MORE
Embellishments that Shine
Team performances come alive with sequins, belts, trims, and rhinestone appliques to capture light and showcase color. Finding a superior sparkle for spirit wear and costumes should be easy — we make the process straightforward and fun!
Cheer Accessories
Made to Move
Whether dancing, cheering, singing, or playing, our jewelry stays in place while accentuating your team colors and showing your spirit! Embellish competition cheer bows to create the perfect performing hairstyle. And browse our Starlight Performance Jewelry made specifically to sparkle under the lights!
Part of the Team
Our specialized support services help bring your uniforms and costumes to life*without too much time or money spent on your end. Whether you're looking to embellish cheer shoes or create your rhinestone bows, we have everything you need.
You can request rhinestones in smaller packages to save you time – no counting necessary –and still benefit from bulk pricing. Our extensive tools and adhesives are of professional quality and simple to use.
Show Your
Team Colors
With Style
Show off products that are timeless or trendy! We love to share the latest costume design contest winners and fashion trends on Facebook, YouTube, and our blog.
Rhinestones Unlimited is a proud sponsor of the University of Minnesota Jazz Team.
Check out the latest University of Minnesota Jazz Team costumes.
We're Here to Lift You Up
Our goal is to watch you and your team climb to success! Whether you're a team captain, team member, or a superfan, we're here to help. Use our YouTube tutorials (including How to Rhinestone a Dance Costume) to learn a new skill and read personalized advice on our blog.
Show YOUR Spirit with Sparkle and Shine!