Posted by Rhinestones Unlimited on Jan 14th 2022
The University of Minnesota Dance Team!
If you think you have school spirit, take a look at the University of Minnesota, whose mascot and dancers have won national awards steadily for the past two decades. The U of M Dance Team has, in fact, swept up with 36 national titles in Pom and Jazz dance since they started participating in the United Dance Association/United Cheer Association championships, a national competition for spirit leaders of colleges and universities across the country. Once again, Rhinestones Unlimited sponsored this hometown team of dancers, to create another stunning, sparkling costume for Jazz and Pom.
The University of Minnesota Dance Team Jazz 2022- VIDEO RELEASE SUNDAY 1.16 AT 8AM CENTRAL!
Don't we all just love this team? They keep us guessing and never disappoint. They are back in 2022 with a new vibe and the athletic style of Talia Flavia. Amanda Gaines, along with Tia Tumbleson, have led this legacy team to another great showing at the UDA collegiate championships. Once again, our friends at Preciosa have provided the crystals for our hometown team sponsorship. Elle Bauer Designs has incorporated the MAXIMA Crystals by Preciosa and her artistic genius in another show-stopping design. Minnesota talent with sparkle from the heart of Europe= true beauty and so much fun.

The University of Minnesota Dance Team Pom 2022- VIDEO RELEASE SUNDAY 1.16 at 2PM CENTRAL!
RAH-RAH-RAH SKI-U-MAH, Goooo Gophers! The U of M dance team is back for a successful 2022! Amanda Gaines has once again proven her collegiate pom genius as choreographer of her team's 2022 routine. Amanda, along with Tia Tumbleson have the team in fighting shape and ready to compete. Ignite Dance Connections created a different take on the traditional game day collegiate pom costume with a maroon and gold appliqued costume and encrusted M emblem. Only the best MAXIMA Crystals by Preciosa, the most premium line of rhinestones available to the dance, cheer and performance markets, make this year's look one that will definately stand out.

The University of Minnesota Dance Team Jazz 2021
This team has done it again. With a return to a softer vibe, the 2021 team is ready to show their strength and determination through a tough season. Amanda Gaines has returned as head coach along with alumni dancer Jenna Myers. It has all come together; Mackenzie Larkin Symanietz has brought her choreography genius, Elle Bauer Designs with a soft and flattering style, and the new MAXIMA Crystals by Preciosa with the highest quality sparkle from the heart of Europe.
The University of Minnesota Dance Team Pom 2021
You want Golden Gopher team spirit, the U of M dance team is ready to bring it! Amanda Gaines showed up with her hard hitting and fast paced choreography that is sure to leave its mark at the 2021 Nationals. A classic team uniform from Varsity Spirit with sparkle and flare was kicked up a notch with an encrusted M emblem. MAXIMA Crystals, Preciosa's premium line of rhinestones make this year's look one of beauty, quality, sparkle and strength; all qualities we expect from this legacy team.
The University of Minnesota Dance Team Jazz 2020
The fierce 2020 jazz routine was met with an equally fierce look from Elle Bauer Designs. The heat fix transfers applied to the sharp lines of this mesh bodysuit made quite a statement. Flat back hot fix pearls, jet hematite, jet, and rainbow dark rhinestones of varying sizes came together for this unforgetable look. Paired with the brilliant music "Hypnotize" and the choreography genius of Mackenzie Larkin Symanietz, the team made their statement at the 2020 U.D.A. Collegiate Nationals.
The University of Minnesota Dance Team Pom 2020
Talk about unforgetable, the 2020 pom routine made a statement. This Just For Kix sheer bodysuit was unconventional and exciting as was the choreography by Amanda Gaines. Amanda can do it all; choreograph, coach and push the boundaries of this sport that she has helped dominate over many years. Keep your eye on this team and their fierce collegiate. Rah, rah, rah... Ski-U-Mah!
Check out Swarovski's blog about the University of Minnesota Dance Team's costume
2016 "Everybody Wants to Rule the World"
You may remember the costume we sponsored for their 2016 Jazz routine at the UDA/UCA finals: an understated nude leotard, skirted in gauzy white and covered in custom Swarovski® Crystal Rock appliques and cascades of crystal in shades of rose gold and sheer metallic. The look was a demure pairing for the music, Lorde's smoky rendition of "Everybody Wants to Rule the World." The 2015-16 team took silver in that performance, earning second place behind the University of Tennessee and beating out numerous other college schools in their division.
Watch the University of Minnesota 2016 Jazz Routine and see the process of making the costume!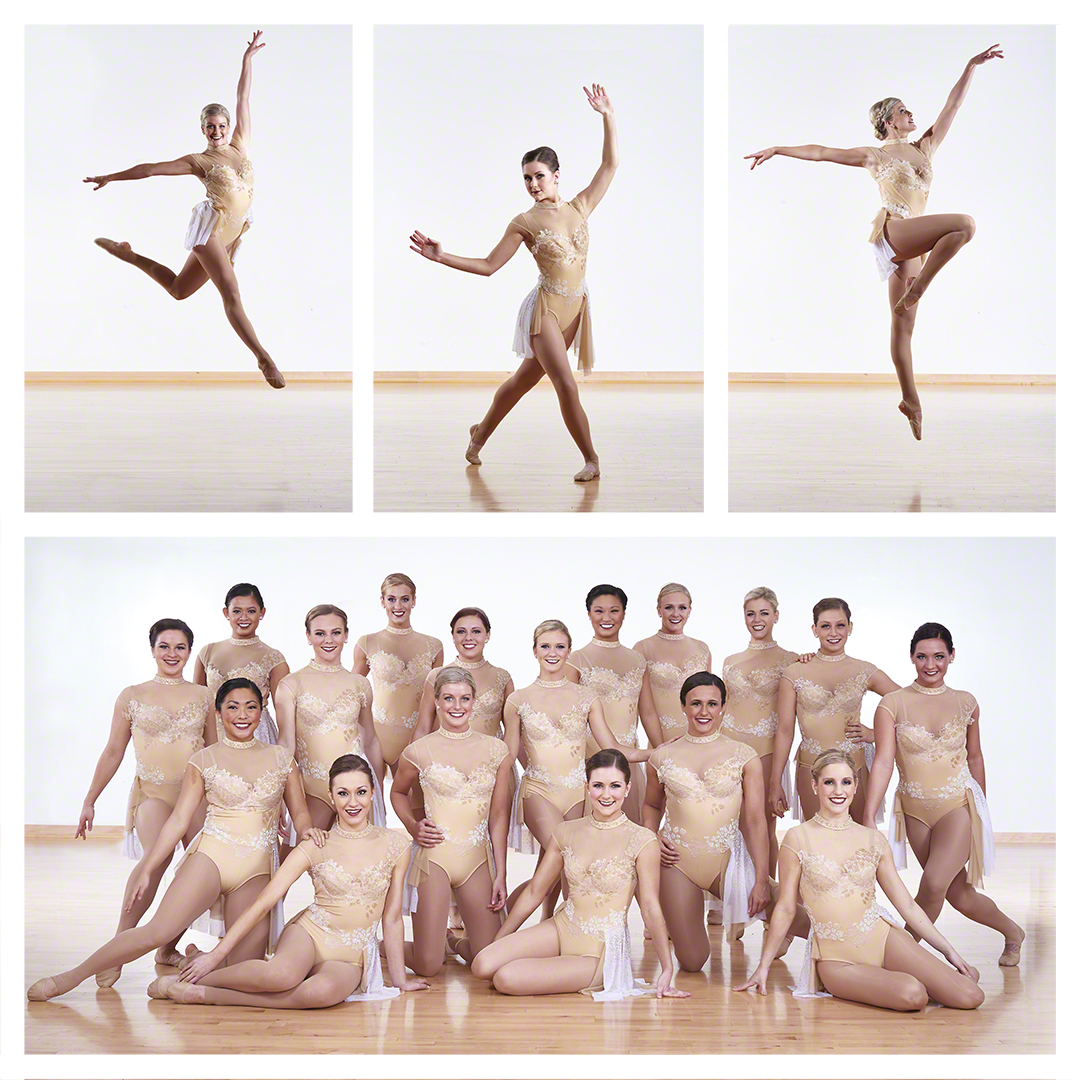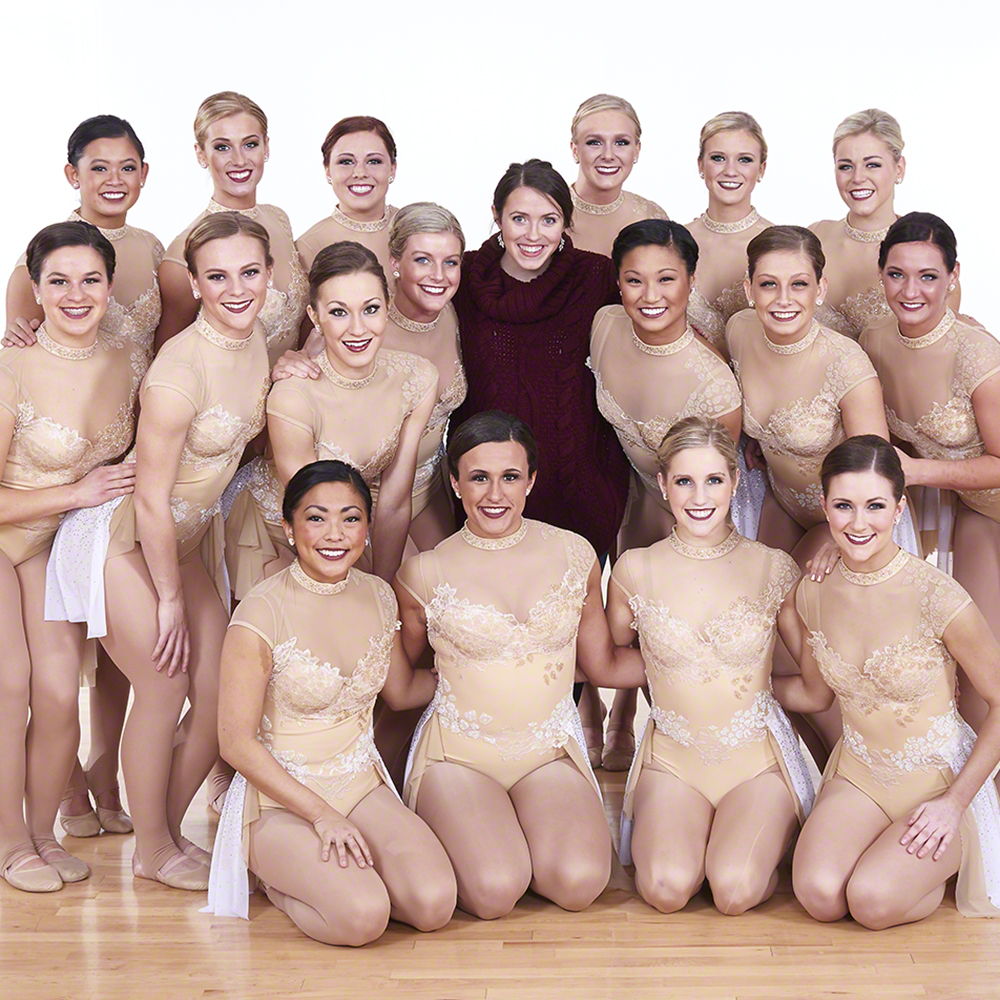 2018 "Row the Boat"
In 2018 we sponsored a custom Jazz costume, a collaboration between Rhinestones Unlimited, Swarovski®, the University of Minnesota Dance Team and local MN dance costumer, IGNITE Dance Connections. The garment was designed by Kelly Clement at IGNITE Dance Connections, where they were constructed. Kelly worked with Rhinestones Unlimited and Swarovski designers on the crystal embellishments that would bring the costume to life. Hand-applied by RU staff and the team's parent volunteers, each costume was meticulously perfected to match this team's synchronization. The "Row the Boat" mantra has been incorporated into the costume design, a soft gray whose layers of georgette have been cut into a contemporary streamlined silhouette: a cap sleeved, boat necked bodice, open sheer back and attached shorts. The team danced to an original song whose instrumentals, created by Travis Lake, underscore P.J. Fleck's own voice as he delivers the mantra that has now become his school's inspiration.
Enjoy "Row the Boat" and see the design process of making the Jazz costume!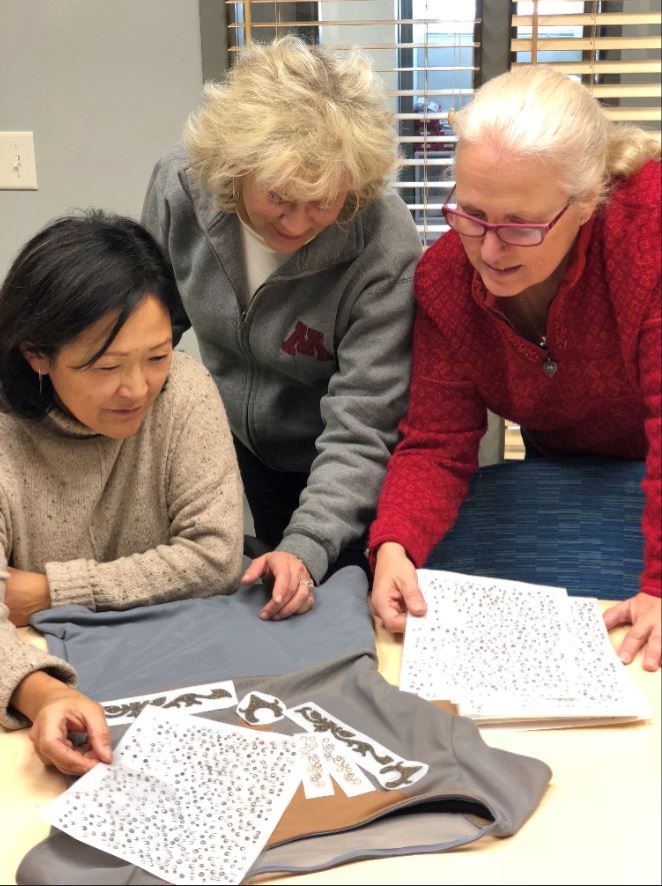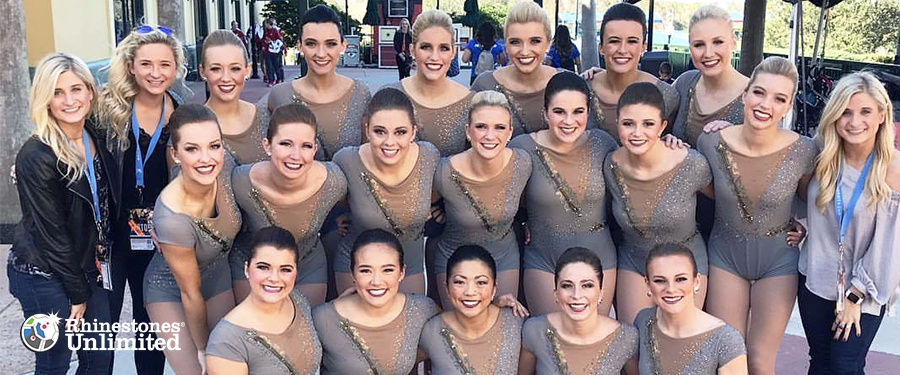 2019 UDA Collegiate Dance Team Nationals
In 2019, we assisted in the custom designs of their pom and jazz costumes with the team's voice. Preciosa® contributed the crystal products, while we helped pull the inspiration of the choreographer, coaches, costume designer and team together into an award-winning look. This contribution helped the Gopher Dance Team outshine the competition and bring home their 19th National Championship Title for their Jazz Routine.
Check out the University of Minnesota 2019 Jazz Costume!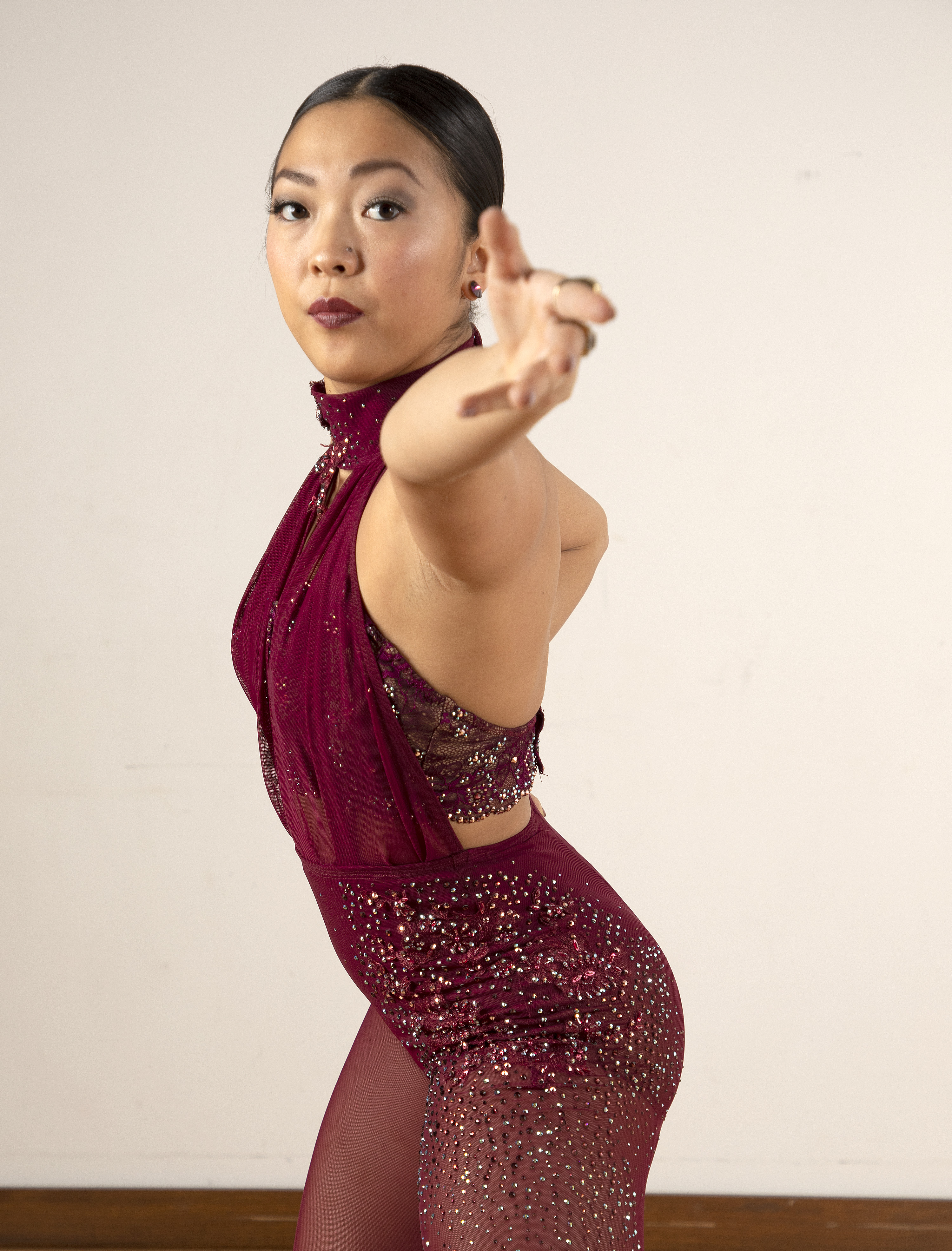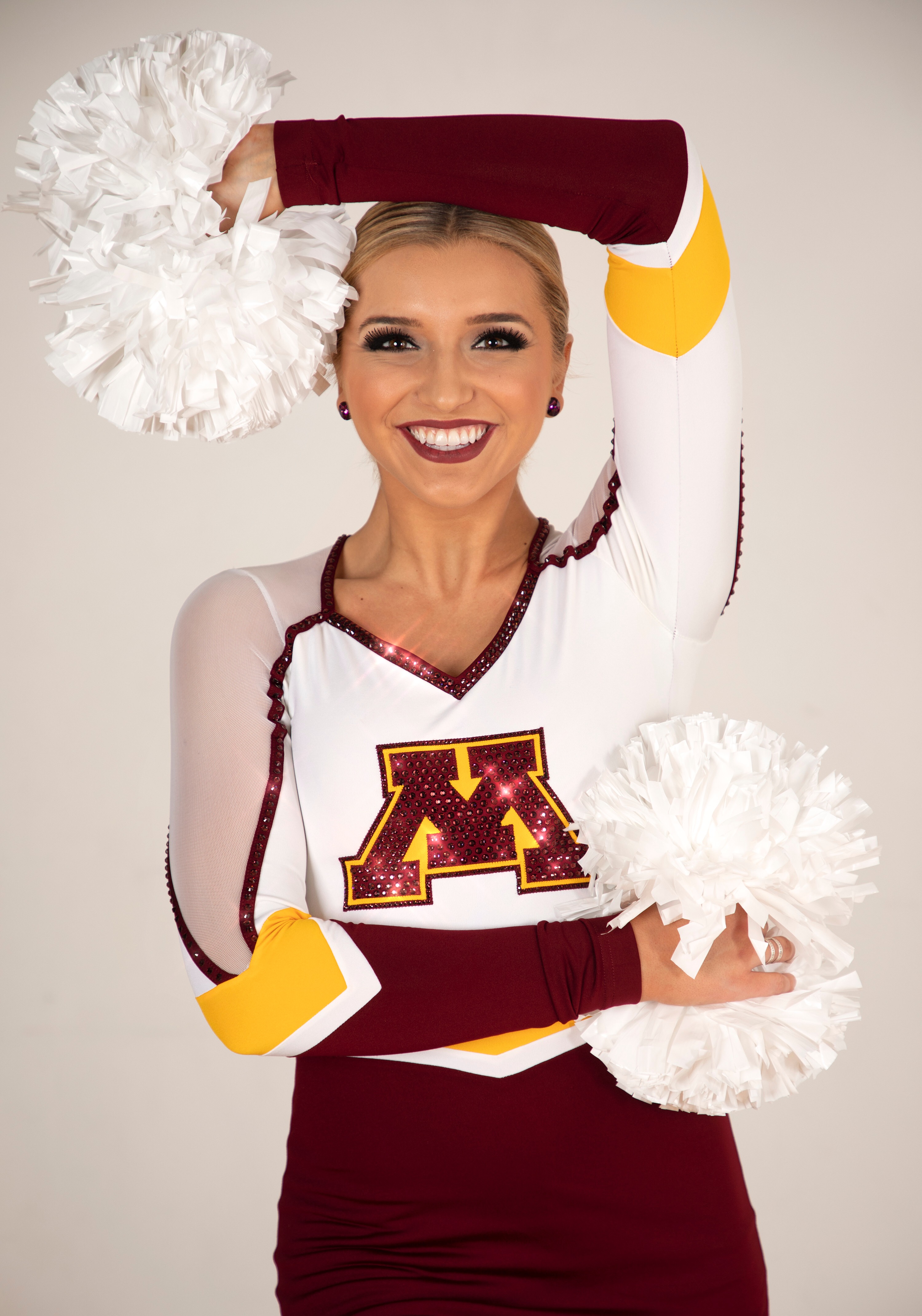 Photo Credit: Matte B Photography & MN Dance News